It's easy to get caught out at the affordable end of the Audi A4 Allroad range. See, the 2.0-litre TDI engine is offered in front-wheel drive guise as well as quattro all-wheel drive. And who wants a two-wheel drive 'all-roads' estate? It defeats the whole point of this any-weather machine.
So in testing an entry-level A4 Allroad, we've actually chosen a model £5000 more than the genuine lead-in car. Because that's what we expect most customers are going to do – the A4 Allroad 2.0 TDI 190 s tronic automatic will be one of the more popular models in the range. 
Despite costing appreciably less than the V6 range-toppers, the 2.0 TDI A4 Allroad doesn't feel downmarket. The interior is as beautifully finished as all other versions, with the same class-leading build quality. The Allroad sits 34mm higher off the ground than a normal A4 Avant estate, for a marginally more commanding feel behind the wheel. 
Although it's not as smooth as the 215bhp 3.0 V6 TDI, the 2.0-litre TDI puts in a good show. It's surprisingly refined for a four-cylinder engine, with low noise levels and little vibration. Most will find it perfectly powerful enough, and the S tronic automatic's imperceptible shifts help make the most of its 187bhp. 
The A4 Allroad isn't a particularly dynamic car to drive, though. Compared to the regular A4 Avant, it's a bit softer and squidgier, feeling less keen and crisp through the bends. It floats more over undulating roads too, although when cruising, this more supple feel is actually rather pleasant. It's just that the ride becomes too jostly when roads get really challenging. 
The quattro system does make itself felt when conditions get slippery though. It's a rather nose-led handling balance overall, but you can feel the rear end kicking in where necessary to aid stability. You'll have no concerns taking this car through greasy, muddy fields or through snow-covered cul-de-sacs. 
This cheaper A4 Allroad thus emerges as perhaps the most sensible model in the range. Others are faster, but they're a lot more expensive as well, and spending £36,000 on this type of car rather than over £40k is much more logical.
But we can't help but think that a normal A4 Avant, with quattro, is even more sensible – particularly as, for not that much more than the Allroad, you can have a genuine SUV driving position and off-road look with the new Audi Q5…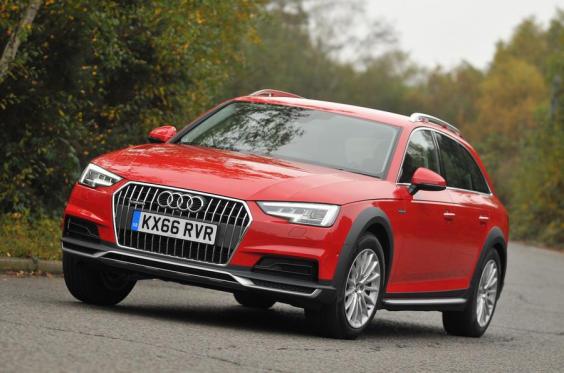 2016 Audi A4 Allroad 2.0 TDI 190 quattro S tronic 
On sale Now
Price £36,010
Engine 4 cyls, 1968cc, diesel
Power 187bhp @ 3800-4200rpm 
Torque 295Ib ft @ 1750-3000rpm
Gearbox seven-speed dual-clutch automatic
Kerb weight 1640kg
Top speed 136mph
0-62mph 7.8sec
Economy 57.6mpg
CO2/tax band 128g/km/25% 
Rivals BMW 320d xDrive Touring, Mercedes C 220 d 4Matic Estate
AUTOCAR
Reuse content