Today's Google Doodle celebrates what would have been the 88th birthday of Fazlur Rahman Khan, the architect known as "the Einstein of structural engineering."
From his early life in Bangladesh to the pioneering tube structure that enabled him to sculpt the modern cityscape, here are five things you need to know.
Fazlur Rahman Khan, the subject of today's Doodle, was born the son of a rural maths teacher in Dhaka
Khan was born in Bhandarikandii in Dhaka in 1929, then under British rule but part of Bangladesh since 1971.
His father was a high school mathematics teacher who encouraged him to study civil engineering, first at the Bengal Engineering College Shibpur in India and then at Ahsanullah Engineering College, University of Dhaka. 
Rewarded for his academic excellence with both a Fulbright Scholarship and a grant from the government of Pakistan, Fazlur travelled to the US in 1952 to commence his career in architecture.
Google Doodles
Google Doodles
1/51 Richard Oakes

Google Doodle celebrating Richard Oakes' 75 birthday

Google

2/51 Google Doodle celebrating the Antikythera Mechanism

Google Doodle celebrating the Antikythera Mechanism

Google

3/51 Ferdinand Monoyer

The famous French ophthalmologist, who invented the eye test, would have celebrated his 181st birthday today

Google

4/51 Google Doodle celebrating Giro d'Italia's 100th Anniversary

Google Doodle celebrating Giro d'Italia's 100th Anniversary

Google

5/51 Google Doodle celebrating Nasa's Cassini probe

Google Doodle celebrating Nasa's Cassini probe

Google

6/51 Google Doodle celebrating Fazlur Rahman Khan

Google Doodle celebrating Fazlur Rahman Khan

Google

7/51 Google Doodle celebrating Sergei Diaghilev

Google Doodle celebrating Sergei Diaghilev

Google

8/51 Google Doodle celebrating St. Patrick's Day

Google Doodle celebrating St. Patrick's Day

Google

9/51 Google Doodle celebrating Holi Festival

Google Doodle celebrating Holi Festival

Google

10/51 Google Doodle celebrating St. David's Day

Google Doodle celebrating St. David's Day

Google

11/51 Abdul Sattar Edhi

Google Doodle of Abdul Sattar Edhi on February 28 2017

Google

12/51 Seven earth-sized exoplanets discovered

Google Doodle celebrates Nasa's discovery of seven earth-sized exoplanets in new solar system

Google

13/51 Bessie Coleman

Google Doodle honours the first African American woman to get an international pilot licence on her 125th birthday

Google

14/51 Caroling

Google Doodle celebrates Christmas caroling

Google

15/51

Today's Google Doodle features activist Steve Biko

Google

16/51 Walter Cronkite

Google celebrates Walter Cronkite's 100th birthday

17/51 Ladislao José Biro

Google celebrates Ladislao José Biro 117th birthday

18/51 Google

Google celebrates its 18th birthday

19/51 The history of tea in Britain

Google celebrates the 385th anniversary of tea in the UK

20/51 Autumnal equinox 2016

Google marks the start of fall

21/51 Paralympics 2016

Google marks the start of the Paralympic Games 2016

22/51 Nettie Stevens

Google celebrates Nettie Stevens 155th birthday

23/51 Father's Day 2016

Google celebrates Father's Day

24/51 Elizabeth Garrett Anderson

Google celebrates Elizabeth Garrett Anderson 180th birthday

25/51 Earth Day 2016

Google celebrates Earth Day

26/51 Ravi Shankar

Google marks Pandit Ravi Shankar's 96th birthday

27/51 Olympic Games in 1896

Google are celebrates the 120th anniversary of the modern Olympic Games in 1896

28/51 World Twenty20 final

Google celebrates the 2016 World Twenty20 cricket final between the West Indies and England with a doodle

Google

29/51 William Morris

Google celebrates William Morris' 182 birthday with a doodle showcasing his most famous designs

Google

30/51 St Patrick's Day 2016

Googlle celebrates St Patrick's Day on 17 March

31/51 Caroline Herschel

Google marks Caroline Herschel's 266th birthday

Google

32/51 Clara Rockmore

Google celebrates Clara Rockmore's 105th birthday

33/51 International Women's Day 2016

#OneDayIWill video marks International Woman's Day on 8 March

34/51 St David's Day 2016

Google marks St David's Day

Google

35/51 Leap Year 2016

Google celebrates Leap Day on 28 February 2

Google

36/51 Lantern Festival 2016

Google celebrates the last day of the Chinese New Year celebrations with a doodle of the Lantern Festival

Google

37/51 Stethoscope Inventor, René Laennec

Google celebrate's René Laennec's 235th birthday

38/51 Valentine's Day 2016

Google celebrates Valentine's Day with a romantic Doodle

39/51 Dmitri Mendeleev

Google celebrate Dmitri Mendeleev's 182nd birthday

40/51 "The televisor" demonstartion

Google Doodle celebrates 90 years since the first demonstration of television or "the televisor" to the public

41/51 Professor Scoville

Google marks Professor Scoville's 151st birthday

42/51 Sophie Taeuber-Arp

Google marks Sophie Taeuber-Arp's 127th birthday

43/51 Charles Perrault

Google celebrates author Charles Perrault's 388th birthday

44/51 Mountain of Butterflies discovery

Google celebrates the 41st anniversary of the discovery of the Mountain of Butterflies

45/51 Winter Solstice 2015

Google celebrate the Winter Solstice

46/51 St Andrew's Day 2015

Google marks St Andrew's Day with doodle featuring Scotland's flag and Loch Ness monster

47/51 41st anniversary of the discovery of 'Lucy'

Google marks the 41st anniversary of the discovery of 'Lucy', the name given to a collection of fossilised bones that once made up the skeleton of a hominid from the Australopithecus afarensis species, who lived in Ethiopia 3.2 million years ago

48/51 George Boole

Google marks George Boole's 200th birthday

49/51 Halloween 2015

Google celebrates Halloween using an interactive doodle game "Global Candy Cup"

50/51 Prague Astronomical Clock

Google celebrates the 605th anniversary of the Prague Astronomical Clock, one of the oldest functioning timepieces in the world

51/51 Autumnal Equinox 2015

Google marks the autumnal equinox on 23 September
Khan invented the tube principle around which all modern skyscrapers are designed
Hired by the prestigious Chicago firm Skidmore, Owings and Merrill, Fazlur quickly distinguished himself with an innovative new design for high-rise buildings known as the tube concept. 
Khan proposed using the perimeter wall of a building to mimic a thin tube rather than designing structures around a solid central core, thus better enabling tall towers to withstand the impact of horizontal forces, such as high winds or earthquake vibrations. The innovation also drastically reduced construction costs and environmental impact as it required fewer materials to execute.
Khan's radical rethinking of how skyscrapers were structured proved a game-changer, allowing far taller buildings to be realised. Khan's principle meant that, in terms of architectural design, the sky was quite literally the limit - as the abundance of ever-taller towers being unveiled in the UAE today amply demonstrates.
His most famous buildings include the John Hancock Center and the Sears Tower
Fazlur's first projects to incorporate the tubular system were the 43-storey DeWitt-Chestnut Building and 35-storey Brunswick Building in Chicago, which went up in 1964 and 1965 respectively. 
Their success led to the construction of Chicago's iconic John Hancock Center, designed by Khan's close collaborator Bruce Graham around a "trussed" variation on the tube design. It stands 100 storeys high and was the second-tallest building in the world when it was completed in 1968.
Perhaps Khan and Graham's greatest triumph though was the Sears Tower (since rechristened the Willis Tower), also in Chicago looking out over Lake Michigan. Completed in 1973 and standing at 108 storeys, the building remains the second-tallest in the US. A sculpture of Khan was unveiled at the site in 1998 in celebration of his contribution to his field.
Other notable Khan structures include the US Bank Center in Milwaukee, One Shell Square in New Orleans, 140 William Street in Melbourne, Australia, the United States Air Force Academy in Colorado and the Hajj Terminal at the King Abdulaziz International Airport in Jeddah, Saudi Arabia.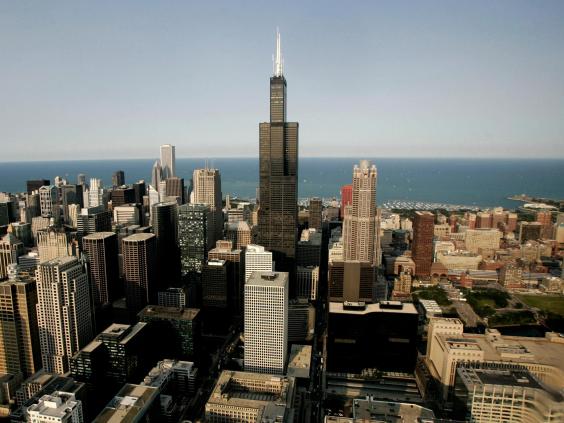 Khan was a true visionary who foresaw the possibilities of computer-aided design
Khan died of a heart attack while visiting Jeddah on March 27 1982 and was mourned as a giant of his profession. 
In addition to revolutionising our approach to the urban landscape, Khan was also an early adopter of computer-aided design in architecture - even though the technology was in its infancy during his lifetime. 
Although he became an American citizen in 1967, Khan never forgot his roots and did valuable charitable work to secure emergency relief funding for Bengalis during the Bangladesh liberation war in 1971.
Khan advised engineers never to lose sight of the bigger picture
"The technical man must not be lost in his own technology," he once said. "He must be able to appreciate life, and life is art, drama, music, and most importantly, people."
Reuse content