If a job advert were to exist for the role of pop star, it would read something like this: "Candidates must be loud, attention-seeking, good looking and be able to deliver tunes." Dan Smith, the creative mastermind behind indie-flavoured pop band Bastille, who are currently at No 1 in the album chart with their debut Bad Blood, certainly has the tunes. And he has the look – a distinctive towering quiff of hair and the quintessential skinny jeans – but as far as chart-topping pop stars go, the 25-year-old is neither loud, nor attention-seeking.
Before a gig for competition winners, the quietly-spoken self-confessed film obsessive and straight-A student confides: "I was very quiet as a teenager. I've never wanted to be centre of attention, which is why, I guess ,there are elements of doing this that make me so uncomfortable…" He adds: "Kyle [Simmons] who plays keys in the band always takes the piss out of the fact that most of the stuff I have to do is my idea of hell, like putting myself out there and being in photos."
Which begs the question – isn't that only going to get worse as you become more famous? "Apparently", he offers tentatively, before adding a large dose of pessimism, "Who knows? This all could fall through. I could be working in McDonald's this time next year." He is genuinely floored by his band's chart success. "I don't think anybody, least of all us, expected the album to go to No 1," he says in wide-eyed wonder. "We're totally blown away by it, and we're massively overwhelmed."
The past two years have been a whirlwind for Smith and his three band mates. It started in 2011 with a 7" single then an EP released on indie label Young & Lost Club called Laura Palmer, inspired by Smith's love of all things David Lynch and his Twin Peaks series, which led to a record deal with Virgin. When Smith posted his makeshift video for the single "Flaws", created with clips from Terrence Malick's Badlands, it was an online hit, and soon fans around the world were recording their own versions. Last year, they sold out the 1,500 capacity KOKO in north London and then two shows at Shepherd's Bush Empire, long before their debut album was even set for release. Their latest single "Pompeii" hit No 2 and those YouTube views are now at 15 million. That Smith, the band's songwriter and producer, has a knack for creating big, instant, chart-friendly hooks in the form of melancholic fist-pumping pop anthems, is further proven by his singles' appearance on television shows including Hollyoaks – and the No 1 album.
But Smith was honing his skills as a songwriter years earlier. He grew up listening to his sister's Lauryn Hill and Jurassic 5 albums, and his South African lawyer parents' collection of Crosby, Stills, Nash & Young and Simon & Garfunkel, while his obvious ear for a melody are also thanks to his mother, who paid her way through university as a folk singer. "There's a bit in [Simon & Garfunkel's] "The Only Living Boy in New York" where the song breaks down and that big "aaah" comes in. I remember thinking that it was the most amazing thing and wanting to replicate that." So he took to his south-west London bedroom aged 15 and started writing songs on the piano and his laptop, but kept it secret from his friends. "I wrote songs very much for myself and thought it was really embarrassing. None of my friends ever knew. My family knew because they overheard it coming out of my room – these weird warbling noises."
It wasn't until his final year of university at Leeds, where he read English Literature, that his secret was discovered by a friend who stumbled upon him producing music from his student digs and was impressed enough to enter him for a local competition for which the prize was studio recording time and performing a gig. He won, and a career was born. "I didn't tell anyone and I ended up winning it, which forced me to do a gig for the first time which was quite traumatic", he recalls.
Back then his music was less accessible than Bastille's. Listening to his new album, it's hard to imagine the Regina Spektor influence he cites. "My songs used to be significantly more bizarre. I used to play a big electric piano and a loop pedal. I was really into Regina Spektor and I liked her narrative lyrics that were quite off the wall. I used to layer things up and try and replicate what I'd been doing with my bedroom recordings."
The songs still begin in the bedroom; Smith points out that "Flaws" was almost completed there before reaching the studio. Before forming Bastille, he was a solo artist. Keen to shift away from the singer-songwriter template, not least because he didn't enjoy the limelight and because he eschewed sensitive love-centred lyrics, he formed the band with friends. "I found playing under my own name a bit embarrassing", he says. "I'm not interested in writing overtly autobiographical songs. I would rather explore interesting stories. I like the idea of the songs being evocative and distinctive, so I have in my mind the atmosphere that a film could evoke. I like to think of them existing in their own little world." Hence grand, historical song subjects such as "Pompeii" in which ash-smothered corpses converse.
Crucially, no guitar chords feature in Bastille. With the exception of the drums, bass guitar, and piano, it's all synth-driven. "It was a challenge that we set ourselves," Smith says with a smile. "The first turning point, when I stopped doing things by myself and the Bastille project began, was the inclusion of more electronic music into the sound. Initially, it was a thing of 'Well obviously there won't be guitars, because I can't play guitar' and then it became a running joke that we wanted to make an album that sounded like [guitar music] – some people have grouped us in with guitar bands."
His reservations about gigging might still linger, but you'd never know from Bastille's confident headline shows, which have led to another sold-out tour. "I don't like the attention and I don't like being on stage," he states, "but I've grown to enjoy elements of it. You can't imagine anything more mind-blowing than being onstage in front of 1,500 people, and pretty much everyone in the room shouting along to one of your songs. That's such an amazing feeling."
It's a feeling that Smith had better become accustomed to. McDonald's will have to recruit elsewhere.
'Bad Blood' is out now. Bastille tour from Tuesday to 6 April
This article appears in tomorrow's print edition of Radar magazine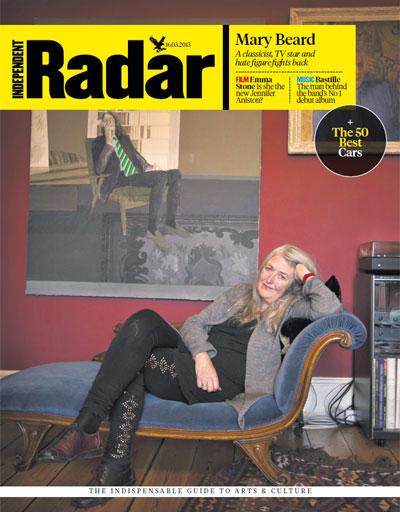 Reuse content