Invading golf courses, spilling out of houses, overflowing from rusty cars, the white balloons in Charles Pétillon's art-installation series "Invasions" become ghostly occupants of the diverse spaces they appear in.
"I try to tackle subjects we encounter daily without paying them any attention," says the artist. "Those subjects might be anything from architecture to consumables to philosophy. Using the balloons, I try to shift our point of view from a practical perception to an aesthetic experience that provokes questions."
The 42-year-old, who divides his time between Paris and Lille, requires the help of a small team to construct the creations. The balloons are inflated then manipulated into grape-like structures and stored in a hangar before being transported by lorry to their destination.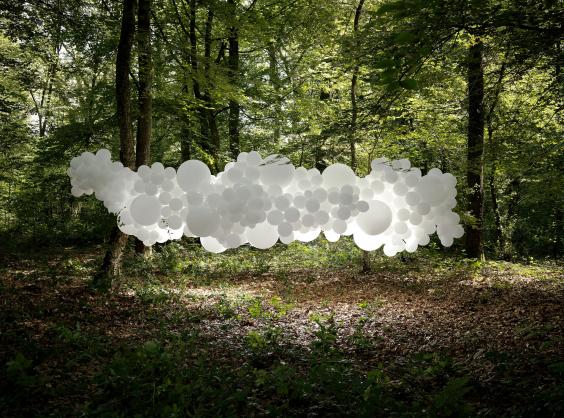 "PlayStation 1" (pictured top), shot in September 2011 in a small town close to Dunkirk in the north of France, riffs on the concept of the games console. "The name was chosen to evoke the developing implementation of play areas in towns," says Pétillon. "The point is to question the use of games in all forms, their evolution and their influence on society."
The structure in "Mutations 2" (above), shot last June in a forest not far from Lille, amplifies the molecular structure of DNA as a metaphor for our changing world. "By placing the structure in a place where it is deprived of sense, I can reinforce the discrepancies of the changes we are living through. It is impossible to imagine that such an idyllic, picturesque and enchanting place could bear the stigma, or result, of such changes."
For more: charlespetillon.com
Reuse content