Tonight on BBC One's singing contest The Voice, the country singer Mike Ward will battle it out in the live final to face the public vote. The "streetwise boy from Salford with a surprising country voice",  according to The Voice's website, wants to promote country music in the UK and bring it into the 21st century. Could this 23-year-old who wears a neck-tie and waistcoat be the man to make British country music cool?
He is the first UK homegrown solo country act with pop crossover potential for the past decade. Could things be changing for country music in Britain? Taylor Swift has of course led an international resurgence in country music, bringing country pop music to a new audience in the UK. Her latest album Red has just picked up Top Country Album in the 2013 Billboard Music Awards, where she won Best Country Star,  and it also secured her first UK number one album in October.
This week she spoke to Radar about her love of the genre and her desire to see it spread.
Click here or on "View Images" for Taylor Swift's career in pictures
"I grew up on country music especially Patsy Cline and Dolly Parton," says Swift, who, aged 17, scored her first number one single on the US country chart with "Our Song". "At an early age I would perform their songs around my hometown, at festivals, fairs and karaoke contests."
Swift soon found that using her failed relationships as  material for her confessional songs was a hit formula. She tells me: "I think I first realised I wanted to be in country music and be an artist when I was 10 years old. Shania Twain came out and she was just so strong and so independent and wrote all her songs. That meant so much to me. She is one of the most successful female artists to ever hit country music and I was inspired by her.
"I also saw a VH1 Special on country singer Faith Hill and I was sure that country music was what I wanted to do. After watching that TV programme I was obsessively, obnoxiously bugging my parents every day about it until finally we planned a trip to Nashville."
The first song Swift learnt to play on guitar was the 1999 Dixie Chicks song "Cowboy Take Me Away". Swift and her family upped sticks and moved from Pennsylvania to Nashville when she was 14,  so she could pursue her country career. It worked out – each of Swift's four studio  albums has sold in excess of five million copies worldwide and she has an estimated wealth of more than $165 million. Swift is still a main player on the country scene despite sounding more like Britney Spears than Dolly Parton. Earlier this month, she performed with a banjo at the CMA festival in Nashville, the Glastonbury of country music, where a reported 80,000 people attended the four day festival, a 15 per cent increase from 2012.
"Country music is the place to find reality in music, and  reality in the stars who make that music," Swift says. "There's kindness and goodness and honesty in the people I look up to. I'm always going to love Keith Urban [Nicole Kidman's husband], Twain and Hill. I'm always going to love people like that, who I feel are truly authentic. I'm inspired by people who I feel know exactly who they are, and that inspires me to continue to figure out and inform who I am as an artist."
The lead single on Swift's latest Red album, "We are Never Ever Going To Get Back together", was Swift's first number one on the US Billboard Hot 100 chart – but she is not getting hung up on genres. Instead, she still reigns as the country superstar.
"I leave the genre labelling to other people. I really do. If I were to think too hard about it that would stifle me creatively. I think if you sit there and think, 'I have to put this instrument on this song because if I don't people will think that I'm in a different genre,' then I think that is possibly overthinking what I do."
But as yet there are still no British country stars in the charts – although country music is becoming more popular in the UK. The US drama, Nashville, about country singers is pulling in significant ratings in the UK on More4, and its accompanying soundtrack Nashville Vol 1  has sold more than 50,000 units in the UK to date, according to Decca.
In March, the largest gathering of country music fans ever took place in London with the first big, two-day festival dedicated to country music, C2C: Country to Country, at The O2. The American country  superstar Carrie Underworld sold out the Royal Albert Hall in 90 minutes in June 2012 – another milestone.
"Things have begun to change for country music in the UK – primarily as a result of a group of new artists who are shining new light on the genre from a variety of angles," says Mike Bartlett, director of Decca Affiliated Labels in the UK. "These include Taylor Swift, whose country roots were built upon before her dominance in the pop arena, and Lady Antebellum whose massive hit "Need You Now" has drawn a huge new audience to the music. In the wake of Lady Antebellum's success, US country pop acts are now viewing the UK as a fertile market," he says.
But as the UK charts fill up with more country artists from the US, it seems there is a gaping hole for British acts to fill. The American Kacey Musgraves, who signed to Mercury Records last year, is poised to do a "Taylor Swift", with A-list fans including Katy Perry. Her third album, Same Trailer Different Park, reached number 39 in the UK album charts in March. Justin Timberlake is a fan of the American country sibling trio The Band Perry's second album, Pioneer, which was released in the UK earlier this month on Decca/Universal.
If The Band Perry can sell out London's Koko in a few hours last autumn off the back of their self -titled debut album, surely the UK could produce a few country  pop stars? 
Country music has certainly had its moments of being cool. The painter Stuart Pearson Wright, who directed Keira Knightley in a low-budget film Maze, recorded a limited-edition LP of country and western covers, Lonesome Stu & the Gearshifters Sing Good'Ol Country which he sold with his Wild  West paintings.
Gwyneth Paltrow also tried her hand at getting a record deal as a country star. Her husband Chris Martin wrote a song "Me and Tennessee" recorded by Paltrow and Tim McGraw for the soundtrack of her 2011 film Country Strong, which reached number 63 in the UK singles charts.
But what about the British country pop scene?  "What is holding them back is that no major labels in the UK are nurturing them," says Alan Cackett, editor of Maverick, the UK's leading country music magazine. "Also country music in the UK still has a bad image – it's all 'Yeehar'."
The Band Perry's album, 'Pioneer'  is out now. Taylor Swift's new single, "Everything Has Changed" featuring Ed Sheeran, is out 15 July.
*This article appears in tomorrow's print edition of Radar magazine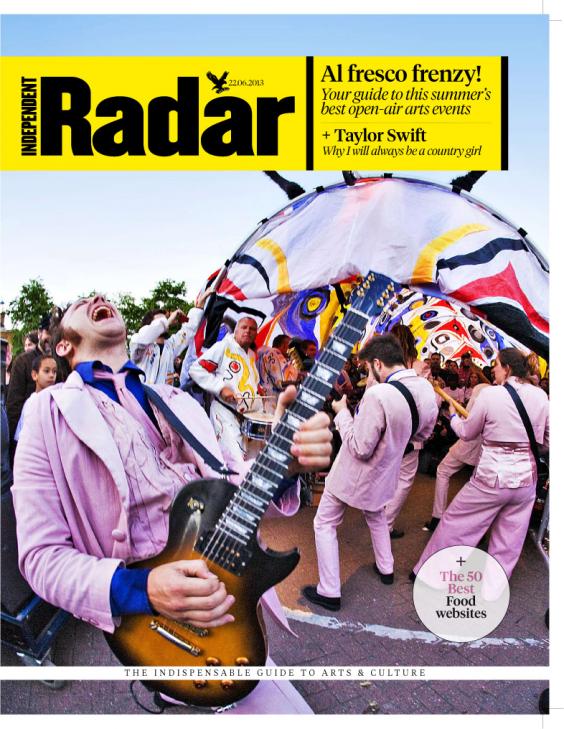 Reuse content