The blue cockerel has hopped off Trafalgar Square's Fourth Plinth to be replaced by an emaciated pony.
Gift Horse by German artist Hans Haacke is a "wry comment" on the equestrian statue of William IV originally planned for the plinth, and is derived from an etching by George Stubbs.
The title is a play on the platitude "Don't look a gift horse in the mouth" (you can determine a nag's age by examining its teeth, apparently - but you should be grateful for anything given freely), is causing some critics to peer inquisitively into the sculpture's jaws.
Haacke, who lives and works in New York, has long examined the relationships between art, power and money. "The title of the piece is Gift Horse, and that implies something is off," the 79-year-old told press at the piece's unveiling.
Fourth Plinth
Fourth Plinth
1/8 Fourth Plinth

The sculpture "Gift Horse", which portrays a skeletal horse by German-born artist Hans Haacke, stands above Trafalgar Square after it was unveiled as the new commission for the Fourth Plinth, in London

2/8 Fourth Plinth

Hahn/Cock, a large cockerel by artist Katharina Fritsch, was installed in 2013

3/8 Fourth Plinth

Nelson's Ship in a Bottle, by leading Anglo-Nigerian artist Yinka Shonibare

4/8 Fourth Plinth

British artist Anthony Gormley (centre) with people from different walks of life during a photocall for the One & Other fourth plinth project in 2009

Reuters

5/8 Fourth Plinth

Fibrelass statue of Chief Air Marshal Sir Keith Park, commander of the No 11 Group RAF during the Battle of Britain

6/8 Fourth Plinth

An artwork by German artist Thomas Schutte entitled 'Model for a Hotel' was unveiled on Trafalgar Square's fourth plinth in November 2007

Getty Images

7/8 Fourth Plinth

'Monument,' a clear resin mirror image of the previously empty fourth plinth in Trafalgar Square, was the third of the RSA's commissions to go on show. The piece, by Rachel Whiteread, was erected in 2001, and caused furore among the Stuckists, a group of artists trying to promote traditional methods like painting and drawing.

Getty Images

8/8 Fourth Plinth

A marble sculpture by British artist Marc Quinn entitled 'Alison Lapper Pregnant' is seen on Trafalgar Square's Fourth Plinth in September 2005. The statue is a portrait of disabled artist Alison Lapper, who is portrayed naked and eight months pregnant. The statue graced the fourth plinth from until late 2007.

Getty Images
But he wouldn't be drawn on quite what it means, adding: "The piece is an invitation to make connections, but I wouldn't like to give directions as to what those connections are. I'm sure there will be a diversity of responses, as is typical of public art."
Tate boss Sir Nicholas Serota might have said that it is "clearly about the fragility of power systems and the state and the financial systems," but others (perhaps used to having a laugh at Hahn/Cock, Katharina Fritzch's vast bright blue cockerel which resided on the Fourth Plinth before it) aren't prepared to take things so seriously.
The Spectator's Digby Warde-Aldam might previously have called plans for the piece "OK as public art goes", but having seen it in reality the critic became so disgruntled by the "strip of stockmarket ticker-tape tied in a bow around its leg" that he declared: "Haacke is aiming for an Ozymandias-style comment on capital and society; what he achieves is the equivalent of a biro'ed anarchist symbol on a GCSE maths textbook. Look on my works, ye mighty, and cringe slightly."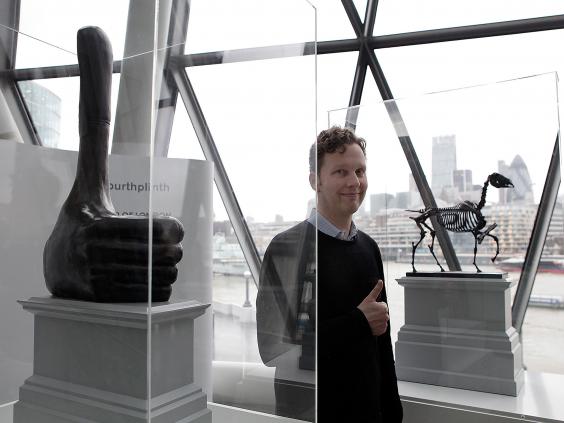 London Mayor Boris Johnson, who unveiled the work, seemed to pre-empt criticism of the work, saying: "There will be those that say this undeniably unfed, emaciated quadruped is a warning, a memento mori, a symbol of the pursuit of austerity and the George Osborne diet approach to life."
"But I say no, my friends. This wonderful sculpture stands for the horse in all its incarnations... in these fabulous tubular structures we see symbolised the vital infrastructure - the tube - that must run beneath the surface of any great and beautiful city."
Passersby today appear impressed with one describing it as "stunning" and the Telegraph's critic conceded "surprisingly, it's actually quite good", adding: "I quite like what turns up every year or so on the Fourth Plinth in Trafalgar Square. By and large, the offerings have been striking, funny or intriguing."
Ekow Eshun, chair of the Fourth Plinth Commissioning Group, said. "It's a memento mori, it's a reference to art history and to the fact that money is the hidden dynamic that fuels our city for good and bad. It's a beautiful and poetic piece."
Next year we'll see David Shrigley's giant thumbs up (it's called Really Good, which is just asking for the critics to disagree) arrive on the Fourth Plinth. At least we know that one's meant to be funny.