They might be less recognisable than Damien Hirst's beasts drowned in formaldehyde or Picasso's nudes, but Henri Matisse's cut-outs have become the most popular show in the Tate's history.
This summer 562,622 people visited the exhibition (exact figures of how many suggested that their children could have been responsible for them remain unclear, although it appeared to be a common enough observation).
Previous record attendances for Tate exhibitions were for its joint Matisse and Picasso show in 2002, which attracted 467,166 people, followed by Damien Hirst's 2012 exhibition which brought 463,087 visitors through its doors. And it's a huge leap on from Tate's biggest-selling show of last year, Paul Klee, which managed to bring in 303,863 art-goers.
Tate's director Sir Nicholas Serota puts the success of "Henri Matisse: The Cut-Outs" down to the "joyous quality" of Matisse's later work, created from 1937 up until his death in 1954, and cooly admitted the exhibition "slightly exceed[ed] expectations".
He said: "Also, the fact they have not been brought together for nearly 40 years captured people's imagination. People were aware that this would be a one-off opportunity."
But how do these figures relate to other smash-hit art shows in the UK?
Such was the popularity of the Royal Academy of Art's Monet in 1999 that the institution opened it to the public for 24 hours on its final weekend, ensuring that 700,000 people got to see the French Impressionist's work. The same gallery enticed 600,000 art lovers to their David Hockney exhibition in 2012.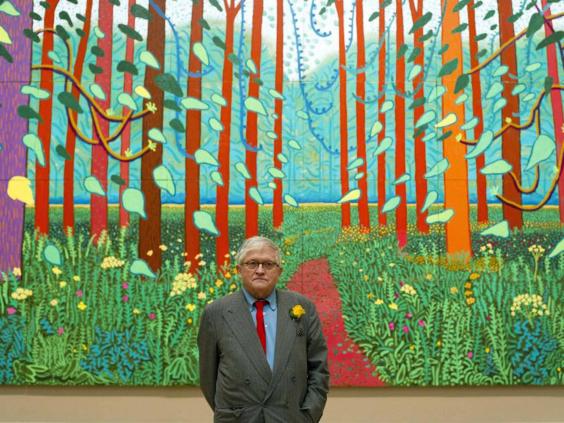 Other notable shows include 2012's Lucien Freud at the National Portrait Gallery (246,801 visitors) and the National Gallery's 2011 Leonardo da Vinci exhibition (323,897). The media frenzy surrounding the controversial "Sensation" exhibition in 1999 (also at the Royal Academy) ensured more than 300,000 went to see the work of the YBAs. Martin Bailey of The Art Newspaper believes that solo artist exhibitions will usually attract more visitors than shows that try to tackle an entire movement.
"Single shows by the big-name artists are real crowd-pullers," he says. "Seeing the show of a single artist really enables you to get to grips with their work. Although you can often see a few works by Matisse or Van Gogh or whoever in a gallery, seeing room after room gives you a real insight into their work."
The Art Newspaper releases a list of the best-attended exhibitions every year (visitors per day) and the shows are not always made up of big names. In 2013, the world's busiest art exhibition was in the National Palace Museum in Taipei and consisted of paintings from the Chinese Lingnan school of the 19th and 20th century.
The year before that, it was a showing of Dutch Old Masters, including Vermeer and Rembrandt, at the Tokyo Metropolitan Art Museum that caused the most fuss. In 2011, it was a retrospective of the work of M.C. Escher at the Centro Cultural Banco do Brasil in Rio de Janeiro.
British shows, however, rarely feature in the top 10. But there is a simple enough explanation.
"There are so many venues in London putting on popular exhibitions now," says Bailey. "There is enormous competition. The hope is that people will go to multiple exhibitions and not ration themselves. It means fewer go to each, but it's only because we're so fortunate to have so many shows here."
Still, these figures don't come close to the most attended British exhibition of all time. When "The Treasures of Tutankhamun" arrived at the British Museum in the spring of 1972, the tribute to the Egyptian pharaoh lured in 1.7 million.
Matisse, Hirst and Monet can bring in the crowds, but they certainly can't compete with a 3,000 year old boy king.
Reuse content