The work of Newquay-based and self-taught artist David Whittaker has been described as a mash-up of John Constable and Francis Bacon. The identity crisis you might attribute to Whittaker's powerful artwork is understandable when put into the context of the artist's own gender dysphoria.
Here, Whittaker, who won the prestigious Towry Award at the 2011 National Open Art Competition and whose Glimpse exhibition opens at the Gallery Different in London next week, gives insight in how art reflects life:
"I Transition (above) is a piece I did to echo the journey through life, really. There's a shadow of the crucifixion of Christ in that, but mostly it's about the movement between bodily environments: maybe male to female, female to male; maybe from life to death and then back into life.
There is a reflection of myself in a lot of the work. There is definitely something within me that makes me produce art. I find it's a very raw place when I'm active in the studio. It's completely opening of the soul, really. Baring all as much as I can while I'm here.
David Whittaker
David Whittaker
1/8 Glimpse

David Whittaker, Becalmed from the storm drinkers

® Graham Gaunt

2/8 Glimpse

David Whittaker, Boys in the Outskirts - Howlers Waltzers (triptych)

® Graham Gaunt

3/8 Glimpse

David Whittaker, I heard the bull roarers

® Graham Gaunt

4/8 Glimpse

David Whittaker, I transition

® Graham Gaunt

5/8 Glimpse

David Whittaker, My life is over until yours begins

® Graham Gaunt

6/8 Glimpse

David Whittaker, The Whitstable head

® Graham Gaunt

7/8 Glimpse

David Whittaker, Your words are carried

® Graham Gaunt

8/8 Glimpse

David Kim Whittaker

® Graham Gaunt
I live and work in Newquay, Cornwall. I've got quite a nice big industrial space which really suits me. Sometimes when I get to the studio I'll put on an album, and particularly when I put on David Sylvian's Gone To Earth, within a moment I can find myself walking alongside John Constable in a meadow. I've become [Constable's] student and we're looking to capture the next sky ; we're in a very beautiful monumental place where there's no aviation pollution in the sky and the air feels really fresh and suddenly he says to me 'We need to stand here and do a quick sketch and then we'll move onto Willy Lot's cottage'.
I sometimes find myself escaping like that and entering a bubble. Although I'm very aware of the outside world – a lot of which is a very cruel, violent place – sometimes between the romanticism that I find myself in and the horrors that are being reported on the news, it kind of merges into this marriage. It's this unusual marriage that I find the soul of the work.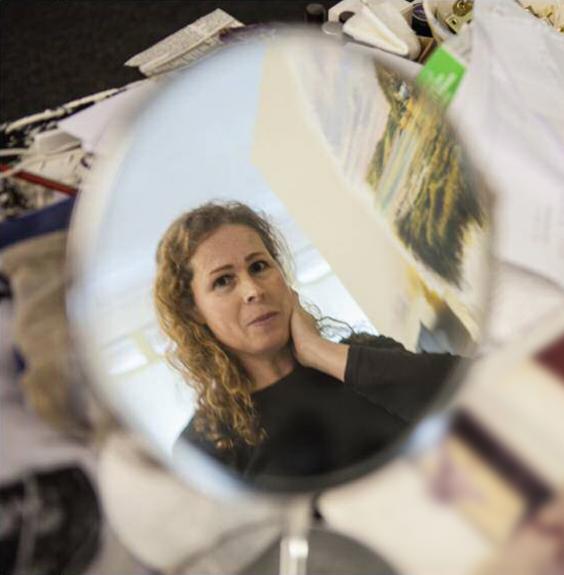 My gender identity informs my work a lot. I was struggling with it a lot at school and in my teens. It was a very private thing for quite a long time. It kind of went away for a little bit and then it came back with a vengeance 10 years ago and I found I was dressing up and when I lived in London I used to go to a nightclub called Torture Garden and I used to dress up as a female and escape into the underworld of that environment. It was very interesting because it educated me into realising that it was OK to be something else and to cross over. It was a great breakthrough for me.
Another breaking point was when I went to a wedding with my family and when I flew home I knew I had to go home and see my doctor and talk to her about it. I came out about my gender conflict about six years ago which has really helped me. Now I live as a female but I'm still kind of male.
Am I male or female? It's really hard. It's like a fusion. At the moment I walk a tightrope between the two. It's very interesting for my art. I can't really answer. People see me as a female. I like to be known as David Whittaker for my art but locally where I live people call me Kim. I was born David Kim Whittaker so I was lucky really to have that middle name for the gender thing. My family still call me David and that's fine.
I've had no problems from anybody [since coming out]. Especially where I live. I think people kind of expected it, you know. I think a lot of people wondered if I was gay, anyway. It was quite a shock when I came out as being in the wrong body, people didn't realise that.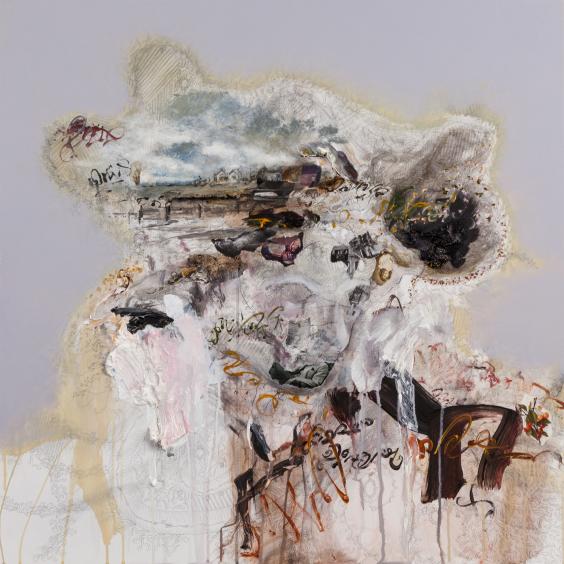 My work hasn't changed [since I became trans] it's just always been on a journey of its own. I've never actually addressed [my identity conflict] directly in my work. The work needs to be born and grow itself. I think if it was burdened by my burden then it has a short lifespan. I think it's better if the work grows in its own little Petrie dish, if you like, and I can feed it as much as possible.
I'm fascinated with the human head and our bodies and our lifecycles and the fact that grow old and the fact that some people commit suicide under trains and the fact some little girls are born in the world and they die of a virus or a disease before they're even 10. All these things really, really affect me. It's there in the paint, the oil, the gesture of the work, somehow it's there in that moment."
Glimpse by David Whittaker is at the Different Gallery in London, 15-18 April 2015 www.gallerydifferent.co.uk
Reuse content