Most children's drawings fail to travel much further than the kitchen fridge, where Crayola imaginings of dragons breathing Haribo and slightly insulting stickmen family portraits ("Cheers for the gut, Billy") are proudly held up with magnets and displayed until the budding Van Gogh brings home their next creation.
But the doodles of Angelina Jolie's and Brad Pitt's brood were splashed around the world yesterday after the first images of the couple's wedding at Château Miraval, the family's estate in the French village of Correns, were revealed, with the children's artwork appearing on their mother's dress and veil.
Luigi Massi, the master tailor at Atelier Versace, sewed dozens of brightly coloured designs, including flowers, animals, drums and the Eiffel Tower, by Maddox, Zahara, Knox et al, onto his handiwork. "Luigi is like family to me, and I couldn't imagine anyone else making this dress," Jolie told Hello!, which gave a hefty donation to charity in exchange for the exclusive wedding photos. "He knows and cares for the children and it was great fun putting it together."
Opinion about the dress among the fashion industry has been split (and who knows what Donatella Versace made of the children's contribution to her fashion house's creation) but it was clearly designed to add a familial feel to proceedings. So, what did other mothers make of it?
Sarah Crown, editor of Mumsnet, points out that views on the website have been wide-ranging. "Some people think it's really sweet but it's probably leaning towards the feeling that it's a bit naff," she says. "By and large the response is, 'Yes, you love your children, we know. Get over it.'"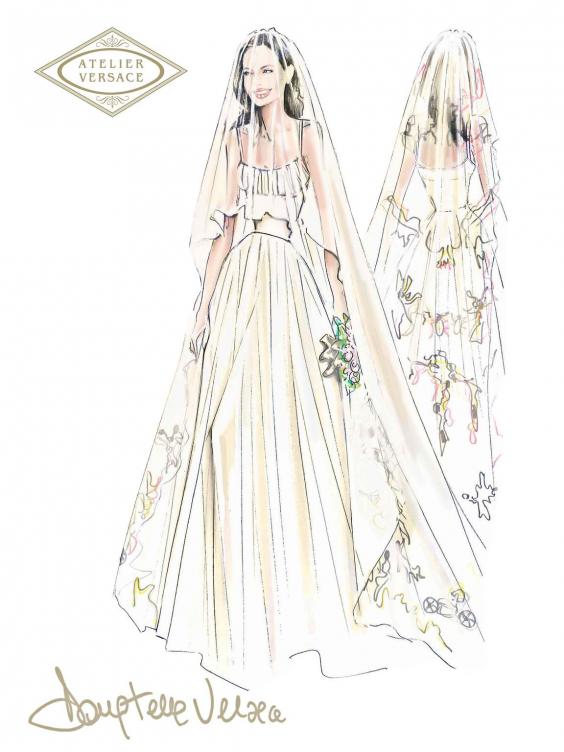 Poor Ange. Surely she just wanted to include the kids in her big day? (Incidentally, the six children didn't just help scrawl on the dress, they also had a hand in writing their parents' vows, and 10-year-old Pax made the cake).
"Oh, I imagine that was the idea behind it but, you know, they were actually there as well," points out Crown. "Lots of people think it gives off a slightly ostentatious 'I'm a parent!' vibe. Many of us are parents when we get married but don't feel the need to display it in such a way."
But the wedding dress is actually part of a larger trend of turning sprogs' scribbles into something more permanent.
Some are really rather cute. Companies such as Doodle Your Toys (doodleyourtoys.com) will make a custom stuffed toy based on your child's sketch. In these cases, the less sophisticated the illustration, the more heartwarming the final product tends to be.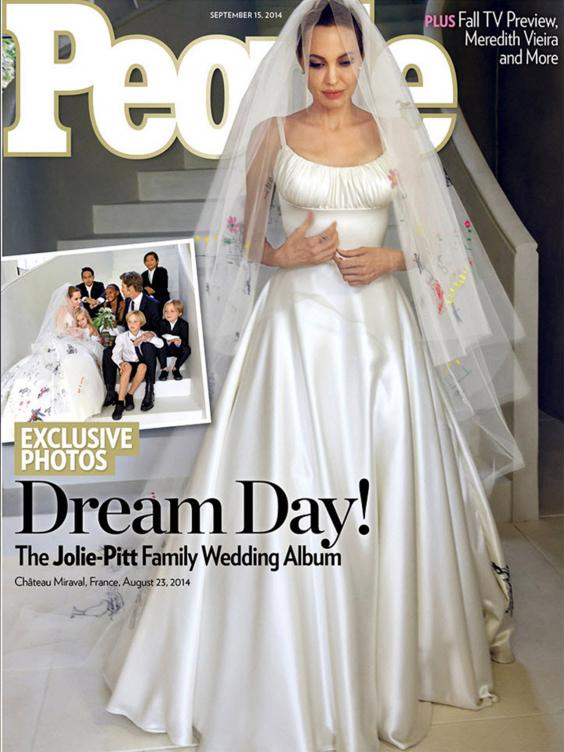 Then there are the more obvious items that your child's imagination can be transferred onto: T-shirts, pillow cases, mugs. If a company can put a photo on it, then they can put your son's art class effort on to it.
Other transformations, however, are remarkably odd and should probably be reserved for smug parents whose own lives ended the moment their bundle of joy entered the world. Do you really need young Timmy's pencil sketch of a five-eyed rabbit commemorated in a pair of cufflinks? Or etched onto wine glasses? Or made into a silver pendant? Or turned into a full-size, framed masterpiece? These are all readily available on the web (for smug parents who're interested, try Etsy.com).
But then again, what else are you supposed to do with the doodles? After all, the sheer number of them coming through the door after nursery and primary school makes it tricky for parents to keep hold of them all.
Crown notes that some mothers and fathers have taken to scanning artworks to save as mementos for when their child is grown up. That way their scrawls won't clutter up the kitchen. "I think some people feel a bit guilty about chucking them out," she says. "Whatever you do with it, just remember that nobody is interested in your kids' artwork apart from you. And maybe your parents at a stretch."
Reuse content