What sort of pain has made her turn her back on Windermere? One of Laura Ford's Weeping Girl sculptures huddles on a wall in the garden of Blackwell. A curtain of hair conceals her face. Just beneath her, the long snake of the lake stretches beneath this Arts & Crafts mansion built in the late 1890s as a summer retreat for a Manchester brewing magnate. Beyond Windermere, snow still dusts the high fells of Coniston. No Lake District day-tripper could ask for a lovelier vista. Yet this girl – and another one, downcast beside a nearby tree – seems racked by a grief that no mere scenery can heal.
Made in a variety of materials, hard and soft, from bronze to fabric to ceramic, Ford's figures often depict children or else animals with child-like traits. She has dubbed her works "sculptures dressed as people dressed as animals". Forget preconceived ideas of whimsy or sentimentality. There's comedy, certainly – but frequently with a sinister edge. And sometimes, as with those forlorn girls, her vein of anthropomorphic fable vanishes to reveal a raw anguish or dread. Later, I discover that Sir Edward Holt, the master brewer and mayor of Manchester who commissioned this house from architect Mackay Hugh Baillie Scott, would in 1915 lose his eldest son to the Battle of Gallipoli.
Both at Blackwell and at the Abbot Hall gallery in Kendal, Lakeland Arts have gathered a richly unsettling harvest of old and new works by Laura Ford. The twin focus show underscores her prowess as a conjuror of dark dreams out of metal, clay or cloth. The relocation of modern sculpture to charismatic venues can backfire. Star buildings or gardens may set up a background hum – an interference – that drowns out temporary guests. Not here. Ford has cunningly sited her pieces so that they talk with, and back to, their fresh settings.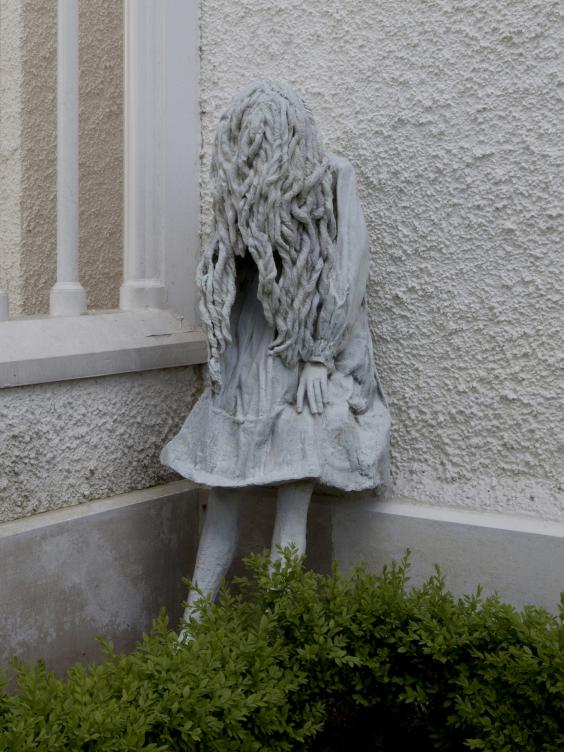 Take the saloon at Abbot Hall, which boasts a fine crop of 18th-century portraits by  Kendal-boy-made-good George Romney. Ford's Medieval Cloud Girls, a motley duo who might have strayed in from some early Netherlandish panel, gaze quizzically up at one of Romney's signature pieces, the Gower Family. In that painting, four plump and sleek little aristos dance in a ring, while their older half-sister Lady Anne beats time. The quartet of kids came from Earl Gower's third marriage; Anne, from his second. Ford's mysterious pair of watchers seems to know something that they don't. Et in Arcadia Ego: time, and its sidekick death, shadow even the grandest family and most sumptuous landscape.
Born in Cardiff in 1961, Laura Ford studied at Bath Academy, and specialised in sculpture at the Chelsea School. She hails from a fairground family: the sort of biographical factoid that critics adore. True, you may detect the mood of a grotesque sideshow in some groups of her freakish mixed-up beasties or little folk in grown-up garb. If so, this is a carnival of fear as well as fun. Above all, the vulnerability of children – or of animal figures who share a child-like jeopardy – runs across these pieces like a scarlet thread through a dark forest. 
Culture news in pictures
Culture news in pictures
1/30 30 September 2016

An employee hangs works of art with "Grand Teatro" by Marino Marini (R) and bronze sculpture "Sfera N.3" by Arnaldo Pomodoro seen ahead of a Contemporary Art auction on 7 October, at Sotheby's in London

REUTERS

2/30 29 September 2016

Street art by Portuguese artist Odeith is seen in Dresden, during an exhibition "Magic City - art of the streets"

AFP/Getty Images

3/30 28 September 2016

Dancers attend a photocall for the new "THE ONE Grand Show" at Friedrichstadt-Palast in Berlin, Germany

REUTERS

4/30 28 September 2016

With an array of thrift store china, humorous souvenirs and handmade tile adorning its walls and floors, the Mosaic Tile House in Venice stands as a monument to two decades of artistic collaboration between Cheri Pann and husband Gonzalo Duran

REUTERS

5/30 27 September 2016

A gallery assistant poses amongst work by Anthea Hamilton from her nominated show "Lichen! Libido!(London!) Chastity!" at a preview of the Turner Prize in London

REUTERS

6/30 27 September 2016

A technician wearing virtual reality glasses checks his installation in three British public telephone booths, set up outside the Mauritshuis museum in The Hague, Netherlands. The installation allows visitors a 3-D look into the museum which has twenty-two paintings belonging to the British Royal Collection, on loan for an exhibit from 29 September 2016 till 8 January 2017

AP

7/30 26 September 2016

An Indian artist dressed as Hindu god Shiva performs on a chariot as he participates in a religious procession 'Ravan ki Barat' held to mark the forthcoming Dussehra festival in Allahabad

AFP/Getty Images

8/30 26 September 2016

Jean-Michel Basquiat's 'Air Power', 1984, is displayed at the Bowie/Collector media preview at Sotheby's in New York

AFP/Getty

9/30 25 September 2016

A woman looks at an untitled painting by Albert Oehlen during the opening of an exhibition of works by German artists Georg Baselitz and Albert Oehlen in Reutlingen, Germany. The exhibition runs at the Kunstverein (art society) Reutlingen until 15 January 2017

EPA

10/30 24 September 2016

Fan BingBing (C) attends the closing ceremony of the 64th San Sebastian Film Festival at Kursaal in San Sebastian, Spain

Getty Images

11/30 23 September 2016

A view of the artwork 'You Are Metamorphosing' (1964) as part of the exhibition 'Retrospektive' of Japanese artist Tetsumi Kudo at Fridericianum in Kassel, Germany. The exhibition runs from 25 September 2016 to 1 January 2017

EPA

12/30 22 September 2016

Jo Applin from the Courtauld Institute of Art looks at Green Tilework in Live Flesh by Adriana Vareja, which features in a new exhibition, Flesh, at York Art Gallery. The new exhibition features works by Degas, Chardin, Francis Bacon and Sarah Lucas, showing how flesh has been portrayed by artists over the last 600 years

PA

13/30 21 September 2016

Performers Sean Atkins and Sally Miller standing in for the characters played by Asa Butterfield and Ella Purnell during a photocall for Tim Burton's "Miss Peregrines Home For Peculiar Children" at Potters Field Park in London

Getty Images

14/30 20 September 2016

A detail from the blanket 'Alpine Cattle Drive' from 1926 by artist Ernst Ludwig Kirchner is displayed at the 'Hamburger Bahnhof - Museum for Contemporary Arts' in Berlin. The exhibition named 'Ernst Ludwig Kirchner - Hieroglyphen' showing the complete collection of Berlin's Nationalgallerie works of the German artist Ernst Ludwig Kirchner and will run from 23 September 2016 until 26 February 2017

AP

15/30 20 September 2016

A man looks at portrait photos by US photographer Bruce Gilden in the exhibition 'Masters of Photography' at the photokina in Cologne, Germany. The trade fair on photography, photokina, schowcases some 1,000 exhibitors from 40 countries and runs from 20 to 25 September. The event also features various photo exhibitions

EPA

16/30 20 September 2016

A woman looks at 'Blue Poles', 1952 by Jackson Pollock during a photocall at the Royal Academy of Arts, London

PA

17/30 19 September 2016

Art installation The Refusal of Time, a collaboration with Philip Miller, Catherine Meyburgh and Peter Galison, which features as part of the William Kentridge exhibition Thick Time, showing from 21 September to 15 January at the Whitechapel Gallery in London

PA

18/30 18 September 2016

Artists creating one off designs at the Mm6 Maison Margiela presentation during London Fashion Week Spring/Summer collections 2017 in London

Getty Images

19/30 18 September 2016

Bethenny Frankel attends the special screening of Disney's "Beauty and the Beast" to celebrate the 25th Anniversary Edition release on Blu-Ray and DVD in New York City

Getty Images for Walt Disney Stu

20/30 17 September 2016

Visitors attend the 2016 Oktoberfest beer festival at Theresienwiese in Munich, Germany

Getty Images

21/30 16 September 2016

Visitors looks at British artist Damien Hirst work of art 'The Incomplete Truth', during the 13th Yalta Annual Meeting entitled 'The World, Europe and Ukraine: storms of changes', organised by the Yalta European Strategy (YES) in partnership with the Victor Pinchuk Foundation at the Mystetsky Arsenal Art Center in Kiev

AP

22/30 16 September 2016

Tracey Emin's "My Bed" is exhibited at the Tate Liverpool as part of the exhibition Tracey Emin And William Blake In Focus, which highlights surprising links between the two artists

Getty Images

23/30 15 September 2016

Musician Dave Grohl (L) joins musician Tom Morello of Prophets of Rage onstage at the Forum in Inglewood, California

Getty Images

24/30 14 September 2016

Model feebee poses as part of art installation "Narcissism : Dazzle room" made by artist Shigeki Matsuyama at rooms33 fashion and design exhibition in Tokyo. Matsuyama's installation features a strong contrast of black and white, which he learned from dazzle camouflage used mainly in World War I

AP

25/30 13 September 2016

Visitors look at artworks by Chinese painter Cui Ruzhuo during the exhibition 'Glossiness of Uncarved Jade' held at the exhibition hall 'Manezh' in St. Petersburg, Russia. More than 200 paintings by the Chinese artist are presented until 25 September

EPA

26/30 12 September 2016

A visitor looks at Raphael's painting 'Extase de Sainte Cecile', 1515, from the Uffizi Gallery in Florence during the opening of a Raphael exhibition at the Pushkin State Museum of Fine Arts in Moscow, Russia. The first Russian exhibition of the works of the Italian Renaissance artist Raffaello Sanzio da Urbino includes eight paintings and three drawings which come from Italy. Th exhibit opens to the public from 13 September to 11 December

EPA

27/30 11 September 2016

Steve Cropper and Eddie Floyd perform during Otis Redding 75th Birthday Celebration - Rehearsals at the Macon City Auditorium in Macon, Georgia

Getty Images for Otis Redding 75

28/30 10 September 2016

Sakari Oramo conducting the BBC Symphony Orchestra, the BBC Symphony Chorus and the BBC Singers at the Last Night of the Proms 2016 at the Royal Albert Hall in London

PA

29/30 9 September 2016

A visitor walks past a piece entitled "Fruitcake" by Joana Vasconcelo, during the Beyond Limits selling exhibition at Chatsworth House near Bakewell

REUTERS

30/30 8 September 2016

A sculpture of a crescent standing on the 2,140 meters high mountain 'Freiheit' (German for 'freedom'), in the Alpstein region of the Appenzell alps, eastern Switzerland. The sculpture is lighted during the nights by means of solar panels. The 38-year-old Swiss artist and atheist Christian Meier set the crescent on the peak to start a debate on the meaning of religious symbols - as summit crosses - on mountains. 'Because so many peaks have crosses on them, it struck me as a great idea to put up an equally absurd contrast'. 'Naturally I wanted to provoke in a fun way. But it goes beyond that. The actions of an artist should be food for thought, both visually and in content'

EPA
At Blackwell especially, her lost girls and boys – or their animal familiars – argue with the house in fruitful ways. Like his contemporaries Mackintosh and Voysey, Baillie Scott transformed traditional motifs from nature and history into a transitional style that bowed to the past but still greeted an airy, clean-lined, light-filled future. This historicist modernism tried to banish – or at least domesticate – its ghosts. Ford's sculptures aren't at all sure about that. 
In the dining-room at Blackwell, her bear-like figure of Old Nick sits in a chair by the fireplace. This merry devil in bronze blows his outsize horn at the little maiden perched precariously on one shaggy knee. Up in the white drawing-room, meanwhile, with its breath-stopping panorama over Windermere, who's that crestfallen creature on a shelf? This is Very Sorry Cat: a white ceramic feline clutching desperately at a blue bag like some under-age refugee.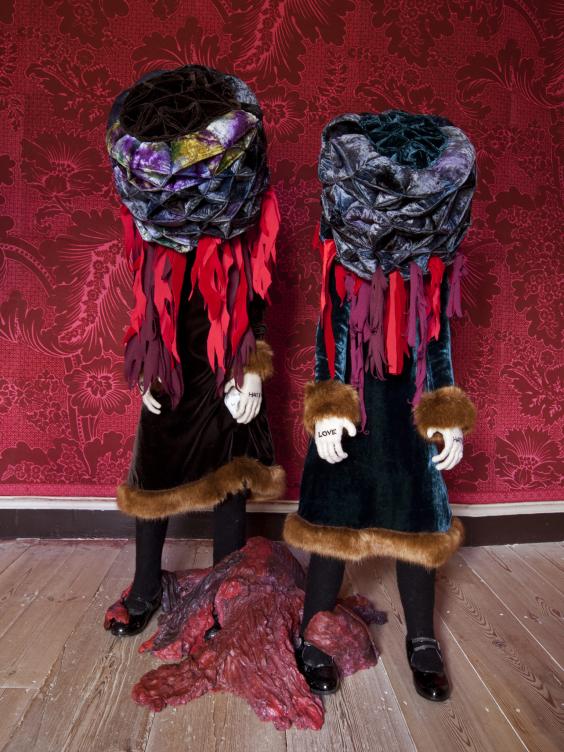 Fans of the art of Paula Rego, with its mythic and animalistic tableaux of gender and power, may well find a kindred spirit here. Ford herself has insisted that her pieces should not be read as specific narratives ("There is no story being told") and rejected message-heavy agitprop: "I always found it impossible to make art about politics in a straightforward way". Enthusiasts for post-Freudian mythologies will nonetheless find plenty to intrigue them – not to mention readers of Angela Carter's neo-Gothic fairy-tales, or Marina Warner's critical investigations into the demons and deities that haunt our cultural unconscious.
And yet... that sort of alignment makes Ford's work sound willed, theorised, schematic. Not at all. To begin with, her bestiary sometimes has an almost cartoonish edge and punch. In the courtyard at Blackwell, just a hare's leap away from the heart of the Beatrix Potter tourist industry, Ford has sited some skittish retakes (or takedowns) of Potterish-ish beasts. These animals have lost their storybook gentility and are now on the skids. Downwardly mobile, a Mrs Tiggywinkle-type hedgehog has become a bag-lady, complete with laden trolley. Clad in no doubt whiffy rags, badger rifles through a rubbish bin. A down-and-out fox begs outside the tea-room door. Austerity has traumatised the nursery. Beautifully fashioned, these pieces not only mock the sentimentality of the Potter cult. They restore dignity, even nobility, to the human counterparts of the derelict creatures they portray. Think of those soppy-cruel newspapers that alternate endless cute pics of animals with the snarling persecution of any fellow-humans who have failed in the Darwinian struggle for success.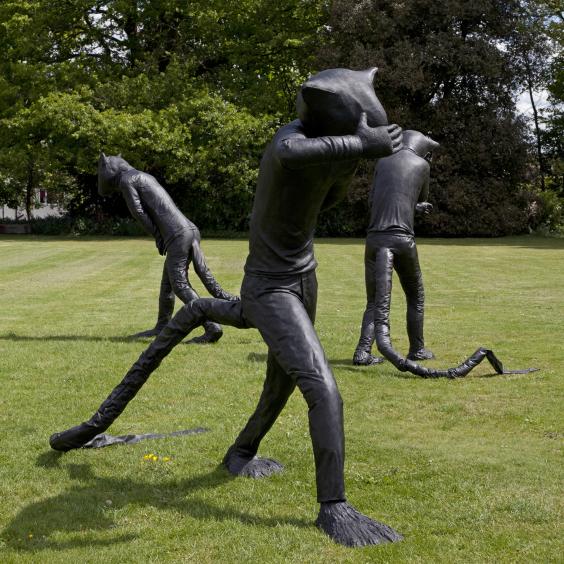 Over at Abbot Hall, some installations move Ford closer to a "nonsense" tradition of nursery-rhyme conundrums and brain-teasing juxtapositions. That room full of 13 child-sized soft penguins, stoutly shod but with floppy orange beaks: how does it make you feel? One stands a little apart from the gang. We can experience contemplative sadness, jolly solidarity – or both almost at once. Walk through this jigsaw of a piece, and its timbre changes with each step. 
Sometimes, though, the impact can be overwhelming and immediate. In the pseudo-baronial central hall at Blackwell, five small armoured figures lie slumped on the floor or thrown against the wall. It looks like the scene of a massacre from some vicious war of yesteryear, or of today. Meet the Armour Boys. These downed bronze lads may refer, obliquely, to child soldiers in modern Africa, to the junior suits of armour Ford found in a Scottish castle, and to a mother's sense of her children's vulnerability at the time of the London bombings in 2005. Whatever: these tiny warriors crawl like medieval revenants through this picturesque fantasia of the pleasures of the distant past, without its risks and privations. By 1914, the family that spent happy summers here would know that the victimisation of youth was no longer ancient history.
Ford can achieve pathos, humour, absurdity and terror – all with a smart and often surprising choice of medium. The shape-shifting and metamorphic quality of her work has to do with the sheer stuff that forms it as much as the boundary-crossing creatures it portrays.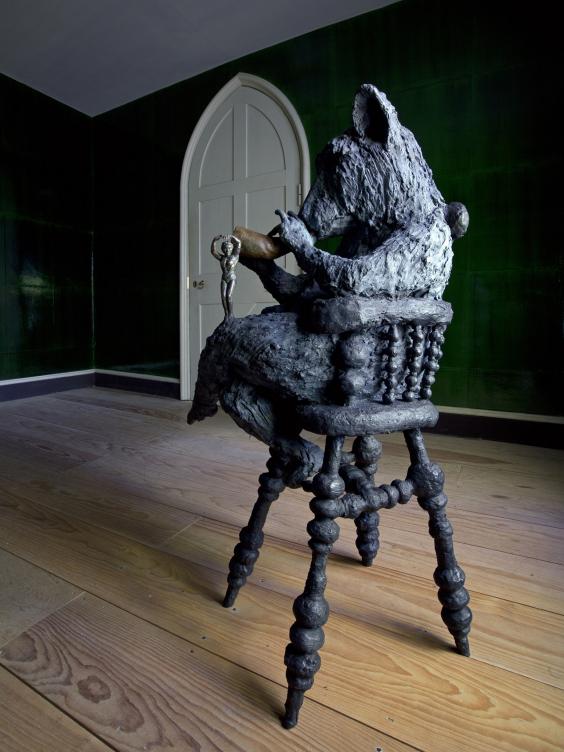 At Abbot Hall, a trio of periwigged poodles echo the pose of the Waldegrave sisters in a 1780 group portrait by Joshua Reynolds. So far, so clearly satirical: Georgian womenfolk reduced to clipped lapdogs. But these dogs stand proud as rather noble hounds, not fired in fragile porcelain but cast in hefty bronze. They have the solidity and grandeur that weight and texture confer. You would not kick, or cross, these poodles.  
Back at Blackwell, one work dominates the entrance to the house. It may stalk the dreams of visitors for weeks – or years. Ford's Days of Judgment is a posse of seven tall, humanoid cats. They stand on two legs while pacing a lawn that commands stunning views over Windermere. The sad cats ignore all that. 
Aghast, forsaken, grief-stricken, their gestures and expressions nod to Masaccio's 1420s fresco in a Florence church of the Expulsion of Adam and Eve from Eden. As with the Weeping Girls, the depth and stress of a nameless suffering cancels out the glory all around. Paradise is well and truly lost. In this landscape, how could I not remember Wordsworth? Childhood visions fade as adult woes blind injured eyes. As his "Ode: Intimations of Immortality", written not far away, puts it: "Heaven lies about us in our infancy/ Shades of the prison-house begin to close/ Upon the growing boy". And girl. The carnival may be over but, in Laura Ford's figures, mirth as well as sorrow marks the end of innocence.
'Laura Ford: Seen and Unseen',  at Abbot Hall Art Gallery, Kendal, Cumbria until 25 June, and at Blackwell: the Arts & Crafts House, Bowness-on-Windermere, Cumbria, until 4 September  (abbothall.org.uk; blackwell.org.uk)
Reuse content