Michael Stumpf has his studio in the east of Glasgow in an area commonly known as the Barras. He enjoys being near the Barrowland Ballroom, home to some of the city's best gigs. The studio, up three flights of stairs and with no lift, seems a strange choice for a sculptor.
Stumpf was born in Mannheim, Germany, in 1970. He studied art, first in Karlsruhe, before coming to the Glasgow School of Art on a fellowship. When he arrived from Germany, Glasgow "felt really good. I liked its roughness and it was small but fast."
Having trained in the Mackintosh Building he was delighted to be asked to do a show in its central gallery though it was a daunting prospect thanks to its celebrated decoration by Charles Rennie Mackintosh. Stumpf wanted to "incorporate the activity of the art school", choosing to retain the old wooden Mackintosh benches and to reveal the normally hidden cupboards, "to activate the new building with the old".
After his studies, Stumpf, like many other artists, decided to make Glasgow his permanent home. "The discussion about art here is a really good one – it's about art, not the marketplace." He chose to move in with Wasps, an artistic collective whose intentions are to keep rents as low as possible. His building houses around 50 artists. "In an ideal world I would have a bigger space – I like to combine all these different processes that I'm very interested in. I would have different areas with different conditions so you don't have to set up and change, set up and change."
His studio shows vestiges of his current work. A plaster cast of a rock on the floor is one of the boulders that started a series of works. Post-it notes colour the wall neon pink with reminders of things yet to do. The pink theme continues in smaller sculptures – overgrown nuts and bolts doused in colour, the hues "of dusk and dawn: and of the abstraction of landscape", he says. They are not intended to be tasteful. "It is how to disrupt what one is thinking, and how to push oneself forward."
Like many artists I have visited recently, Stumpf works in series. "I like the analogy of sourdough. You take a piece from it and other stuff grows from it."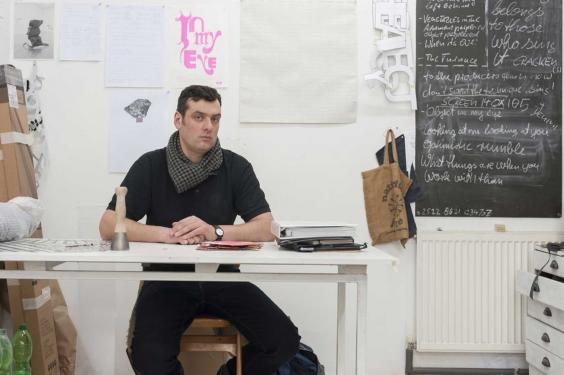 The name of his show, This song belongs to those who sing it, relates to Now Sing, his word piece for the new Glasgow School of Art Building. I ask what its architect Steven Holl thinks of this lairy pink and orange piece, precariously poised on the balcony on the sleek green glass surface of his building. "I think he hates it!" says Stumpf emphatically, with a smile.
Michael Stumpf's This Song Belongs to Those Who Sing It is on show as part of the Glasgow International Festival, Glasgow School of Art (glasgowinternational.org) to 4 May