Gabriele Galimberti grew up outside the small Tuscan town of Arezzo, and has indelible memories of his grandmother's kitchen. "For me as a child, she was the centre of the family, and my relationship with her was built around her kitchen table," he explains.
Grandma Marisa (who features below) prepared his school lunches – though you can forget ham sandwiches: young Gabriele dined on spaghetti with tomato sauce, or chicken breast and lemon, accompanied by fresh veg. Her home was also the venue for a monthly family gathering of uncles, aunts and cousins, all feasting on her signature dish of ravioli.
So when the time came for Galimberti to leave Italy on his first international assignment as a documentary photographer – a globe-trotting trip for a piece on couch-surfing – his grandmother was worried. "She looked at me anxiously and eventually asked, 'But what are you going to eat, and who's going to make it for you so far from home?'" His reply became the inspiration for a new series: "I promised her that I'd only eat in the homes of other grandmothers."
Leaving behind a doubtful Marisa, Galimberti embarked on a tour of 60 countries to sample the cooking expertise of grandmothers around the world, from moose steak in Alaska to shark soup in the Philippines – most of the grandmas he photographed being those of the people whose couches he slept on. "Every grandmother I approached was happy to cook for me once I'd told them how my grandmother was worried about me, and that I was doing it to reassure her."
But while the hospitality was unstinting, Galimberti occasionally struggled with the meals put before him: "In Malawi, I was offered a meal of bugs, including some kind of caterpillar. I tried, but I eventually had to give up."
After returning home to Italy, Galimberti turned his travels into an award-winning cook book, In Her Kitchen: Stories and Recipes from Grandmas Around the World, which he says is as much about the memories of relationships that food evokes within us as it is about the dishes themselves: "Sometimes I'll smell an aroma or scent and it reminds me of food my grandma made when I was seven… I see my book as an homage to her."
'In Her Kitchen' is published by Clarkson Potter, priced £25
Maria Luz Fedric, 53, Cayman Islands
Honduran iguana with rice and beans
The most difficult step in preparing this dish is obviously to catch a fresh iguana. If you succeed in that, the rest of the recipe will be rather easy.
First of all, the iguana has to be cleaned: cut off the head; slit the iguana open down its belly, along its legs and tail and skin it completely, pulling with energy. Pull out the guts and wash carefully in water.
Cut the tail into 5cm pieces. Separate the legs from the body and chunk the rest in two pieces. Place the chunks in a bowl with some water and 50 per cent distilled vinegar and leave for 10 minutes. Wash again and dry.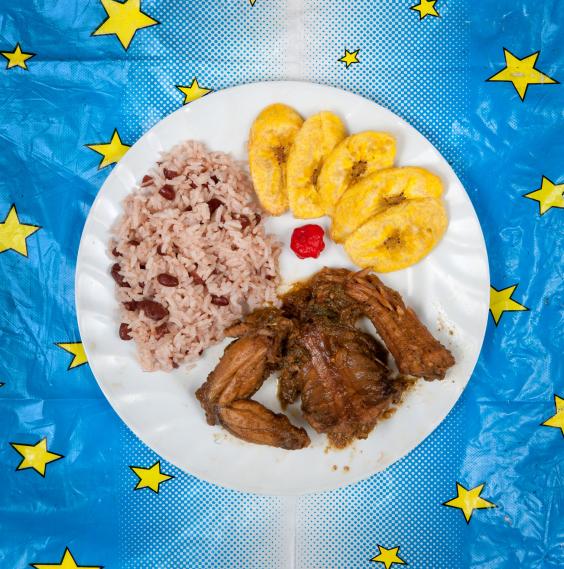 Take a pepper, onion and two stalks of celery and chop everything. Chop thinly a hot chilli and four sweet chillies. Place all the vegetables, chillies and iguana chunks in a bowl and season with Maggi spices and a Maggi cube. Mix and add a spoon of meat stock. Heat a casserole dish with two spoons of oil then pour in the marinated meat and vegetables.
In another saucepan, warm a dish of beans with 1 litre of coconut milk. When it boils, add ½ kg of rice and a spoon of salt. Let the rice cook to your taste and turn the heat off. If the coconut milk is not enough, add some more while the rice is cooking.
After 20 minutes of the iguana and vegetables cooking, add two sprigs of thyme and cover the casserole with a lid. Let it cook on a low heat for 30 minutes and then pour in a glassful of coconut milk. Raise the heat and leave everything cooking for 15 minutes. During this time, prepare the plantain: cut into ½ cm-thick slices and fry in boiling oil.
Serve the iguana with the rice, vegetables and plantain, enriching its taste with a glass of iced beer if you wish.
When seeking your iguana, please be careful not to hunt any of the endangered species
Marisa Batini, 80, Castiglion Fiorentino, Italy
Swiss chard and ricotta ravioli with meat sauce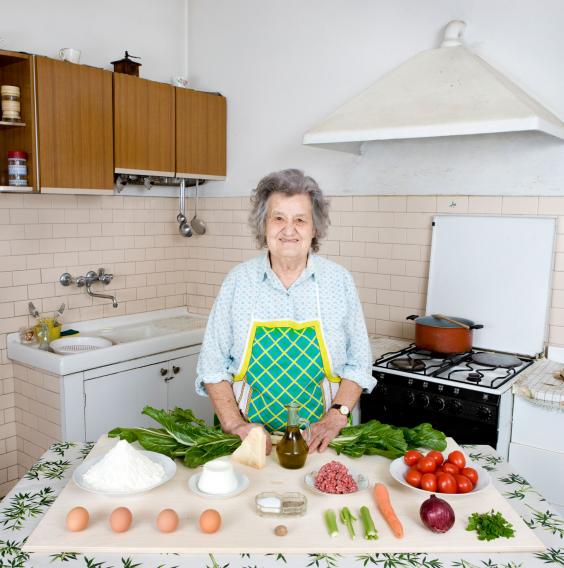 Start with the sauce, as it takes the most cooking time. Boil the tomatoes then peel and blitz in a food mixer. Chop the onion, carrot, celery and a sprig of parsley, and fry. After 5 minutes, add the minced beef. Let it cook for about 10 minutes (if you like, you can pour in a glass of red wine, too). Add the tomato sauce and simmer for 3 hours.
Now you can make the ravioli. First, remove the hard central part of ½kg of Swiss chard and boil for half an hour. To make the dough, form 1kg of flour into a volcano shape, with a hole in the middle. Whip four eggs in a dish then pour gently inside the flour, using a fork to mix everything until the eggs are absorbed.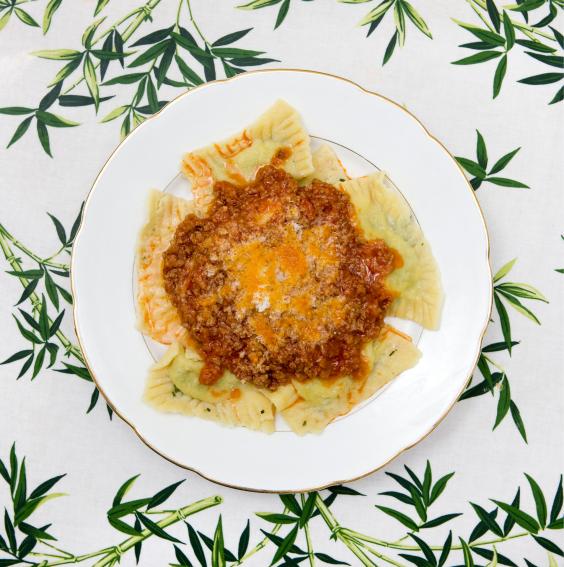 When the dough gets harder, you can work it with your hands until it is hard enough to be divided into four parts. Stretch each part into a 1mm layer, using a rolling pin.
Now take the chard and chop with a normal knife or a crescent-shaped mincing one, then blend with 300g of ricotta, one egg, two spoons of grated Parmesan, a pinch of salt and one of ground nutmeg. This mixture is the filling for your pasta.
Now cut the pasta layers into small rectangles of about 8cm x 4cm and put one spoon of the filling in the centre of half of them. Place another layer on top and close the ravioli, pressing the edges with a fork. When you have closed them all, place in boiling water with salt for about 10 minutes.
Check one to see if they are ready before draining, then serve with the meat sauce. Add some grated Parmesan to your taste and enjoy!
Bisrat Melake, 60, Addis Ababa, Ethiopia
Enjara flatbread with churry and vegetables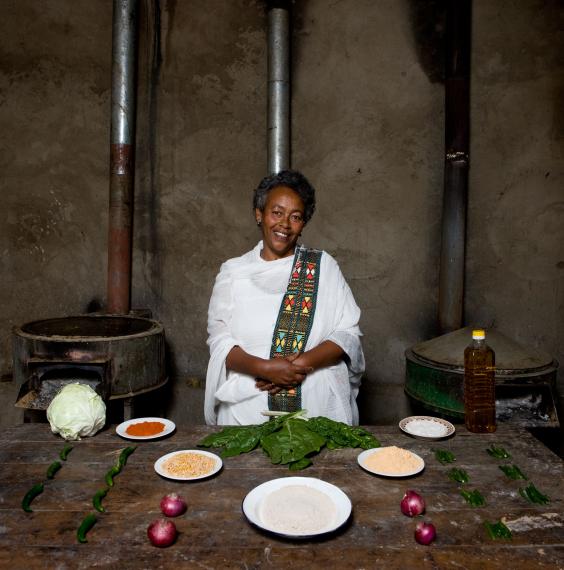 For the enjara, mix 1kg of teff flour and 1 spoon of yeast with some water until it's a smooth, dense dough, then let it ferment for three days. On returning to it, add water until it is cream-like.
For the churry (in the centre of the picture, right), fry 3 chopped onions and 10 chopped sweet chillies in oil for a few minutes. Add 3 glasses of water and cook for 10 minutes. Add split peas and a plate of mitin shiro (seasoned ground chickpeas). Mix, cover with a lid and cook on a low heat for 30 minutes; stir occasionally.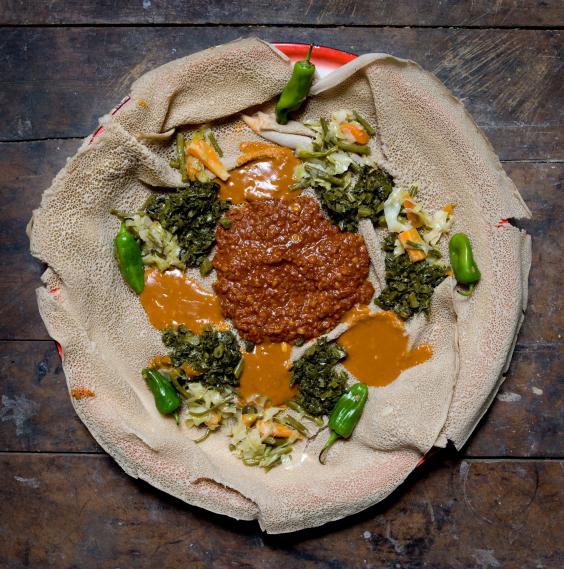 Boil some cauliflower leaves, then drain, chop and fry in a pan with some oil, onion and salt.
For the liquid churry (the small orange spots), lightly fry half an onion and a pinch of hot chilli powder in some oil. Add 200g of mitin shiro and two glasses of water. Cook for 20 minutes.
Slice a Savoy cabbage into strips and chop some string beans. Boil, drain then sautè with oil and chilli.
Arrange all on the enjara. Ethiopians eat this with their hands, using torn pieces of enjara to take sauces and vegetables.
Melanie Hill, 50, Utah, United States
Chocolate toffee trifle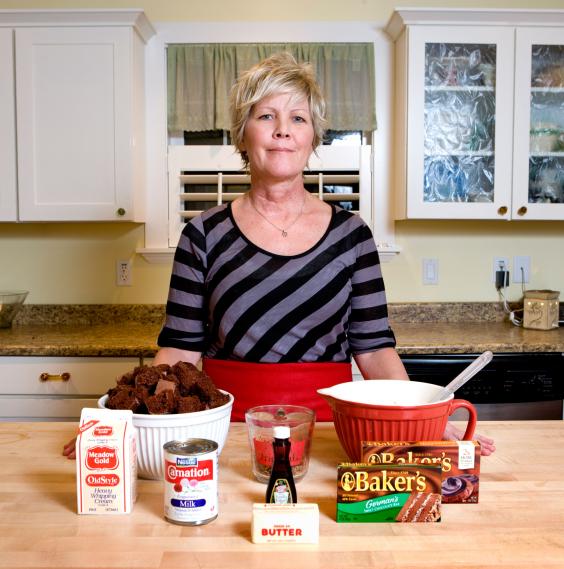 First, prepare and bake the chocolate cake according to packet instructions. When the cake is ready, let it rest for a few minutes, then cut into cubes 4cm each side.
Now, prepare the creams. Melt 100g of butter, 100g of plain chocolate and 300g of milk chocolate in a small pot over a low heat. Once this has melted, add one spoon of vanilla extract and a glass of heavy whipping cream. Blend everything and let it cool.
To one side, whip the cream.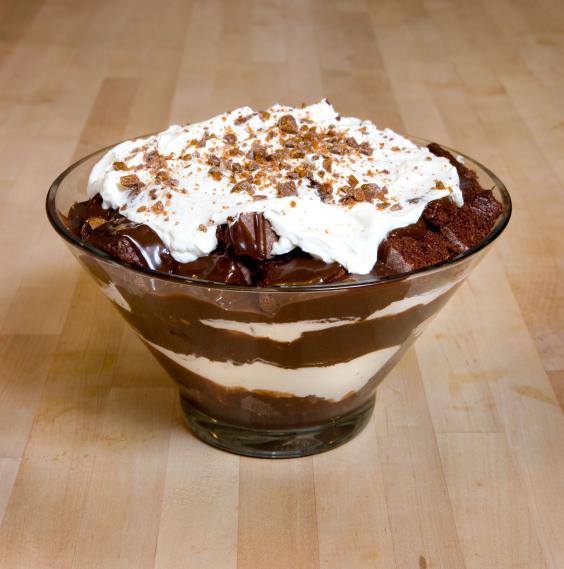 At this point, lay the cake cubes at the bottom of a glass bowl and top with layers of the chocolate cream and the whipped cream. Add a final layer of the whipped cream on top and sprinkle with crushed Mou candies.
Your dessert is now ready to be served.
Inara Runtule, 68, Kekava, Latvia
Herring with potatoes and cottage cheese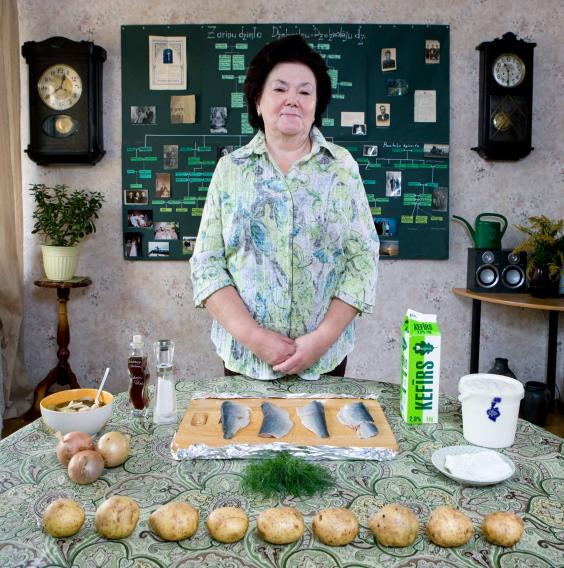 Start by resting the herring fillets in some water for at least 90 minutes, to wash off the salt. If you want a sweeter taste, use milk instead of water.
Now peel the potatoes, chop and boil them, until cooked to your taste. In the meantime, slice the onions thinly and place in a bowl of hot water with two spoons of vinegar. Let them marinate for about 20 minutes.
Remove the skin and bones from the herring fillets. Chunk into pieces of about 3cm and lay on a plate. Cover completely with the sliced marinated onions.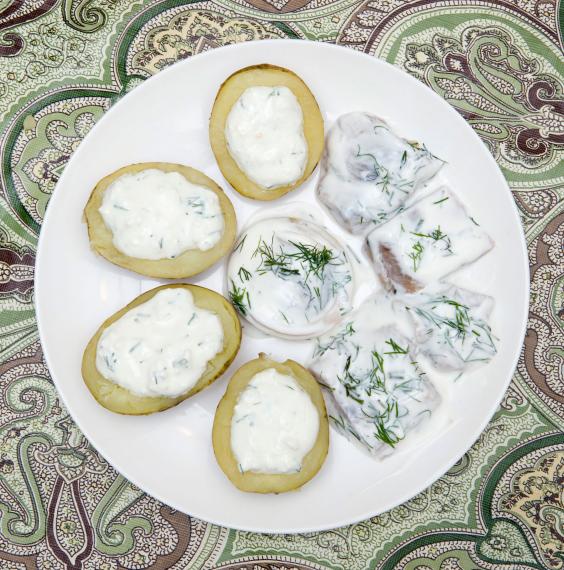 Take a cup of sour cream and blend with a cup of Greek yoghurt. Pour over the fish and onions. Shred some dill on top and let it marinate for an hour.
On a side, mix some cottage cheese with a cup of Greek yoghurt and a sprig of shredded dill. This mixture will be used to season the potatoes in the end.
Place the chunks of herring and the potatoes on the same dish, season the fish with some of the cream it marinated in and the potatoes with the cottage-cheese mixture. Serve with white wine or iced beer.
Reuse content