Rose Wylie is a painter based in Kent, so it seems particularly appropriate that Turner Contemporary in Margate chose to open its 2016 programme with her work. And what a triumph it is. Seeing the paintings stacked up in the light-filled space, observable both from below and above, they form a charming mini-chapel of vibrant colour and artful simplicity.
Until quite recently Wylie was only known to a small group of art world cognoscenti. The art world can be a mean place. If you don't make it as a young emerging artist, chances are you will be out in the wilderness until you might get discovered in your twilight years. Rose Wylie is a case in point. In 2010, aged 76, Wylie was the only non-American in Women to Watch at the National Museum of Women the Arts in Washington. Germaine Greer wrote an article exalting her in response to this show; she was given a spotlight show at Tate Britain in 2013, won the John Moore painting prize for painting in 2014, was elected a Royal Academician in 2015 and was featured in the 2015 Royal Academy summer exhibition, winning the Charles  Wollaston Award for "most distinguished work in the exhibition". 
In 2012 I did a studio visit with Wylie. She was living and working in a small village in Kent in the modest house that she shared with her husband, painter and writer Roy Oxlade, until his recent death. When I visited, she and her husband chortled about the day a lorry rumbled down to their cottage and took away the paintings that had been stored unwanted in the garden shed, the men wearing white gloves.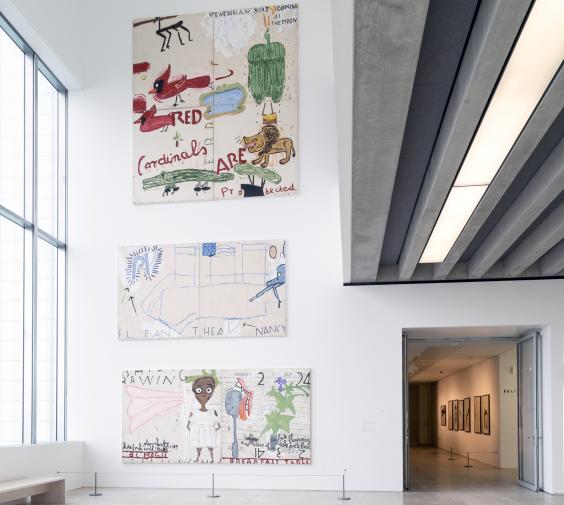 Until recently Wylie always painted her unstretched canvases on the floor. She and her cats would walk on them, Wylie in her stilettos, often denting them and dropping ash from her cigarettes on to their surfaces. 
She has had to revise both her dress and technique recently; she's now wearing serviceable trainers and painting on the wall after three hip replacements.
Wylie's paintings are particular, the surfaces alive with her own distinctive vocabulary. They are instantly recognisable in the way that work by only great painters are. They often initially appear naïve, as if a cruel child might have done them, but there is a sophistication in these pictographic images. Her juxtapositions are sometimes cruelly comedic: one of my favourites is a portrait of tennis star Andy Murray, his mouth drawn as a large screaming orifice, all his determination writ large in his expression. 
 Wylie was born in 1934 and attended the Folkestone and Dover School of Art before much later attending the Royal College of Art where she graduated in 1981. Wylie is not bitter about being discovered late, but she is thrilled to be hung more prominently in exhibitions. She had children and made the choice to look after them, allowing her husband the freedom to teach, paint and write to support the family. Lack of money was not a limitation to her; she and her family had strategies to overcome this, offering informal painting classes at their house and turning the garden into a place for students to camp. In a short film accompanying the exhibition, Wylie says that friends of her children asked why she was always dressed in the same clothes; her reply was "as a radical non consumer, I prefer dealing with what I have." This attitude permeates the paintings, Bagdad Café (Film Notes) 2015 includes a depiction of a page from a desk diary, turned upside down, testimony to a day when Wylie did not have any paper and used the diary to capture an idea.
Culture news in pictures
Culture news in pictures
1/30 25 May 2016

A view of the Pyramid of the Louvre museum covered with a gigantic black and white trompe l'oeil photo of the Louvre building by French artist JR in Paris. The exhibition 'Contemporary art JR at the Louvre' runs from 25 May to 27 June

EPA

2/30 24 May 2016

Artist paints a reproduction of one of the vincent Van gogh's painting for the 'Loving Vincent' film in Wroclaw, Poland. 'Loving Vincent', the world's first fully painted animation feature film, will be about the life and death of the Dutch famous painter Vincent van Gogh

EPA

3/30 23 May 2016

John Oliver, Jimmy Fallon and Jennifer Lawrence during a taping of "The Tonight Show Starring Jimmy Fallon" in New York City

Getty Images

4/30 22 May 2016

French Moroccan director Houda Benyamina (C) poses with the Camera d'Or next to actresses Jisca Kalvanda (L), Oulaya Amamra (2ndL) and Deborah Lukumuena (R) at the Palme D'Or Winner Photocall during the 69th annual Cannes Film Festival

Getty Images

5/30 21 May 2016

Swedish artist Andreas Englund signs one of his murals at the Urban Nation museum for urban contemporary art, in Berlin

Getty Images

6/30 20 May 2016

(L-R) Autor Tom Brokaw, Legion of Honor's Grand Chancellor General Jean-Louis Georgelin, Actor Tom Hanks, Ambassador of USA in France, Jane D. Hartley and Doctor Gordon "Nick" Mueller attend Tom Hanks, Tom Brokaw & Gordon "Nick" Mueller receive the Legion d'Honneur Medal at Palais de la Legion d'Honneur in Paris

Getty Images

7/30 19 May 2016

Visitors study work by Tod Papageorge in the gallery areas at the "Photo London 2016" event at Somerset House in central London. Featuring work from some of the world's most respected photographers, the event is aiming to put London on the map as the global city of photography

Getty Images

8/30 18 May 2016

A view of the building that will house planned Urban Nation - Museum for Urban Contemporary Art in Berlin. The street art museum is scheduled to open in 2017

EPA

9/30 17 May 2016

Kate Morais looks at the 'Colossal statues of a king and a queen' (283-246 BC) - which are reflected in a display cabinet glass - which stand over five meters tall during a preview of the 'Sunken Cities: Egypt's Lost Worlds' exhibition at the British Museum in London. This is the museum's first large scale exhibition of underwater archaeological finds and tells the story of two lost Egyptian cities and their recent discoveries beneath the Mediterranean, excavated off the coast of Egypt near Alexandria between 1996 and 2012

Getty Images

10/30 16 May 2016

Kurt Cobain's Univox electric guitar played and destroyed by Cobain at Nirvana's 13 July 1989 concert at Maxwell's in Hoboken, New Jersey is displayed during Julien's Auction Music Icons Press Exhibition at Hard Rock Cafe, Times Square in New York City

Getty Images

11/30 15 May 2016

Cast of the "From The Land Of The Moon (Mal De Pierres)" attend the premiere during the 69th annual Cannes Film Festival at the Palais des Festivals

Getty Images

12/30 14 May 2016

Jamala representing Ukraine with the song "1944" celebrates with the trophy after winning the final of the Eurovision Song Contest 2016 Grand Final in Stockholm

Getty Images

13/30 13 May 2016

A mural on a restaurant wall depicting US Presidential hopeful Donald Trump and Russian President Vladimir Putin greeting each other with a kiss in the Lithuanian capital Vilnius. Kestutis Girnius, associate professor of the Institute of International Relations and Political Science in Vilnius university, said: "This graffiti expresses the fear of some Lithuanians that Donald Trump is likely to kowtow to Vladimir Putin and be indifferent to Lithuanias security concerns. Trump has notoriously stated that Putin is a strong leader, and that NATO is obsolete and expensive"

Getty Images

14/30 12 May 2016

People visit the artwork titled Seven Magic Mountains by artist Ugo Rondinone, near Jean, Nevada. The artwork was recently completed in the desert south of Las Vegas

AP

15/30 11 May 2016

Justin Timberlake attends the "Trolls" Photocall during The 69th Annual Cannes Film Festival

Getty Images

16/30 10 May 2016

Curator Ben Russell poses with a 2.4 meter robot called Cygan, built in 1957, on display at the Science Museum before announcing a new robot exhibition for 2017

Getty Images

17/30 9 May 2016

A Palestinian artist paints a graffiti on a wall of the United Nations school of Beit Hanun, in the northern Gaza Strip

Getty Images

18/30 8 May 2016

Jon Snow collects the award for best news coverage on behalf of Channel 4 during the House of Fraser BAFTA TV Awards 2016 at the Royal Festival Hall in London

PA

19/30 7 May 2016

Illustration View of the 'Empires' exhibition of Huang Yong Ping as part of Monumenta 2016 to Grand Palais from 8 May till 18 June 2016

Getty Images

20/30 6 May 2016

People, including Russian servicemen, attend a concert of Mariinsky Theatre in the amphitheatre of the Syrian city of Palmyra, Syria

Reuters

21/30 5 May 2016

A child looks at an artwork titled 'Bi-lateral Relations' by Uruguay artists Fernando Foglino and Valentina Cardellino during the Latin America and Caribbean Art Festival Visual Art Exhibition 2016 at the World Art Museum of the China Millennium Monument in Beijing. The exhibition runs until 26 May, and is part of joint activities to mark the China-Latin America and Caribbean Cultural Exchange Year

EPA

22/30 4 May 2016

(L-R) David Furnish, Lady Gaga and Macy's CEO Terry J. Lundgren attend Love Bravery by Lady Gaga and Elton John Launch at Macy's Herald Square in New York City

Getty Images

23/30 3 May 2016

The Hofburg palace is illuminated by a projection of Viennese artist Viktoria Coeln for the project Dystopia Eutopia in Vienna, Austria

AP

24/30 2 May 2016

A visitor looks at paintings by Yemeni female artists displayed at a gallery during an exhibition entitled Women Creativity for Peace in the capital Sanaa

Getty Images

25/30 1 May 2016

A man looks at an art piece during the Oshtoora festival in an open desert north Fayoum, Egypt. Oshtoora festival, or "A temporary sate," is held only once a year in a different locations within Egypt. The festival is based on expression of music, arts, and cultures in an open natural environment

AP

26/30 30 April 2016

Actress Lupita Nyong'o attends "Eclipsed" To Launch A Dedications Series In Honor Of Abducted Chibok Girls Of Northern Nigeria at Golden Theatre in New York

Getty Images

27/30 29 April 2016

Kabuki actor Shido Nakamura (in red) performs in a final dress rehearsal for the kabuki theatre show 'Hanakurabe Senbonzakura' in Tokyo, Japan. The latest digital technology kabuki theatre piece 'Hanakurabe Senbonzakura' is part of the Niconico Chokaigi festival in Tokyo. The festival was organized by video website Niconico, combining Kabuki, a traditional Japanese theatre art and cutting edge animation technology, co-starring kabuki superstar Shidou Nakamura and the popular virtual idol Hatsune Miku

Getty Images

28/30 28 April 2016

Members of the Australian ballet perform in the scene from "Scent of the Love" during the dress rehearsal for the national premiere of Symphony in C that comprises of five short ballet works at the Opera House in Sydney

Getty Images

29/30 28 April 2016

The statue of Christ the Redeemer is illuminated in Brazilian flag colours, including a projected face designed by Brazil based Italian-French lighting artist Gaspare Di Caro, to celebrate 100 days until the start of the Olympic Games Rio 2016

Getty Images

30/30 27 April 2016

A visitor looks at an artwork during the opening of the exhibition Lumieres d'Afriques (Lights of Africa) at the Charles Donwahi Foundation in Abidjan. The exhibition conceived by African Artists for Development (ADD) displays artworks including photographs, paintings and sculptures by 54 African artists, one from each country of the continent, who have created their pieces inspired by the theme The Illuminated Africa. The exhibition runs from 27 April to 6 June 2016

Getty Images
Film is rich source material for Wylie and she often names her characters, although it would be hard to recognise George Clooney from the sketchy depiction in a scene from Pink Table Cloth (Long shot, film notes) 2013. Wylie says that she loves film, but that the first time her mother took her to see Walt Disney's Snow White, aged four, she was too terrified and had to be removed, inconsolable, from the cinema. Her first trip to a famous museum – the Louvre – aged 15 bored her rigid as she could not relate to the grand paintings: "I had no means of understanding them". She painted in her school books, spending all her pocket money on paints, and filled in the lines and diagrams of whatever text book she could find. 
I compare her trajectory to that of another female painter, American Dana Schutz, whose work bears a similarity in its scale of ambition and its quirkiness. Schutz left art college and was taken up by a trendy New York gallery; her work quickly soared in price and by the time she was in her late 20s she was selling paintings on the secondary market sell for well into six figures. Success like this is hard to sustain, particularly in a fickle, style-led world where works are now being traded like stocks and shares. Recently, I have interviewed several senior woman artists, such as Susan Hiller, who remark that they are relieved that they have not been under the glare of the market place. "Famous enough to make my work" is the pragmatic comment that resonates. It is only recently that it was thought possible to make a career out of being an artist. It was Damien Hirst's generation in the early 1990s who broke through the barrier of success. Yet it is important to remember that it is still a tiny minority who bear most of the fruits of this success. For every one successful artist there are many others assisting in studios in order to be able to achieve their dreams. With colleges becoming more expensive, and studios and small galleries increasingly under threat by property developers, London as a centre of the art world is looking more and more perilous. 
What I love about Turner Contemporary is its bold and fearless programming of both international artists and complicated projects. This is the first time it has used the atrium space for painting and it highlights again the beauty of the museum's location, the very site of the guest house where Turner stayed while in Margate and that inspired many of his watercolours. Architect David Chipperfield has designed a museum that, even before it is five years old, has attracted a massive and loyal audience. It is actually free, unlike other museums (such as the Tate) who proclaim to be free, but charge large amounts of money to attend their temporary exhibitions. 
I like to think that William Turner himself would have admired Wylie's attitude. Her obsessive need to draw, make visual notes and observe would have impressed him. While there were few female artists in his time, he would have admired a woman who, rather than taking it easy in her 80s, is embracing her ability to share her work and ideas with a younger generation of artists and continues to make new work. 
While I stand in the atrium absorbing the fearless colour and enjoying the humour in her content, a fellow viewer says that she thought the artist was young because the work was so contemporary and fresh. It was only when she saw the film that she realised that the artist was older. She suggests that perhaps artists should only be shown when they are 80, turning the shameless ageism of our world on its head. Surely Wylie or Phyllida Barlow, another British artist now having a long overdue success, would make worthy candidates for the next  British pavilion in Venice.
Rose Wylie paintings and drawings continues at Turner Contemporary, Margate, Kent (turnercontemporary.org) to 31 March