Rose Wylie is a painter based in Kent, so it seems particularly appropriate that Turner Contemporary in Margate chose to open its 2016 programme with her work. And what a triumph it is. Seeing the paintings stacked up in the light-filled space, observable both from below and above, they form a charming mini-chapel of vibrant colour and artful simplicity.
Until quite recently Wylie was only known to a small group of art world cognoscenti. The art world can be a mean place. If you don't make it as a young emerging artist, chances are you will be out in the wilderness until you might get discovered in your twilight years. Rose Wylie is a case in point. In 2010, aged 76, Wylie was the only non-American in Women to Watch at the National Museum of Women the Arts in Washington. Germaine Greer wrote an article exalting her in response to this show; she was given a spotlight show at Tate Britain in 2013, won the John Moore painting prize for painting in 2014, was elected a Royal Academician in 2015 and was featured in the 2015 Royal Academy summer exhibition, winning the Charles  Wollaston Award for "most distinguished work in the exhibition". 
In 2012 I did a studio visit with Wylie. She was living and working in a small village in Kent in the modest house that she shared with her husband, painter and writer Roy Oxlade, until his recent death. When I visited, she and her husband chortled about the day a lorry rumbled down to their cottage and took away the paintings that had been stored unwanted in the garden shed, the men wearing white gloves.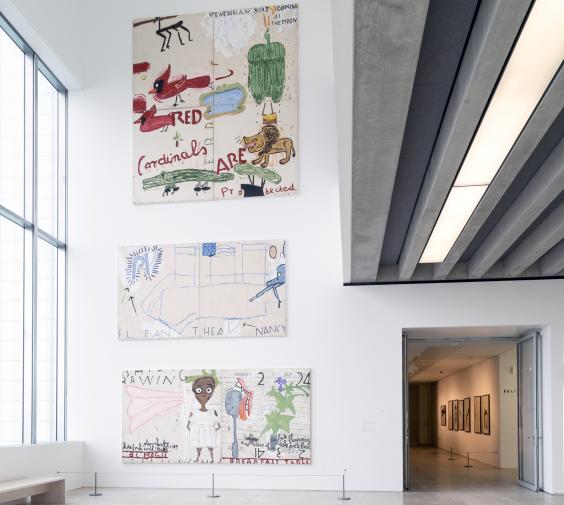 Until recently Wylie always painted her unstretched canvases on the floor. She and her cats would walk on them, Wylie in her stilettos, often denting them and dropping ash from her cigarettes on to their surfaces. 
She has had to revise both her dress and technique recently; she's now wearing serviceable trainers and painting on the wall after three hip replacements.
Wylie's paintings are particular, the surfaces alive with her own distinctive vocabulary. They are instantly recognisable in the way that work by only great painters are. They often initially appear naïve, as if a cruel child might have done them, but there is a sophistication in these pictographic images. Her juxtapositions are sometimes cruelly comedic: one of my favourites is a portrait of tennis star Andy Murray, his mouth drawn as a large screaming orifice, all his determination writ large in his expression. 
 Wylie was born in 1934 and attended the Folkestone and Dover School of Art before much later attending the Royal College of Art where she graduated in 1981. Wylie is not bitter about being discovered late, but she is thrilled to be hung more prominently in exhibitions. She had children and made the choice to look after them, allowing her husband the freedom to teach, paint and write to support the family. Lack of money was not a limitation to her; she and her family had strategies to overcome this, offering informal painting classes at their house and turning the garden into a place for students to camp. In a short film accompanying the exhibition, Wylie says that friends of her children asked why she was always dressed in the same clothes; her reply was "as a radical non consumer, I prefer dealing with what I have." This attitude permeates the paintings, Bagdad Café (Film Notes) 2015 includes a depiction of a page from a desk diary, turned upside down, testimony to a day when Wylie did not have any paper and used the diary to capture an idea.
Culture news in pictures
Culture news in pictures
1/30 29 June 2016

The first major solo exhibition by accessories designer, art director and fashion stylist Judy Blame has opened to the public and runs between 29 June and 4 September at the ICA, The Mall in London

2/30 28 June 2016

Prince Seeiso of Lesotho and Prince Harry on stage with the Basotho Youth Choir at the finale of the Sentebale Concert at Kensington Palace in London

Getty Images

3/30 27 June 2016

A woman looks at the Eugene Delacroix paintings made between 1849 and 1861 during a restoration at the Saints-Anges chapel inside the Saint-Sulpice church in Paris

AFP/Getty Images

4/30 26 June 2016

Chris Martin of 'Coldplay' performs on the Pyramid Stage on day 3 of the Glastonbury Festival at Worthy Farm

Getty Images

5/30 25 June 2016

Adele performing on stage at the Glastonbury Festival, at Worthy Farm in Somerset

PA

6/30 24 June 2016

US artist Joan Jonas poses during the presentation of her exhibition 'Joan Jonas: Stream or River. Flight or Pattern' at the Bitin Foundation in Santander, northern Spain. The display featuring experimental film and video-installation of pioneering Jonas will be open to the public from 25 June to 16 October 2016

EPA

7/30 23 June 2016

Evie Ferris and Georgia Scott-Hunter, Artists of The Australian Ballet next to one of Edgar Degas' iconic ballet dancer paintings 'Dancer with Bouquets' during the media preview for the 'Degas: A New Vision' exhibition at National Gallery of Victoria in Melbourne, Australia. The exhibition will run from 24 June to 18 September as part of the Melbourne Winter Masterpieces series

Getty Images

8/30 22 June 2016

Figures of characters from the comic series 'Uncle Walt' by US cartoonist Frank King are on display in the exhibition 'Pioneers of the Comic Strip. A different Avant-Garde' at the Schirn Kunsthalle museum in Frankfurt am Main, Germany. The exhibition that features the works of six primarily US illustrators created between 1905 and 1940, runs from 23 June 2016 to 18 September 2016

EPA

9/30 21 June 2016

(L-R) Actors Jonathan Holmes, Paul Moniz de Sa, Daniel Bacon, Chris Gibbs, Jemaine Clement, Penelope Wilton, Mark Rylance, Ruby Barnhill, Bill Hader, Rebecca Hall and Rafe Spall arrive on the red carpet for the US premiere of Disney's "The BFG," directed and produced by Steven Spielberg. A giant sized crowd lined the streets of Hollywood Boulevard to see stars arrive at the El Capitan Theatre

Getty Images for Disney

10/30 20 June 2016

Tony Bennett attends as the Friars Club Honors Tony Bennett With The Entertainment Icon Award - Arrivals at New York Sheraton Hotel & Tower in New York City

Getty Images

11/30 19 June 2016

A woman walks in front of the paintings 'Without title' (1960), left, and 'Come closer' (1960), right, during the opening of the exhibition 'Xanti Schawinsky - From the Bauhaus into the World' in Magdeburg, Germany. The exhibition starts on 21 June and lasts until 25 September

AP

12/30 18 June 2016

Recording artist Johnny Bond (L) and Van McCann of Catfish and the Bottlemen perform onstage at Firefly Music Festival in Dover

Getty Images for Firefly

13/30 17 June 2016

Students from both the Richmond and Covent Garden schools perform for Prince Charles, Prince of Wales, in his role as President of The Royal Ballet, as he visits The Royal Ballet School, White Lodge campus in Richmond Park in London

Getty Images

14/30 16 June 2016

A part of the installation 'The Floating Piers' by Bulgarian-born artist Christo Vladimirov Yavachev known as Christo is seen on the Lake Iseo, northern Italy

REUTERS

15/30 15 June 2016

A unique outdoor gallery has been revealed in Hampstead Heath, to mark the return of the Affordable Art Fair in London. The colourful 'running gallery' previewed seven of the artworks going on show at the fair this week from 16 – 19 June. These works, along with thousands more original pieces will be going on sale as the fair opens – all priced between £100 - £5,000

Oliver Dixon/Imagewise

16/30 13 June 2016

The artwork 'Accumulation: Searching for Destination' (2014-2016) by Japanese artist Chiharu Shiota is on display at the show Unlimited in the context of the international art show in Basel, Switzerland. Unlimited is Art Basel's exhibition platform for projects that transcend the limitations of a classical art-show stand, including out-sized sculpture and paintings, video projections, large-scale installations, and live performances. Unlimited is curated by New York-based curator Gianni Jetzer. The Art Basel exhibition is open to the public from 16 to 19 June

EPA

17/30 12 June 2016

A costumed artist performs with fire during International Kiev Fire Fest show. Teams from Greece, Belarus, Lithuania, Slovakia, USA, Czech Republic, Scotland and Ukraine, take part with their fire-shows in the two-day festival in Kiev

Getty Images

18/30 14 June 2016

A man leaves his house as anotherone walks past murals painted as part of a program of the municipality that aims at rescueing public spaces of the historical center in Mexico City. The murals were made on shops' metallic shutters

AFP/Getty Images

19/30 11 June 2016

People look at an art installation named "Fog Assembly" by Danish artist Olafur Eliasson in the castle of Versailles, near Paris

Getty Images

20/30 10 June 2016

Tomatoes float in an aquarium which is part of an artwork entitled 'Something that Floats/Something that sinks' by Japanese artist Shimabuku during the 13th Triennial of smale-scale sculpture in Fellbach, Germany. The exhibition runs from 11 June until 2 October

EPA

21/30 9 June 2016

Swiss artist, Olaf Breuning, stands in front of his artwork 'Text Butt' (2015) in the NRW-Forum in Duesseldorf, Germany. The retrospective can be seen in Duesseldorf from 11 June until 21 August

EPA

22/30 8 June 2016

An artwork entitled 'Hang it all' by Colombian artist Gabriel Sierra is seen during the exhibition 'Under the Same Sun: Art From Latin America Today' at the South London Gallery. The gallery is the final venue on the exhibitionís international tour, following the Guggenheim Museum, New York in June 2014 and the Museo Jumex, Mexico City in November 2015

EPA

23/30 7 June 2016

An interior shows British artist Michael Landy's artworks in the exhibition 'Michael Landy. Out of Order' at the Museum Tinguely in Basel, Switzerland. Landy is one of the Young British Artists (YBAs) generation that emerged in London in the 1990s. The exhibition runs from 8 June to 25 September

EPA

24/30 6 June 2016

A Banksy mural is left painted on the side of one of the classrooms at Bridge Farm Primary in Bristol. The 14ft piece, showing a child with a stick chasing a burning tyre, was discovered at the school along with a letter to the caretaker and was said to be a thank you by the elusive artist after the school recently named a house after him

Getty Images

25/30 5 June 2016

More than 6,000 Colombians pose in the nude for American art photographer Spencer Tunick at Bolivar Square in Bogota. Tunick, famous for his pictures of huge crowds of naked people, convinced more than 6,000 Colombians to strip down in Bogota's main public square - all in the name of peace

Getty Images

26/30 4 June 2016

Bulgarian artist Christo poses in front of the monumental "Mastaba" art work at the Maeght Foundation (Fondation Maeght) on the opening day of the exibition in Saint-Paul, southeastern France. The exibition takes place from 6 June to 27 November

Getty Images

27/30 3 June 2016

Dutch King Willem-Alexander attents the opening of the SONSBEEK '16: transAction, an international contemporary art exhibition in Arnhem, The Netherlands

EPA

28/30 2 June 2016

A sculpture by Colombian artist Fernando Botero is displayed during the opening of an exhibition entitled 'Botero in Hong Kong' at Central district. The outdoor public art installation showcases nine monumental sculptures by Botero from 3 June to 14 August

EPA

29/30 1 June 2016

Everything by my side, a theatrical performance that sees actors in white beds whisper to individual audience members, created by Argentinian artist Fernando Rubio, is unveiled as it makes its UK debut at Canary Wharf in London. Free to the public from 1-3 June. Everything by my side is presented by LIFT, a London-wide festival of international performance and it is the first time the work has been shown since New York City in 2014

PA

30/30 31 May 2016

Visitors look at the painting 'The Unequal Marriage' (1862) by Russian artist Vasili Pukirev during the exhibition 'The Secrets of Old Paintings' at the Tretyakov Gallery in Moscow, Russia. The exhibition is open from 1 June to 27 August as part of the project 'The Tretyakov Gallery opens its store rooms'

EPA
Film is rich source material for Wylie and she often names her characters, although it would be hard to recognise George Clooney from the sketchy depiction in a scene from Pink Table Cloth (Long shot, film notes) 2013. Wylie says that she loves film, but that the first time her mother took her to see Walt Disney's Snow White, aged four, she was too terrified and had to be removed, inconsolable, from the cinema. Her first trip to a famous museum – the Louvre – aged 15 bored her rigid as she could not relate to the grand paintings: "I had no means of understanding them". She painted in her school books, spending all her pocket money on paints, and filled in the lines and diagrams of whatever text book she could find. 
I compare her trajectory to that of another female painter, American Dana Schutz, whose work bears a similarity in its scale of ambition and its quirkiness. Schutz left art college and was taken up by a trendy New York gallery; her work quickly soared in price and by the time she was in her late 20s she was selling paintings on the secondary market sell for well into six figures. Success like this is hard to sustain, particularly in a fickle, style-led world where works are now being traded like stocks and shares. Recently, I have interviewed several senior woman artists, such as Susan Hiller, who remark that they are relieved that they have not been under the glare of the market place. "Famous enough to make my work" is the pragmatic comment that resonates. It is only recently that it was thought possible to make a career out of being an artist. It was Damien Hirst's generation in the early 1990s who broke through the barrier of success. Yet it is important to remember that it is still a tiny minority who bear most of the fruits of this success. For every one successful artist there are many others assisting in studios in order to be able to achieve their dreams. With colleges becoming more expensive, and studios and small galleries increasingly under threat by property developers, London as a centre of the art world is looking more and more perilous. 
What I love about Turner Contemporary is its bold and fearless programming of both international artists and complicated projects. This is the first time it has used the atrium space for painting and it highlights again the beauty of the museum's location, the very site of the guest house where Turner stayed while in Margate and that inspired many of his watercolours. Architect David Chipperfield has designed a museum that, even before it is five years old, has attracted a massive and loyal audience. It is actually free, unlike other museums (such as the Tate) who proclaim to be free, but charge large amounts of money to attend their temporary exhibitions. 
I like to think that William Turner himself would have admired Wylie's attitude. Her obsessive need to draw, make visual notes and observe would have impressed him. While there were few female artists in his time, he would have admired a woman who, rather than taking it easy in her 80s, is embracing her ability to share her work and ideas with a younger generation of artists and continues to make new work. 
While I stand in the atrium absorbing the fearless colour and enjoying the humour in her content, a fellow viewer says that she thought the artist was young because the work was so contemporary and fresh. It was only when she saw the film that she realised that the artist was older. She suggests that perhaps artists should only be shown when they are 80, turning the shameless ageism of our world on its head. Surely Wylie or Phyllida Barlow, another British artist now having a long overdue success, would make worthy candidates for the next  British pavilion in Venice.
Rose Wylie paintings and drawings continues at Turner Contemporary, Margate, Kent (turnercontemporary.org) to 31 March