Before Tom Odell had even played a headline tour, he had been anointed the next big thing in pop. The 22-year-old won the Brits Critics' Choice award in February, following in the footsteps of Ellie Goulding, Jessie J and Emeli Sandé, whose album was last year's biggest seller. But Odell, who lives in east London, and whose new album comes out on Monday on Lily Allen's label, is more comfortable in a plaid shirt, face part shrouded by a mane of floppy blond hair, than he is posturing on the red carpet.
"Lily Allen always says to me, 'Remember why you're doing it in the first place,'" he says. "For me, the most meaningful thing is to be in my flat writing songs and performing with the band. And everything else is quite empty. It's definitely not for me. I want to make music. Really good music."
At a stylish London café, Odell speaks between mouthfuls of green salad. His diet is not usually this healthy, he stresses – it's because he's just come off tour around Europe with his band where they spent a week eating in service stations. The growing size of his recent shows has been startling Odell. His UK tour in March saw him performing at 700-capacity venues, but lately he's had to become quickly accustomed to playing to crowds triple the size. At Pinkpop festival in Holland last week he had his first taste of playing to thousands. "It was kind of terrifying… the thrill is amazing," he says before bemoaning a certain loss of intimacy you get with bigger shows on an outdoor festival stage ("you haven't got that sort of sense of being all in one room together"). You can understand where he's coming from. Odell's songs are intimate, personal, passion-wrought numbers which see him releasing torrents of emotion while seated at the piano on numbers such as "Sense" and "Another Love".
"When I started in my early teens, it was like a diary. I've always written a diary and it's crossed into a musical thing. It was cathartic. I tried a lot of different ways of songwriting, and I suddenly went back to being brutally honest and writing like a diary again and that's when the album started forming. When you're 21 a lot of the biggest things are relationships – they were at that time for me, anyway." He quickly adds: "All  my failures."
So honest was his EP Songs From Another Love, released in November, that its cover featured a picture of an ex-girlfriend, the subject of most of the songs. "I wanted people to see that honesty. For me it's all about the feelings and emotions. When I was doing the album, all the decisions in the studio were led by the emotion – I spent a lot of time trying to get that right. For me the most important thing about a song is that sense of feeling all the hairs standing up on the back of your neck. Do you know what I mean? Because they're the songs that I love."
For the writing of the album, the label lent him a little room at the end of an East London art gallery. With expectation upon his shoulders, he would go there every day for eight months to write, immersing himself in all that he found inspiring: books and film, in particular Ernest Hemingway, F Scott Fitzgerald and the films of Terrence Malick. "Going back to being on my own I did go a bit mad. I love reading and find it really inspiring for writing. I was immersing myself in so much art in London and reading so much and watching so many films; but also giving out so much, writing every day, put me in a very strange [place]. I wasn't very good socially for eight months." During that period a relationship ended. "That's where "Another Love" came from. It was a weird time."
Growing up in Chichester with his sister, pilot father and primary school-teacher mother, at seven Odell asked to take the piano lessons that his grandmother had intended for his older sister. "I remember from an early age, four or five, I was obsessed with the piano. I played every day."
Coldplay and Keane are the artists to whom Odell is most frequently compared, for his emotive piano-led songs. A particularly scathing 0/10 review from the NME this week comparing him to "Marcus Mumford's arse", apparently prompted his red-faced father to call the magazine to complain. It was his father, too, who bought him a copy of Elton John's Goodbye Yellow Brick Road when he was 12, which led him to discover Billy Joel, Leon Russell and Jerry Lee Lewis – all the singer-songwriters who would inspire his songwriting. Bob Dylan, Leonard Cohen and Tom Waits followed later. And all the while his friends were listening to 50 Cent. "I'd go to parties and put on whatever I was listening to at the time. It made me so unpopular," he laughs. "I've never done music to try and fit in or to be cool; if anything it's always drawn me from that."
After failing to get a place on a music degree course, he enrolled on a songwriting diploma in Brighton. Songs were soon flowing and within a year he had played 100 open-mic nights. When he was made redundant from his bar job, he headed for London in his grandmother's car to seek out a band and record deal. Just one person responded to the advert he put up in Goldsmiths College for band members – that one person was Max Goff who became his bassist. It was enough to lead to him form a band and perform gigs where he was spotted by a friend of Lily Allen. The singer came to see him upstairs at Ronnie Scott's, and signed him straight away. "I'd never met anyone remotely famous. She was lovely and I just talked to her about music and had a beer. It was cool."
Now two dates are booked at London's Shepherd's Bush Empire for October and Odell is gearing up to his first Glastonbury. "Five pm on the John Peel Stage on Sunday. Two years ago I was writing and recording and I was trying to  get tickets. I couldn't get them and I watched pretty much the whole thing on TV, dreaming that in two years' time I'd be there." Those dreams are a reality for Odell.
The album 'Long Way Down' is out Monday on In The Name Of/Columbia
*This article appears in tomorrow's print edition of Radar Magazine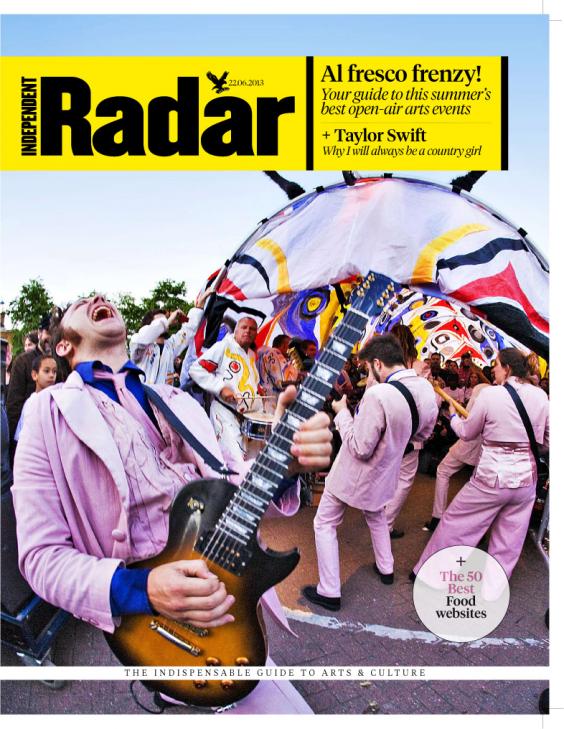 Reuse content