After days of mounting speculation, Banksy has unveiled his new UK show based in Weston-super-Mare's derelict Tropicana building.
The elusive artist has developed the site into a "bemusement park" called Dismaland with 18 attractions.
The show will feature work from fellow contemporary artists Damien Hirst, Jenny Holzer and Jimmy Cauty, and will run for six weeks.
Pictures of rollercoasters and castles were pictured being built at the site earlier this week, as reports spread that Banksy was linked to the project.
The Dismaland Castle. pic.twitter.com/Umv2R45fvL

— Chris Green (@cghgreen) August 20, 2015
A Banksy original: the Grim Reaper driving a dodgem as Stayin' Alive plays... pic.twitter.com/7LfOULxcW0

— Chris Green (@cghgreen) August 20, 2015
Welcome to Dismaland. pic.twitter.com/AAscLGkQlO

— Chris Green (@cghgreen) August 20, 2015
The stencil for #Dismaland attributed to #Banksy is by Hijack, in the Jewellery Quarter, #Brum. I snapped it 2014 pic.twitter.com/GAoBXgX63Q

— Andy Smart (@djcolatron) August 20, 2015
The artist, who is thought to be from the West Country, said: "I loved the Tropicana as a kid, so getting to throw these doors open again is a real honour.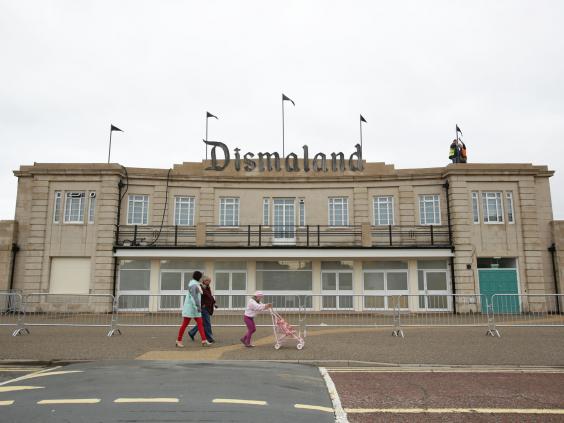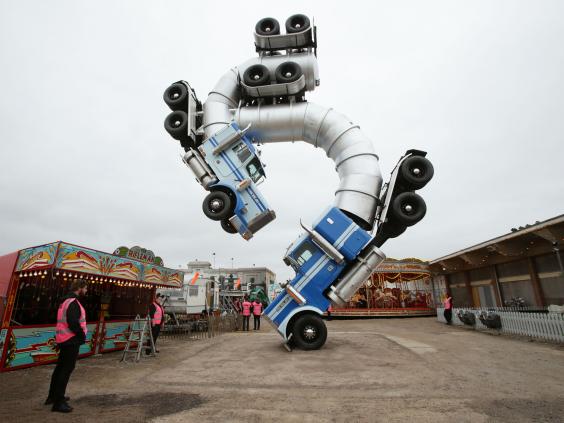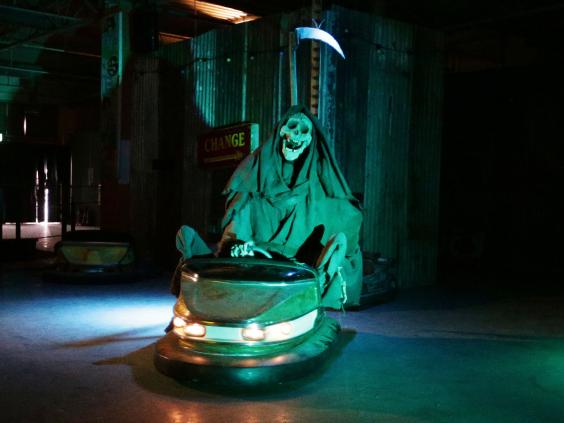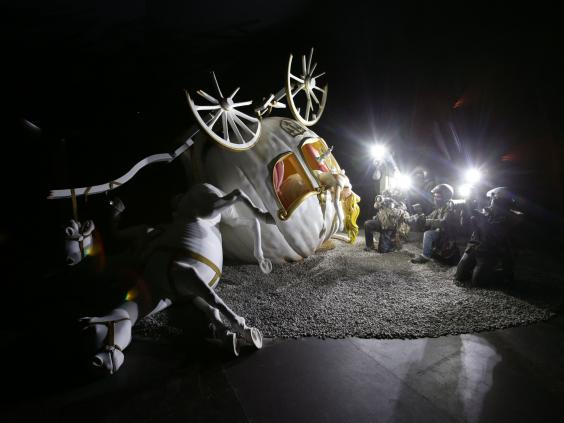 "I hope everyone from Weston will take the opportunity to once more stand in a puddle of murky water eating cold chips to the sound of crying children."
Dismaland is the artist's first authorised show in the UK since "Banksy v Bristol Museum" in 2009.
Inside 'Dismaland': Banksy's Sinister Disney-Trolling Theme Park Reportedly Opens This Weekend http://t.co/WJmcjEmHM1 pic.twitter.com/Sw62bVouTg

— The Utilidor (@TheUtilidor) August 17, 2015
Nigel Ashton, leader of North Somerset Council, said: "We have been working closely with the organisers for months now, and for obvious reasons, have had to remain tight-lipped about the true nature of the event.
"In fact, only four people in the entire council knew what was really happening."
Who's up for Banksy's Dismaland then? - http://t.co/rfQNWAkBvZ pic.twitter.com/vQclKNOMlt

— Andrew Hippisley (@AndyHippz) August 20, 2015
The Tropicana outdoor pool and leisure facility closed in 2000 after a decline in visitor numbers.
The revamped seaside amusement park follows the renovation of Dreamland in Margate, Kent in June.
Banksy's New York residency
Banksy's New York residency
1/14 Banksy's New York residency

Banksy paints a leopard onto the Yakee stadium in New York

banksyny.com

2/14 Banksy's New York residency

A dancer poses next to a Banksy stencil of a man holding flowers

Reuters

3/14 Banksy's New York residency

A Banksy robot appears on Coney Island, New York

banksyny.com

4/14 Banksy's New York residency

Banksy's 'Ghetto 4 Life' seen here sprayed on a Bronx street. The graffiti caused upset in the neighbourhood, which the Mayor said had been trying to rid itself of its 'ghetto' status

Banksy

5/14 Banksy's New York residency

Banksy's 'The street is in play' appears in New York City. The piece was also defaced shortly afterwards

banksyny

6/14 Banksy's New York residency

A dog sits next to a Banksy of a boy about to hammer open a water pipe

Reuters

7/14 Banksy's New York residency

Banksy appropriates a quote from the film Gladiator in one of his New York pieces

Banksy

8/14 Banksy's New York residency

Banksy's alternative bumper sticker gives New Yorkers a mantra to live by

Banksy

9/14 Banksy's New York residency

A work by Banksyseen through a chain link fence in the Lower East Side neighborhood of New York City

Getty Images

10/14 Banksy's New York residency

A piece of street art depicting a heart-shaped balloon covered in bandages, allegedly done by the street artist Banksy, is seen on in the Red Hook neighborhood of the Brooklyn borough of New York City. The piece was defaced with red spray paint shortly after being completed

Getty Images

11/14 Banksy's New York residency

A charming Banksy piece in the Bed-Stuy neighbourhood of New York

Banksy

12/14 Banksy's New York residency

Banksy's beaver, which marks the tenth day of the artist's New York residency, gnaws on a felled 'No Parking' sign

Banksy

13/14 Banksy's New York residency

A pug urinates on Banksy's tribute to 9/11 in New York

Chris Streger

14/14 Banksy's New York residency

Banksy's final piece of graffiti as part of his month-long project in New York

banksyny.com
Reuse content