The British Museum has chosen German art historian Hartwig Fischer to succeed Neil MacGregor, the first foreign director in over 150 years.
While the museum declined to comment on the prospective appointment this morning it is understood Dr Fischer, currently director general of the Dresden State Art Collections, has been recommended to the Prime Minister who has to approve the hire.
It is hoped that his appointment, which follows a five-month search for MacGregor's replacement, will be confirmed later today.   
Fischer, who is little known in the UK, is responsible for 14 museums and four separate institutions in four cities as part of his current post.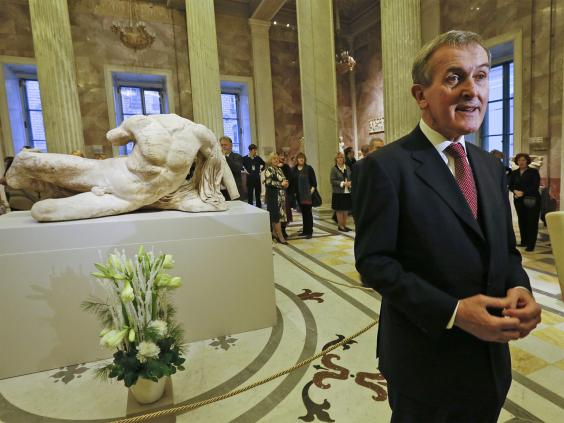 He is the first foreign-born director since Anthony Panizzi was appointed 'principal librarian' – the previous title of the director when the British Museum and British Library were joined – in 1856.
He succeeded Martin Roth, current director of the Victoria and Albert Museum, in the post. Since 2012 he has worked on modernising the state art collections which date back to the 16th century.
Previously, the 52-year-old was director of the Folkwang Museum in Essen where he oversaw the restoration of the historic museum.
Top 10 art institutions
Top 10 art institutions
1/10 Top art institutions

1. Louvre, Paris: 9,260,000

Getty Images

2/10 Top art institutions

2. British Museum, London: 6,695,213

Getty Images

3/10 Top art institutions

National Gallery, London: 6,416,724

Getty

4/10 Top art institutions

Metropolitan Museum of Art, New York: 6,162,147

Getty Images

5/10 Top art institutions

Vatican Museums, Vatican City: 5,891,332

Getty Images

6/10 Top art institutions

Tate Modern, London: 5,785,427

Getty Images

7/10 Top art institutions

National Palace Museum, Taipei: 5,402,325

Getty Images

8/10 Top art institutions

National Gallery of Art, Washington DC: 3,892,459

Getty Images

9/10 Top art institutions

National Museum of Korea, Seoul: 3,536,677

Getty Images

10/10 Top art institutions

Musée d'Orsay, Paris: 3,500,000

Getty Images
Providing the Prime Minister approves the appointment, Dr Fischer takes on an institution that has been dramatically transformed under MacGregor's 13-year leadership.
What had been an ailing institution struggling for relevancy has transformed into the UK's most popular visitor attraction. Attendance has risen 50 per cent since he joined in August 2002 and he has presided over a series of blockbuster exhibitions including Life and Death in Pompeii and Herculaneum.
The museum was also transformed with a new building for exhibition space and conservation and scientific facilities.
In what could almost be seen as a cultural exchange, one of MacGregor's new roles will be chairing an advisory board to to make recommendations to Monika Grütters, the German minister of culture on the development of the Humboldt-Forum. 
Reuse content