Not everything in Scotland is about politics – sometimes it just feels that way in the wake of last year's Scottish independence referendum. Not that it's a bad thing, but in this respect the average Scot with an opinion to express might feel themselves in the role of political spokesperson even as they open their mouth to speak. It's an often quoted and truthful observation that the referendum was a catalyst for widespread political discussion in Scotland, and it's possible to find echoes of that discussion in every aspect of life.
It's certainly possible to find those echoes when looking at the photographic works that form the new exhibition, The Ties That Bind, at the Scottish National Portrait Gallery in Edinburgh. Created by four-person collective, Document Scotland – all Scots who were non-resident in the country when the collective formed in 2012, but excited by the debate emerging around the referendum – the show comprises projects that each focus in detail upon an aspect of Scots life or culture. Some of those involved see and relish the political parallels, others actively seek to avoid them; but in each of the strands here a powerful sense of perspective upon others' lives and their relationship with an aspect of their country is profoundly explored.
 The subject matter of Stephen McLaren's A Sweet Forgetting is both the most historical and potentially the most controversial. From Glasgow but now based in San Francisco, McLaren used to be a director of television documentaries who, since moving into photography full-time eight years ago, has worked for clients including The New York Times, New Statesman and The New Yorker. His project concerns itself with the international slave trade and the role Scottish business played in it.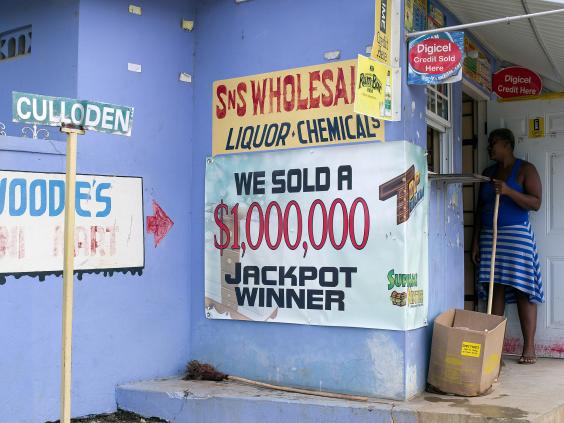 "Last year I read Professor Tom Devine's book about the Scottish diaspora, To the Ends of the Earth," says McLaren, "and I was surprised to read that about a third of the sugar plantations in Jamaica in the 19th century were owned by Scots. This was a period of brutal slavery and it seems many Scots profited from massive slave labour in the Caribbean. Scotland has more or less forgotten this part of our national story, possibly because it's too embarrassing. This is where the title A Sweet Forgetting comes from; it's almost like a collective amnesia, a denial that our national story was affected by slavery."
 McLaren has explored the subject by photographing properties in Jamaica and in Scotland which were owned by plantation owners, as well as people of Scottish descent in Jamaica. "They have little sense of bitterness towards their ancestors or Scotland," he says. "Jamaica hasn't forgotten slavery, but it has reckoned with it, and this is something Scotland needs to do as well. We need to be honest about who we are as a nation, the good and the bad. There's no point denying our role."
 Jeremy Sutton-Hibbert is an editorial photographer whose work has appeared in Time and National Geographic, and who is a principal photographer for Greenpeace. He first shot the Common Ridings – traditional week-long celebrations in Scots Border towns, which take the form of hunt-like horse ride-outs and date back to 13th-century actions against cross-border animal rustlers – in 2000, and returned in 2013 for the 500th anniversary of the Battle of Flodden.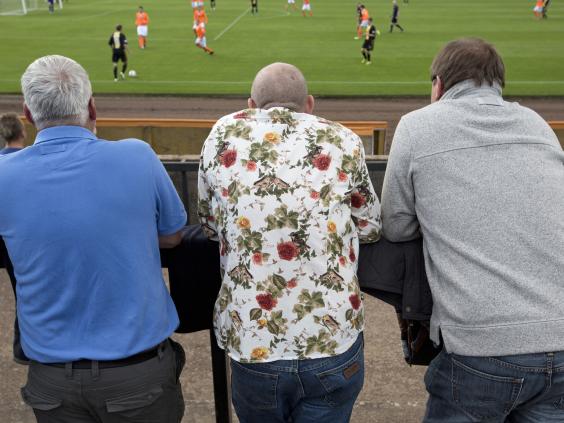 "The Ridings are about pride in community, a sense of identity, a sense of belonging, of people being grounded to their local district," says Sutton-Hibbert of his project, which is named Unsullied and Untarnished. "There's love for the history of the people's towns there, but they don't just look back and commemorate battles of yore. They form bonds between young people, their elders and the towns, which I think is very important. It helps the community look forward."
He says he was acutely aware of the subject matter and its context while he was shooting, having paid a return visit in the summer of 2014. "I guess I was conscious of the fact the referendum was coming when I was photographing all these towns which are more or less right on the border with England," he says, "but one thing I found was that there were very few Saltires being waved, or Union Jacks either. People's bond seemed to be mainly to their local community, and I found that fascinating. I live in Glasgow, and in a city people often barely known their neighbours. I also thought it was refreshing to be at festivals which are untarnished, as it were, by major corporate branding."
Colin McPherson works for The Independent, the photographic agency Corbis and the football magazine When Saturday Comes.  The last is also the title of his work here, a look at the "nether regions of football that I've always inhabited", the lower league clubs of Scotland. "It's where I feel happiest," he says, "because you can move around in small grounds and the architecture is always different. I've always believed football doesn't divide people, it unites them in a common purpose. I love the flow of terracing, the conversations you hear and the smell of smoke on the breeze."
What can football on this scale tell us about Scotland? He draws parallels between a small club and a small country. "At the lower levels there's a sense of commitment and ritual, and how people feel bound together by their shared experience. I know from my experience I started supporting a football club [Edinburgh City] and I got involved in running it. At this level it really shows you what people are prepared to do to help something that they love survive and grow, and the sense of community that fosters."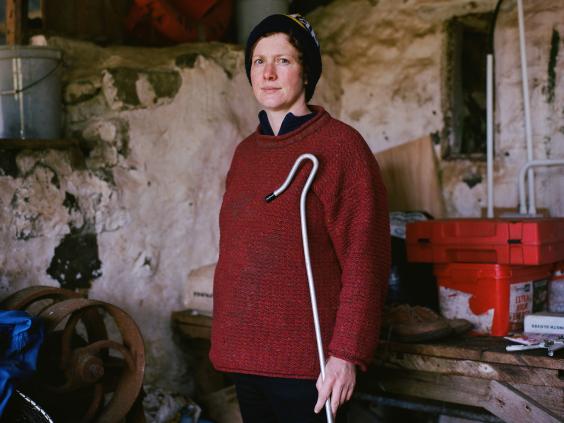 A graduate of Edinburgh College of Art and the London College of Communication, Sophie Gerrard has worked for The Independent, The Guardian, the Telegraph and others. 
"I was born and bred in Scotland," she says, "but I've lived away for nearly 10 years. When you live away from home it strengthens that feeling of identity, and I think part of a Scot's sense of identity is the landscape; partly that romantic sense of longing, which is often really a picture-postcard romanticism. I wanted to explore my country, to scratch under that surface. There's no such thing as a wild land, each part of the country is managed, and I wanted to get to know the people who are responsible for the landscape."
For Drawn to the Land, she photographed six female farmers of different ages, partly to subvert the idea of agriculture as being a masculine vocation. "I show the physical work they do," says Gerrard, "but it's not really about farming, it's about their relationship with the landscape. They talk about custodianship, about being responsible and looking after the land to pass on to the next generation. Many of them talk about a calling, about being drawn to the land, something running in their blood. It's a feeling many will identify with."
It's easy to join the dots from there and imagine issues of land ownership, a current political hot potato in Scotland, behind this work, but Gerrard is keen to depoliticise what she's done with this project. "It might trigger conversation about issues like land ownership and renewable energy  and forestry, all of those things which have attracted lively debate before and after the referendum. But the objective isn't political, it's individual. The viewer can see what they choose, but my voice doesn't intrude."   
'Document Scotland: The Ties That Bind' is at the Scottish National Portrait Gallery, Edinburgh to 24 April 2016 (nationalgalleries.org/portraitgallery)
Reuse content