Revealing interviews with some of the people most affected by the Corby toxic waste scandal have been made available to the public for the first time.
A new documentary-style exhibition in London tells the story of Britain's worst child poisoning case since the thalidomide scandal, in which the clean-up of a former steel making site was eventually proved to be responsible for birth defects in 16 children.
The exhibition, at the Photographers' Gallery in the West End, brings together photographs, scientific reports, testimonials and local history and begins almost exactly three years after residents of the Northamptonshire steel town of Corby won their ten-year battle against their local council.
One of the claimants, Mandy Wright, whose son Curtis was born in 1996 with no fingers on one hand, reveals in the exhibition that the court case very nearly didn't happen at all.
"One Thursday in August I went to the shop to get a pint of milk. This old gentleman I know who lives out the back was coming towards me with this mad dog, and I thought it was best not to speak to him. Anyway, he comes over and says 'Are you alright love?' I see you've had your baby'. And then he asks if he can have a look at him," she remembers.
The old gentleman then notices Curtis' hand and they get talking and Mandy mentions a couple of other mums she knows have similar deformities, according to the transcript of her interview with Mark Neville, on display at his "Deeds Not Words" exhibition, which runs until September 29.
"I never thought no more about that encounter.  Then about 5pm on the following Sunday, I was just getting the kids ready for bed, and the front doorbell goes. And there's that old guy who lives at the back there, and he turned up with a freelance journalist from The Sunday Times. It turns out this old guy had put two and two together, because he was an ex-council worker, and he thought something was dodgey," says Mandy.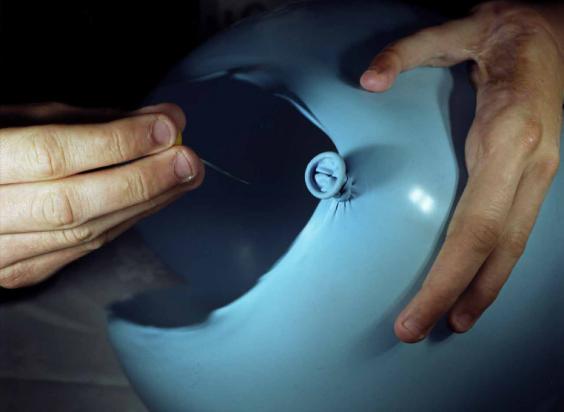 The Sunday Times article appeared in April 1999. The lawyer Des Collins read it, got involved and the case took off. Ten years later, in July 2009, the London High Court ruled there was a link between the clean-up and the hand and foot deformities suffered by 16 children born between 1985 and 1998 to mothers who had inhaled or ingested toxic waste. It found the local council had been negligent in its handling of the clean up, which involved demolishing buildings and reclaiming hundreds of acres of contaminated land in parcels and taking the waste, steel dust and slag to a quarry.
More than a decade later, Mandy is only too aware of the significance of that meeting with the old gentleman. "If I had not walked down to the shop that day and met that guy, none of this might have come out, and the court case might not have happened."
Elsewhere in exhibition testimony, Fiona Taylor has vivid memories of the contaminated dust created by the clean-up. "The dust would be everywhere. Looking back it was horrific. It was so fine, the pink dust…it would just float into the air..you had to wet a cloth to get rid of it. But at that time, we just thought that it was dust off a building site..if you opened the door on a windy day it was just like a sandstorm…nothing from the council to say that we are dealing with this, or doing that. But it used to be a clean place, Corby…"
Mark Neville: Deeds Not Words opened on Friday www.thephotographersgallery.org.uk
Reuse content