Gems from the canon of Norman Rockwell, whose depictions of post-war America still conjure nostalgia for a seemingly simpler, more optimistic time, are bound for the auction block at Sotheby's in New York. The collection offers a perfect sampling of Rockwell's iconic style that seems almost photographic in its detail, capturing ordinary moments and rituals in the daily life in America six decades ago. They are among seven works that will go under the hammer on 4 December and were each commissioned as covers for the Saturday Evening Post.
Click here to view the gallery
Most anticipated will be the sale of Saying Grace, which appeared on 24 November 1951 and four years later was voted a readers' favourite in an Evening Post poll. Showing the interior of a busy restaurant with a woman and young boy dipping their heads in prayer, it has an estimated price of $15m-$20m (£9.3m-£12.5m)and could break the record of $14.5m for a Rockwell at auction. He was paid $3,500 to submit it.
Similarly beloved by Rockwell followers is The Gossips, a montage of pairs of faces facing one another and chattering in intent, seemingly heated conversation. The figures were neighbours of Rockwell and also include his wife Mary and himself in the same pose, he wagging his finger. It could fetch up to $9m. The last of the three most treasured of the lots is entitled Walking to Church which appeared on the cover on 4 April 1953.
The eventual buyers' gains, however, will be the loss of the popular Norman Rockwell Museum in western Massachusetts, which has been home to all three of the pictures for 20 years. They were on loan from the family of Kenneth Stuart, who was art director for the Evening Post, and are being put up for sale only after years of legal wrangling between his heirs.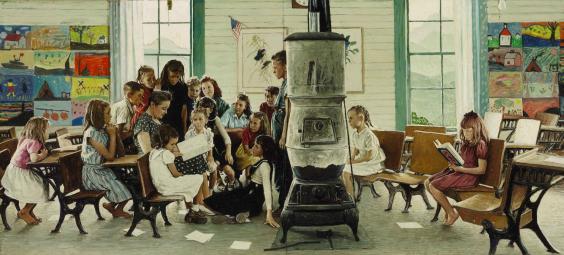 Reuse content