David Shrigley has shrugged off the disappointment of missing out on the Turner Prize, as his giant "thumbs up" sculpture was named as a winning entry for one of the prize art commissions in London.
The comic artist's 10 foot bronze sculpture of a thumb, called "Really Good", was the second of two winning commissions for the Fourth Plinth in Trafalgar Square.
Shrigley's work, which will be put up in 2016, was the popular choice for the site among the more than 40,000 members of the public who visited the shortlist exhibition many of whom submitted their views to the selection committee.
This comes two months after he missed out on the Turner Prize to Laure Prouvost. "I wasn't that disappointed not to win the Turner Prize as I didn't expect to win," he said. "But I did really want to win this. It definitely makes up for the Turner."
The artist said he was "chuffed" that he won, adding: "It's an opportunity to make something. Unlike winning a prize – or not – you're not just given the money, you're given the opportunity to make something on a scale that you couldn't possibly imagine yourself."
The positive gesture made by the sculpture could be a "self-fulfilling prophesy" with the economy, weather and society all benefitting from a positive attitude, Shrigley said.
He continued: "As an artist you have to believe your art makes the world a better place. Having said that, I've made a statement with this work that is quite flip. It's satirical and sincere at the same time."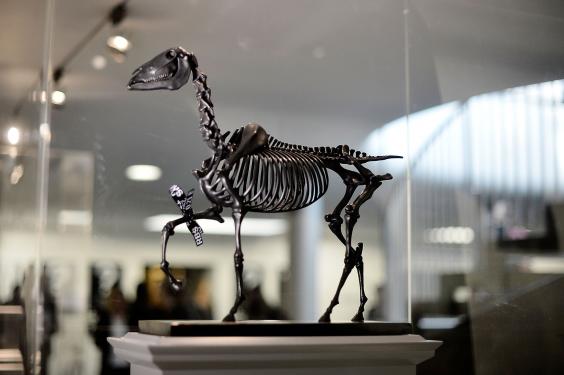 The other winning commission, out of a shortlist of six was "Gift Horse" by Hans Haacke. The sculpture, also in bronze, is of a horse's skeleton with a ribbon round its leg showing live share prices. It will go up in 2015, replacing the current work: a giant electric blue cockerel by German artist Katharina Fritsch.
Ekow Eshun, chair of the Fourth Plinth Commissioning Group, said: "Hans Haacke and David Shrigley are artists of international repute with a clarity of vision that the Commissioning Group found exciting and inspiring," adding he was sure "Londoners will take both sculptures to their hearts".
The artworks will be the 10th and 11th to appear on the Fourth Plinth since the commissioning programme began in 1998. Other artists to display work include Yinka Shonibare and Sir Antony Gormley.
German-born artist Hans Haacke lives and works in New York, and has long examined the relationships between art, power and money.
Gift Horse is a "wry comment" on the equestrian statue of William IV originally planned for the plinth, and is derived from an etching by George Stubbs.
Mr Eshun said. "It's a memento mori, it's a reference to art history and a reference to the fact that money is the hidden dynamic that fuels our city for good and bad. It's a beautiful and poetic piece."
Reuse content