A watercolour painting by Nazi dictator Adolf Hitler has sold for 130,000 euros (£103,000) at auction in Germany, despite controversy over its sale.
Created by a young Hitler in 1914, the artwork of Munich's civil registry office and old town hall ("Standesamt und Altes Rathaus Muenchen") was bought by an anonymous Middle Eastern buyer on Saturday, auction house Weidler confirmed.
The piece had been expected to sell for more than 48,000 euros but far exceeded this estimate.
Bidders from four continents had expressed interest in the painting, which came with a rare handwritten bill of sale and a signed letter from Albert Bormann, Hitler's adjutant and the brother of his private secretary Martin Bormann.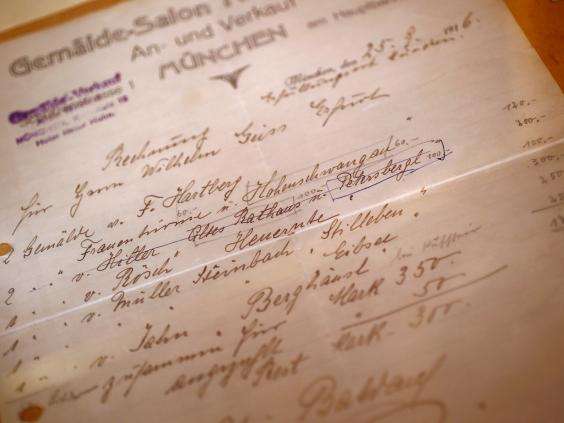 The sellers, two elderly sisters whose grandfather had bought the artwork in 1916, are donating 10 per cent of the proceeds to a disabled children charity, according to Kathrin Weidler, the auction house director.
The sale of Hitler's work has been a matter of debate, with some relatives of Holocaust survivors angry that it is allowed to happen. Six million Jewish people were killed under Nazi rule with World War II from 1933 to 1945 causing the death of millions.
Hitler struggled to make a living as an artist in his late teens and early 20s, painting some 2,000 works but many critics have branded the auctioning of his work "tasteless".
15 Facts You Didn't Know About Hitler
15 Facts You Didn't Know About Hitler
1/6 1. Little-known facts about Adolf Hitler

When he was young, he dreamed of becoming an artist. He applied twice to the Vienna Academy of Art (once in 1907 and again in 1908) but was denied entrance both times. Hitler left school at 16 with no qualifications.

2/6 6. Little-known facts about Adolf Hitler

He suffered from extreme flatulence and took 28 different drugs to cure it.

3/6 11. Little-known facts about Adolf Hitler

He loved film and particularly liked the Austrian-German actress Marika Roekk, who he was "spellbound" by.

4/6 12. Little-known facts about Adolf Hitler

He was nominated for the Nobel Peace Prize in 1939.

5/6 Little-known facts about Adolf Hitler

The 'Heil Hitler' salute was inspired by cheerleaders, according to documents created by the Office of Strategic Services.

6/6 14. Little-known facts about Adolf Hitler

He hated the dentist and apparently suffered from bad breath, abscesses and gum disease.
Prior to Saturday's auction, Weidler requested that any complaints about the auctioning be sent to the city of Nuremberg, the central German town where the auction was held, or the sisters selling the painting.
"Those who want to get worked up about this should just go ahead and get worked up about it," she told Reuters. "It's a historical document."
Weidler Auction House has sold five of Hitler's other paintings in the past for between $6,000 and $100,000.
Hitler wrote in his autobiography Mein Kampf that his hopes of becoming an artist were crushed by repeated rejections from Vienna's Academy of Fine Arts.
Reuse content