British artists Jake and Dinos Chapman are preparing to bring their unique brand of controversial art to the capital for their first "major London museum show" which opens at the Serpentine Sackler Gallery next month.
The exhibition Come and See opens in the Kensington Gardens gallery on 28 November and will include work from throughout their career and covers their art from painting and sculpture to film, music and literature. There will also be new pieces.
The artists said they would continue with the dark themes they have explored over the past two decades.
"There won't be any puppy dogs or watercolours of seascapes in the exhibition. That would probably be the most radical show we could ever do. We're not ready for it though," Jake told The Independent.
"There will be some old works and new works. There will be a spectrum of effects. Some that is old that hasn't been seen and some completely new stuff that probably shouldn't be seen.
"We are not really interested in highlighting the more positive aspects of humanity. We're interested in the underbelly of things. As far as we're concerned the depths of that seam is profound and infinite."
The Chapmans began collaborating in the 1990s, and came to prominence with the work "Disasters of War", recreations of Goya's etchings of the same name using plastic figures.
They have caused controversy with their series of mannequins of children with genitalia instead of facial features and their work tackling the Holocaust. There was outrage when they bought a series by Goya and "reworked" them.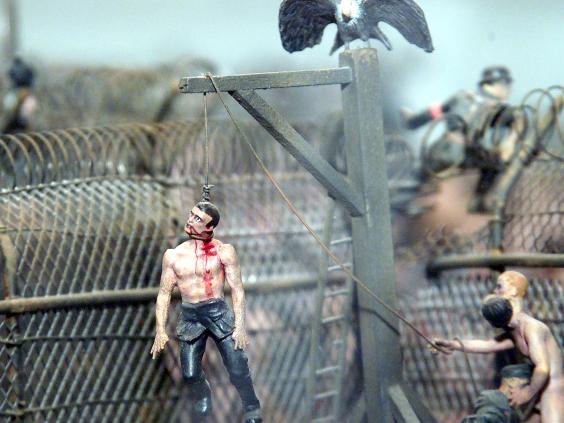 Jake said: "We always saw the outrage as a seemingly appropriate response to the work. There are other ways of seeing it too, whether politically erudite or funny. The moral outrage is a melodramatic reaction to the work."
The artists create "iconoclastic sculpture, installations and two-dimensional works that address themes including morality, religion, history of art and consumer culture," a spokesman for the Serpentine said.
The Tate described the brothers as among "the most significant and best-known contemporary British artists working today".
They were nominated for the Turner Prize in 2003 and recently have had major solo exhibitions at SongEun Artspace Museum in Seoul and the Hermitage in St Petersburg.
Work from their "Hell" landscapes series, with scenes of brutality - again using models - will be in the exhibition. 
Jake added he was "very excited to be exhibiting at the Serpentine. It is our first major London museum show and the first time we've shown in a major London park."
The brothers had previously displayed a single group of works called "When Humans Walked the Earth" at Tate Britain in 2007, but this marks the brothers' first survey show in the capital.
Jake added: "I don't think we'll try and engineer it to produce a balanced retrospective view of the work. We're not great fans of that linear trajectory or intelligibility. If there's any kind of methodology to the work, it's same scratch different itch."