Sir Antony Gormley's work has put people on the fourth plinth, populated London's skyline with mysterious figures and regenerated a whole area. Now he has created a sculpture that can be slept in.
The Turner Prize-winning artist behind the Angel of the North has created Room, a huge sculpture of a crouched figure that doubles up as a luxury hotel room.
It is the showpiece structure that sits on the façade of The Beaumont hotel, which is due to open in Mayfair later this year.
Sir Antony said: "What we see on the outside is, in a way, a spectacular landmark in the manner of a brutal body described in the language of architecture; but in its interior is a very different manner of sculpture which is actually about forming experience."
It will cost about £2,500 a night to stay in Room, the same amount as the hotel's other large suites. The sculptor hopes there will be a programme to make it accessible at times to people who cannot afford the full price.
The 4m-square, 10m-high interior is fitted out in dark fumigated oak, while the only furniture is a bed. With black-out blinds the room can be plunged into pitch darkness.
"It's cooler, darker and more silent than any space around it," he said. "I want the room to be both in the city but absolutely removed from it, giving a feeling of enclosure within and exposure without."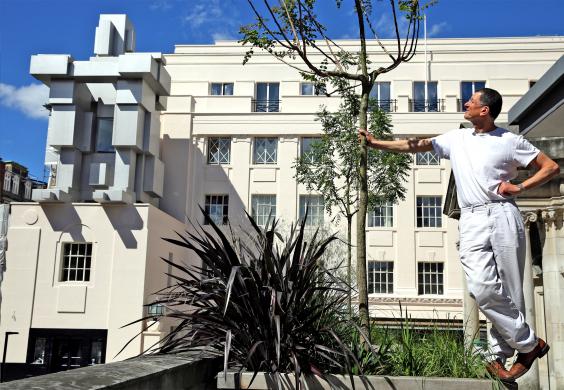 The artist requests that occupants enter the room naked. "You leave your clothes and all of your external life behind," he said, adding it could become the "bonking site of choice".
Sir Antony said: "200 metres from Oxford Street with all of its mayhem and late capitalist consumption you have a thing that is essentially a cave that is completely withdrawn from all of that."
He was commissioned in 2008 by business partners Chris Corbin and Jeremy King, who managed and owned The Ivy, for The Beaumont, their first hotel. It opens in the autumn, although it is unclear who the first occupant of the room will be.
Those curious to see inside Room can visit later this year, as it will be part of the Open House events where buildings throw open their doors for free.
Sir Antony, whose sculptures are almost always inspired by the human form, unveiled Model in 2012, a sculpture large enough that visitors could walk around inside it.
Reuse content