The secret world of multimillion-pound art deals is facing a US inquiry into allegations of money laundering. Federal investigators have opened an inquiry into Yves Bouvier, a Swiss businessman described as "one of the art world's consummate insiders".
The US Department of Justice is examining the sale of paintings by artists including Leonardo da Vinci, Modigliani, Gustav Klimt and Mark Rothko, according to Bloomberg News.
Authorities in Monaco are investigating claims by the Russian oligarch Dmitry Rybolovlev that Mr Bouvier defrauded him by inflating prices on painting acquisitions and keeping the difference. 
US prosecutors are said to be concerned by the lack of transparency in the international art market and by its vulnerability to money laundering. Law enforcement and art experts are warning that the market is increasingly being targeted by criminals and even terror groups keen to exploit its secrecy. Belgian and Swiss regulators have also started investigations.
The art world's vulnerability to money laundering, tax evasion, insider trading and price manipulation has been highlighted by the economist Nouriel Roubini, famed for predicting the last stock market collapse. Mr Roubini, himself an art collector, said: "You can buy something for half a million, not show a passport, and ship it."
Mr Bouvier is dubbed the "king of the freeports" – hi-tech warehouses for the uber-rich. He is one of the largest private shareholders in the Geneva freeport and holds stakes in those in Luxembourg and Singapore.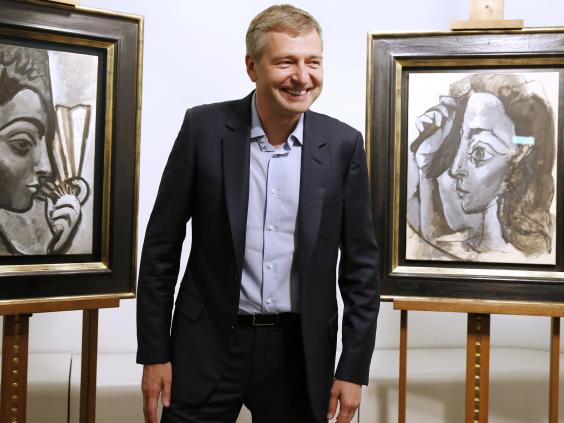 As authorities clamp down on tax evasion in offshore accounts, many wealthy people have started using freeports, which offer security and confidentiality as well as tax advantages, as the goods are said to be "in transit".
However, a Swiss report warned last year they could be used for tax evasion and to get around laws on looted cultural goods. Unesco, the UN's cultural organisation, has called for a global crackdown on freeports, warning that looted treasures from Syria and Iraq are being trafficked to private buyers through them.
The Geneva freeport has already announced stricter identification rules for customers using them. Police in Monaco arrested Mr Bouvier last year in connection with the complaint. He denies any wrongdoing. Last November, an appeals court rejected his request to have the criminal charges of fraud and money laundering dropped.
Mr Rybolovlev said in legal documents that he had spent more than $2bn on close to 40 works bought through Mr Bouvier over the past decade. One of the works was Modigliani's Reclining Nude With Blue Cushion, which the oligarch said be bought for $118m from the US hedge fund trader Steven A Cohen. He later discovered that the selling price had been $93.5m.
One of the masterpieces Mr Bouvier procured for Mr Rybolovlev was the Salvator Mundi, a 16th-century painting of Christ, which art experts now say was painted by Leonardo da Vinci. 
According to the Monaco complaint, Mr Rybolovlev paid $127.5m for the work – $50m more that he later said the seller had received; he alleged that Mr Bouvier had pocketed the difference.
World news in pictures
World news in pictures
1/30 1 July 2016

Soldiers carry wreaths as they attend a commemoration event at the Thiepval memorial to mark the 100th anniversary of the Battle of the Somme in Thiepval, northern France

REUTERS

2/30 30 June 2016

A child leans on the coffin of his uncle, suicide attack victim Hamidullah Safar in Istanbul during his funeral two days after a suicide bombing and gun attack targeted Istanbul's airport

AFP/Getty Images

3/30 30 June 2016

Activists of right wing religious organisations shout anti-Bangladesh government slogans during a protest rally in Kolkata. Hundreds of activists shouted slogans against the government of Bangladesh to mark their protest against the recent killings of religious minorities, specially Hindus, in the neighbouring country of Bangladesh

AFP/Getty Images

4/30 29 June 2016

Workers cleaning algae on a beach in Qingdao, east China's Shandong province. The algal phenomenon, an annual occurrence in Qingdao, is usually caused by an abundance of nutrients in the water, especially phosphorus, although the triggers for the enormous blooms which began to appear in the Yellow Sea in 2007 remain uncertain

AFP/Getty Images

5/30 29 June 2016

Motola, the elephant that was injured by a landmine, wears her prosthetic leg at the Friends of the Asian Elephant Foundation in Lampang, Thailand

REUTERS

6/30 29 June 2016

A man rides his horse next to a ger near Zuunmod south of Ulan Bato. Mongolians went to the polls across their sprawling, sparsely-populated country as it struggles to benefit from its vast natural resources amid disputes over foreign investment and slumping demand from neighbouring China. It took Mongolian nomad Pagvajaviin Shatarbaatar seven days to get to his polling station to vote in in the general election - accompanied by more than 2,000 sheep, goats and horses / AFP PHOTO / JOHANNES EISELEJOHANNES EISELE/AFP/Getty Images

AFP/Getty Images

7/30 29 June 2016

A mother of victims reacts outside a forensic medicine building close to Istanbul's airport, a day after a suicide bombing and gun attack targetted Istanbul's airport, killing at least 36 people

AFP/Getty Images

8/30 28 June 2016

An injured woman covers her face as she is carried by paramedics into ambulance at Istanbul Ataturk airport, Turkey, following a blast. A triple suicide bombing and gun attack has killed at least 36 people, including foreigners, with Turkey's prime minister saying early signs pointed to an assault by the Islamic State group

REUTERS

9/30 28 June 2016

Caimans swim in an artificial reservoir in the San Jorge cattle ranch near the dried up Pilcomayo river, close the town of Fortin General Diaz, Paraguay. Apart from the lagoon, 18 wells have been dug to secure water sources for the reptiles

AP

10/30 28 June 2016

Women pose with guns in front of journalists in the Christian village of Qaa, where suicide bomb attacks took place, in the Bekaa valley, Lebanon

REUTERS

11/30 28 June 2016

French anti-riot police officer detain a man during a demonstration against controversial labour reforms in Paris

AFP/Getty Images

12/30 27 June 2016

Fishermen use a fire to attract fish on a traditional fishing boat in New Taipei City, Taiwan

REUTERS

13/30 27 June 2016

Members of Iraqi police forces celebrate on a street in western Fallujah, 50 kilometres (30 miles) from the Iraqi capital Baghdad, after Iraqi forces retook the embattled city from the Islamic State group

AFP/Getty Images

14/30 27 June 2016

A man pushes a tub carrying children as he gets them back home after school at a flooded area in Duchang, Jiangxi Province, China

REUTERS

15/30 26 June 2016

A LGBT member waves a rainbow flag during a rally staged by the LGBT community on Istiklal avenue in Istanbul. Riot police fired tear gas and rubber bullets to disperse protesters defying a ban on the city's Gay Pride parade. Authorities in Turkey's biggest city had banned the annual parade earlier this month citing security reasons, sparking anger from gay rights activists

AFP/Getty Images

16/30 26 June 2016

A burned out truck rests on a roadside after the Erskine Fire burned through Weldon, California

REUTERS

17/30 26 June 2016

Men flagellate during the Shiite Youm Ali procession in Islamabad, Pakistan

REUTERS

18/30 25 June 2016

A man raises his hands as he runs from the scene of a suicide bomb attack outside Nasahablood hotel in Somalia's capital Mogadishu

REUTERS

19/30 25 June 2016

A Ukrainian Forces soldier fires a heavy machine gun during a battle with pro-Russian separatists at Avdeyevka, in Ukraine's Donetsk region

AFP/Getty Images

20/30 25 June 2016

A man practices his contact juggling skills in Manila, Philippines

AFP/Getty Images

21/30 24 June 2016

A rider rears up on his horse while surrounded by a cheering crowd during the traditional Fiesta of Sant Joan (Saint John) in downtown Ciutadella, on the island of Menorca, Spain

REUTERS

22/30 24 June 2016

A man throws a bucket of water at a motorcyclist as residents join in a water-splashing frenzy to honor their patron St. John the Baptist's Feast Day in San Juan, Metro Manila, Philippines

REUTERS

23/30 23 June 2016

Migrant workers supporting Myanmar Foreign Minister and State Counselor Aung San Suu Kyi wave to her during a meeting at the coastal fishery centre of Samut Sakhon, Thailand

REUTERS

24/30 23 June 2016

A general view shows the financial district of Lujiazui in Shanghai

AFP/Getty Images

25/30 23 June 2016

A cat walks past Muslim women offering afternoon prayers at a mosque at the shrine of Sufi Saint Khawaja Naqashband during the holy month of Ramadan in Srinagar

REUTERS

26/30 23 June 2016

A test launch of ground-to-ground medium long-range ballistic rocket Hwasong-10 in North Korea

REUTERS

27/30 22 June 2016

Family members cry near coffins containing the bodies of Nepali nationals, who were killed when a suicide bomber struck a minibus in Kabul, lined up after being flown from Afghanistan at Tribhuvan International Airport in Kathmandu, Nepal

REUTERS

28/30 22 June 2016

Villagers carry banners which read "Plead the central government to help Wukan" (in red) and "Wukan villagers don't believe Lin Zuluan took bribes" during a protest in Wukan, China's Guangdong province

REUTERS

29/30 21 June 2016

A plane drops retardant on a wildfire as it attacks the flames on a hillside in the San Gabriel mountains near Monrovia, California

REUTERS

30/30 21 June 2016

Aymara indigenous hold up their hands to receive the first rays of sunlight in a New Year's ritual in the ruins of the ancient city Tiwanaku, Bolivia. Bolivia's Aymara Indians are celebrating the year 5,524 as well as the Southern Hemisphere's winter solstice, which marks the start of a new agricultural cycle

AP
The Monaco case has prompted calls for tighter control of art deals. Melanie Gerlis, of The Art Newspaper, said: "Clearly there is a need for more regulation over these very grey areas of the art market. It is a thorny area, though. How and who would regulate such a broad, varied and international market? Regulation in some form or other will likely come as art becomes more popular and more pricey."
She says she thinks it would be better for the art market's players to take part rather than "bury their heads in the sand until something is imposed on them by people who don't understand the trade's idiosyncrasies".
Mr Bouvier could face fraud charges in the US, Bloomberg claimed. But Daniel Levy from the New York law firm McKool Smith, which acts for Mr Bouvier, said: "We have not been contacted by the US authorities and are unaware whether – or how – any such inquiry has been initiated."
The Justice Department declined to comment on the report.
Reuse content