Shia LaBeouf and his collaborators have moved their 'HE WILL NOT DIVIDE US' live-stream installation to Liverpool, England because they claim "America is simply not safe enough for this artwork to exist."
FACT (Foundation for Art and Creative Technology) has promised to ensure LaBeouf, Rönkkö & Turner's flag emblazoned with the words will fly continuously "for four years, or the duration of the 45th Presidency of the United States."
"The artwork is conceived by the artists as a resistance to division, and to the normalisation of division," it explained.
LaBeouf and co.'s latest project began on the day of Trump's inauguration (20 January) at the Museum of the Moving Image in New York, but was dogged by "constant disruption and hate speech by far-right extremists, and a lack of institutional support."
UPDATE: It's already had to be removed from the Liverpool museum: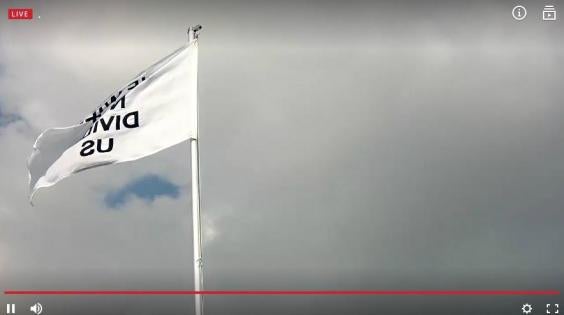 On 10 February, the museum apparently removed the camera live-streaming the flag without the artists' consent. They were forced to move it to Albuquerque on 18 February, where it became subject to "disruption by neo-Nazis" with gunshots being fired in its vicinity.
The flag and camera moved to an unknown location on 8 March, but has now found a permanent home in the UK.
"Events have shown that America is simply not safe enough for this artwork to exist." LaBeouf, Rönkkö & Turner said in a statement, with Turner, who hails from the North West of England, adding: "We are proud to be continuing the project at FACT, an arts centre at the heart of the community." 
Reuse content