One of contemporary art's most famous and controversial works is to go on display at the same London gallery where it first gained notoriety, courtesy of a 70-year-old German Count with a penchant for England and fine wine.
Tracey Emin's My Bed, which caused outrage when it was shortlisted for the Turner Prize in 1999 and prompted record crowds to descend on Tate Britain to gaze at its stained sheets, has been loaned back to the gallery for at least 10 years by Count Christian Duerckheim, an industrialist from Cologne who has been collecting art for half a century.
The work was bought on his behalf by the art dealer and White Cube gallery owner Jay Jopling at auction last month for £2.54 million, a new record for a work by Emin, who is now 51 and has been made a CBE.
She created the unmade bed, strewn with empty vodka bottles, cigarette butts and discarded condoms, in her Waterloo council flat in 1998 in an attempt to capture her chaotic life after a bout of suicidal depression following the breakdown of a relationship. It has come to be regarded as one of the key works of the 1990s Young British Artists (YBA) movement.
In a statement released by the Tate, Count Duerckheim said: "I always admired the honesty of Tracey, but I bought My Bed because it is a metaphor for life, where troubles begin and logics die."
The German, who made a fortune investing in biotechnology and is currently the chairman of pharmaceutical company Axiogenesis AG, has an enviable collection of international art considered to be among the most impressive in the world.
He has been described as an Anglophile, having lived in London in the 1960s, and in December gifted 34 modern drawings by German artists including Georg Baselitz, Gerhard Richter and Sigmar Polke to the British Museum for its exhibition Germany Divided.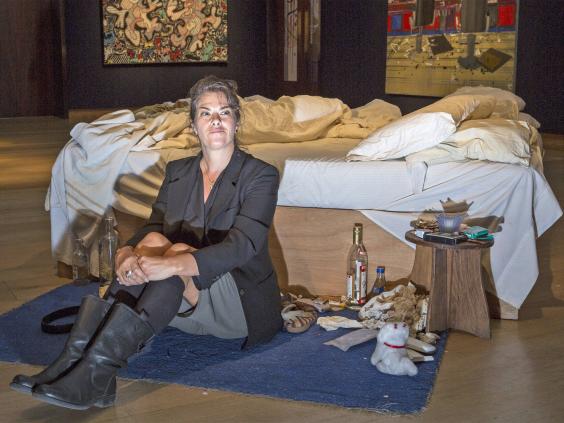 Cheyenne Westphal, co-head of contemporary art worldwide at Sotheby's, is one of the few people in the world to have viewed Count Duerckheim's full collection, having gained an invitation to his house to value the contents of his wine cellar. "It was extraordinary – masterpiece after masterpiece, works that had never been seen before. It was like opening a treasure trove," she said later.
Tate director Sir Nicholas Serota said of regaining My Bed: "I am absolutely delighted that Count Duerckheim has agreed to loan such an important work to Tate for a period of at least 10 years. We look forward to displaying the work and are most grateful to Count Duerckheim for his generosity in creating an opportunity for visitors to see a work that now has iconic status."
It is not yet known whether the work will go on display at Tate Britain or Tate Modern, with details being announced in the autumn.
Before it was auctioned, Emin said she regarded My Bed as "iconic" and hoped that it would be donated to a museum to be viewed by the public again, having spent more than a decade in the personal collection of Charles Saatchi, who bought it in 2000 for £150,000.
She said: "Count Duerckheim has done a very generous thing. I have always felt My Bed belongs at Tate. And now it will be. I cherish the moment to install it there. I could not be happier."
Reuse content