A 'living' replica of Vincent van Gogh's ear, re-built using body cells provided by a member of the late artist's family, has gone on display at a German museum.
Artist Diemut Strebe constructed the work called Sugababe using genetic material donated by Lieuwe van Gogh, the great-grandson of the Dutch artist's brother, Theo, according to the Center for Art and Media in Karlsruhe, southwest Germany.
The artist used a 3D-printer to re-create the ear that Vincent van Gogh is said to have cut off during a psychotic episode in 1888.
"I use science basically like a type of brush, like Vincent used paint," Strebe told reporters on Tuesday.
Visitors to the exhibit will be able to speak to the ear through a microphone connected to a computer processor which will simulate nerve impulses, according to the artists' website.
American philosopher and linguist Noam Chomsky was the first to talk to the ear.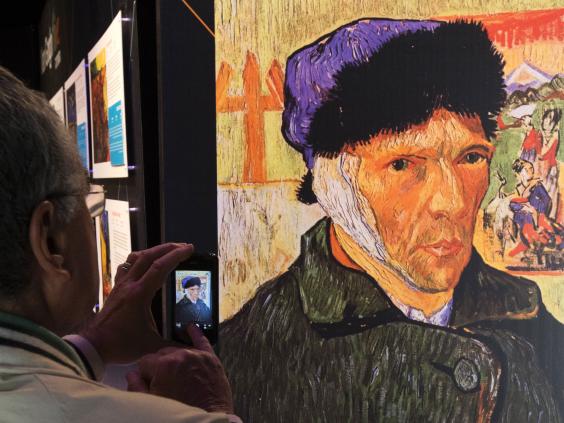 The US-based artist explained that she grew the ear at Boston's Brigham and Women's Hospital, in the US state of Massachusetts.
The specimen is being kept alive inside a case of nourishing liquid, in which it could theoretically last for years, she added.
Persuading Liuewe van Gogh to partake in the project was easy, said Strebe, adding: "He loved the project right away."
Lieuwe and Vincent van Gogh share about 1/16th of the same genes, including the Y-chromosome that is passed down the male lineage.
Strebe had hoped to use DNA taken from an envelope believed to have  been used by the post-Impressionist artist, but it soon became clear the genetic material belonged to someone else. 
"The postman messed it up," Strebe joked.
Undeterred, Strebe is now working with a female relative of van Gogh in order to include mitochondrial DNA — passed down the mother's line — for future installations.
In a separate ongoing project, the self-styled bio-artist will test the neutrality of 20 scientists by putting litmus-paper in their mouths. Participants have so far included Noam Chomsky, and Nobel Prize winner Martin Chalfie.
The exhibition runs until 6 July. Strebe said she plans to display the ear in New York next year.
Additional reporting by AP