The Wunderkid of the Brit-Art Nineties is about to reach his half century. Where to go next? What about backwards?
Hirst has often made work around the seductive allure of pharmaceuticals. It plays into some of his favourite themes: death and mortality, for example. He has displayed entire walls of gleaming metal cabinets full of syringes, pills, pill boxes. Those were mere replicas of the things themselves though. This time he is offering us scaled up, so called 'sculptural editions' of the very same objects: pills, pill boxes, syringes, bottles, each one an accurate version of its original. The cheapest is a baby blue Pfizer pill (yes, there is a lot of product placement here), in an edition of 30, which is advertised as being on sale at  £960, but had already risen in price by the morning after the opening due to demand for the Hirst brand.
Schizophrenogenesis reads the neon sign hanging on the wall at the back of the gallery, with each letter picked out in a different colour. Gallerist Paul Stolper had no idea what it meant - nor how to say it - when Damien Hirst first told him the brilliant idea he'd had for the title of this new gallery show of prints and sculptures, his first in a couple of years. So what does it mean? I ask him. "Inception of schizophrenia," he replies. Then he says it, out loud. It slips off the tongue now.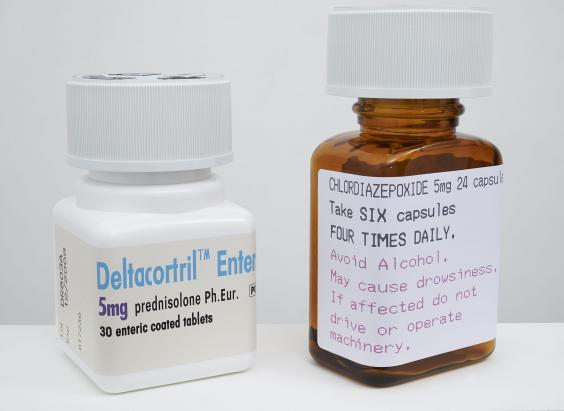 At the front end of this long, narrow gallery, pills in the shape of lozenges, bomblets, soothing pink discuses, suckable bluehearts - transparent, matt or shiny - are ranged along a shelf, pretty and pop-art-colourful as melt-in-the-mouth sweeties, all smoothly rounded off at the corners and oh so touchable. Then come a series of thirty silkscreen prints of a narcotic analgesic (prescribed for chronic pain), each one with a different combination of colours. The images float, suspended in the air, against their coloured grounds, ghostly takes on a ghostly Warhol. At the end of the gallery, things are less tidy. In fact, it's a bit of a scrummage of objects: a giant bottle of Ventolin syrup lies on its side amongst a drift of pills and stacked up packaging, offering words of baffling medical reassurance: Alendronic Acid, Chordiazepoxide... A huge, gleaming metal scalpel leans against a wall in mock-menace.
So what does it all amount to? Hirst taps into both the apprehension and the awe we experience when we come face to face with alluring products which may soothe away our miseries. On this scale, there is a touch of the world of Alice here, when the everyday turns nightmarish. But is there really much imaginative bite about this work? What has he really done other than increase the original products in size, and by flogging each one as a separate limited edition, ensure that the cash flow remains swift and regular? How much genuine art is there in the mass production of Damien's pill art?
Schizophrenogenesis, Damien Hirst, Paul Stolper Gallery, London WC1 until 15 November
Reuse content