Artist Ed Fornieles takes the title for his latest exhibition from the American sitcom Modern Family, which is set in LA. As part of the work he posted an animation image on Instagram of himself with his ex girlfriend (the actress Felicity Jones) and their imagined children.
They pose on what could be a magazine cover, with the title: Modern Family. It's perfect suburbia: a good looking family, clean, dressed in white shirts, a little girl wears a sailor dress.
The image is fantasy, performance, not quite real. Fornieles' work for this show plays out across various media: Instagram (chisenhalegallery), his website (edfornieles.com), and an installation at the Chisenhale gallery in east London.
It's set like a kitsch suburban barbecue scene made of junk - with a gazebo and resin beer cans in a cooler.
A joke painting hangs on one wall. It reads: HELLO? Mental Hospital Yes i would like to reserve a family suite! Self help text sculptures constructed from wire appear throughout: Be Yourself, Laugh Live Love. A goldfish tank and hot-tub, a giant pair of chinos stand for the all powerful American mom.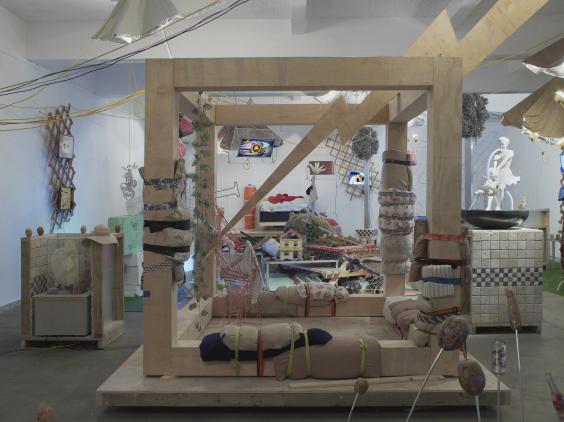 The distortion of familiar objects made strange and dreamlike is a legacy of Surrealism. A bed laughs and vibrates when you lie on it -  electronic toys are concealed within the mattress. On the gallery's end wall, three autumnal wall hangings are a kind of religious triptych decorated with fallen leaves, dirt and cherry pie – America's Fall. 
Music from the Disney film sound track for Up plays loud from speakers set in sculptures, like music played in a shopping mall. 
Fornieles lived in LA for the past two years and there's an outsider's attempt to make something of la-la-land: an artist's mockumentary of the place, and its domestic culture.
Family life as a television set: emotions manufactured through sound, objects and light. It forces us to feel, and offers a childlike pleasure in things.
It's a hinterland between the world we inhabit and our media shaped lives, how one influences the other, a place between reality and fiction. 
Until 9 November.
Reuse content