A sculpture by Karla Black floats like a giant pastel coloured cloud above the stone steps in the hallway of the Scottish National Gallery. Story of a Sensible Length knots and drapes in swirls of delicate baby pink and blue polythene. Black is one of 13 Scottish artists nominated for the Turner Prize since 1996 (six of them won). This year, three nominees are associated with Glasgow.
To celebrate their success in contemporary art – and the Commonwealth Games - National Galleries of Scotland have put on a nation wide show called GENERATION: 25 Years of Contemporary Art in Scotland.  It's a massive subject, with so many possibilities that inevitably it will feel incomplete - the general idea is that tracks key moments from the past 25 years. There are gaps and exclusions: Ian Hamilton Finlay, and 2010 Turner Prize winner Susan Philipsz. Martin Creed didn't make it either – although a curator joked that he's not really Scottish.
The painter Steven Campbell was an art student in Glasgow and became a celebrated artist in New York before he returned to Scotland in 1987.  His installation On Form and Fiction, (1990), is an entire room of monumental paintings and drawings, which are displayed to the soundtrack of Serge Gainsbourg's Je T'aime. This work is presented as a moment in Scottish art – when something shifted and the current renaissance began.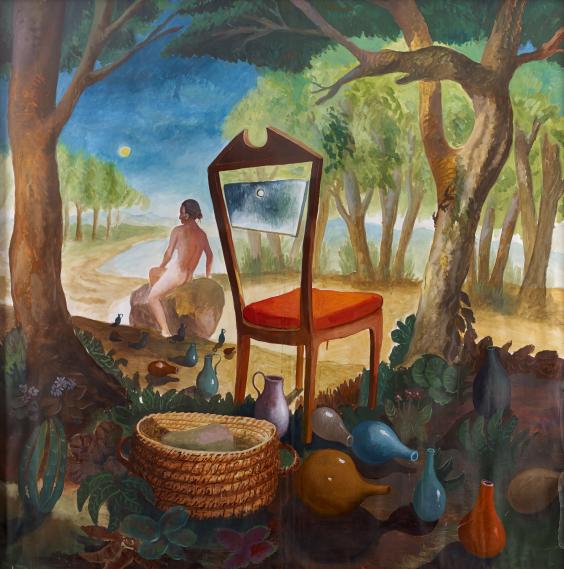 He leads to the painter Callum Innes, then a room of absurd ceramic boots and woodcuts by David Shrigley, next to a room showing Martin Boyce's installation: Our Love is Like the Flowers, the Rain, the Sea and the Hours. Large numbers visited Glasgow's Tramway gallery in 2002 to see this work which recreates the haunting atmosphere of an urban park, fenced in with metal framed benches and saplings constructed from white fluorescent light tubes, like a Dan Flavin sculpture. Boyce won the Turner Prize in 2011.
Edinburgh's Scottish National Gallery of Modern Art is a walkway through recent years. It's not particularly cohesive but there's plenty: Richard Wright's beautiful drawings, Graham Fagen's set for Peek-a-Jobby, Oban born Charles Avery's drawings of an imaginary island, Lucy McKenzie's trompe l'oeil painting, Simon Starling's henhouse which resembles the neo-classical museum in Bremem - dedicated to Wilhem Wagenfeld who designed an egg coddler, a row of which rest on a brick stove next to the henhouse.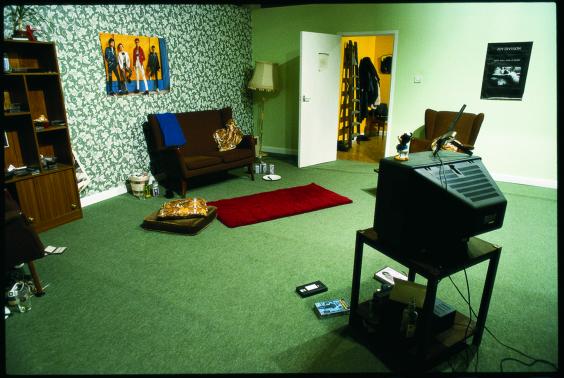 A couple of artists tackle Scottish identity, particularly the romanticised version. Ross Sinclair's Real Life, Rocky Mountain (1996) makes a Disney Highland scene with plastic rocks and taxidermied wildlife. Henry Coombes' fictional film The Bedfords (2009) invents the life of Victorian painter Edwin Landseer whose painting of a Scottish stag - Monarch of the Glen - has branded clichéd versions of Scotland since 1851.
There's an inevitable randomness to a project this large. An argument for the success of contemporary art in Scotland is that there was – notably in Glasgow - space for experimentation without London's market pressure. Whether it's down to community, economics, politics or art schools, the past 25 years have produced some extraordinary artists.
Scottish National Gallery of Modern Art, Scottish National Gallery, Scottish Portrait Gallery from 28 June to 2 November