"Protect me from what I want," was writ large in lights high above Times Square in 1982, competing with the ads for the attention of the people below. The installation was the work of the American artist Jenny Holzer – a plea to be rescued from our own desires, which had been so poisoned by capitalism and patriarchy that they had turned against us. The message was a departure from the feminist movement of  a decade previous, which fought for a woman's right to choose. Here the message seemed  to be that the struggle against domination lies within.
Holzer, now 64, began her career in the late 1970s with Truisms – aphoristic statements printed on posters and T-shirts that she distributed around Manhattan at night. In the tradition of graffiti artists, they were anonymous. She has said: "In the best of worlds, the work would be seen, and I would remain a shadowy figure." They included statements such as, "The only way to be pure is to stay by yourself," "Total submission can be a form of freedom," and "Often you should act like you are sexless."
These words speak directly to female experience – the implication is that there is safety in solitude, submission, and sexlessness, which sounds like the prerequisites for a life in the nunnery. Rather than trying to convert her readership to a new gospel, however, Holzer wanted to make people stop and think for themselves. She and her contemporaries, Cindy Sherman and Barbara Kruger, the so-called Pictures Generation, used the language of mass marketing to subvert it in subtle ways. They were making art in the aftermath of the 1960s; it expressed ambivalence more often than hope.
War has also been a long-term preoccupation. A new exhibition of Holzer's work, Softer  Targets, has just opened at Hauser & Wirth in Somerset. The one-year-old gallery is a converted farm, which sits amid rolling green fields. It is enchanting and family-friendly.  In this setting, Holzer's work appears stranger and more refined; her themes of brutality are more horrifying.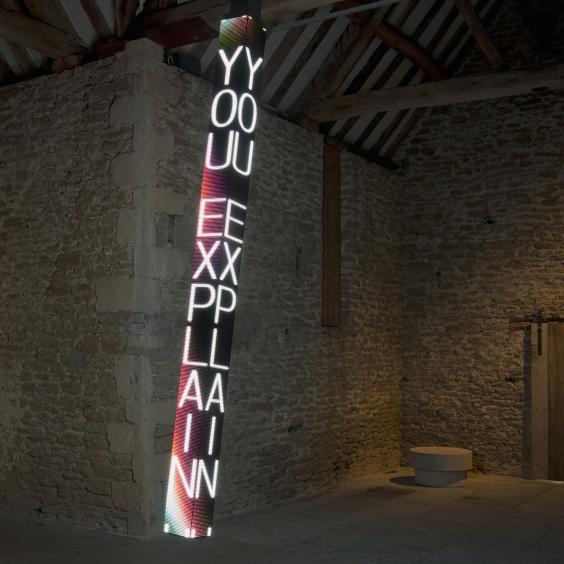 Sculpture, painting, and installation from the past 30 years are included, but the curators have wisely decided not to stuff the five rooms. Rather, they are sparse. Many of the works  are new.
The first room is the most architecturally beautiful – a converted 18th-century threshing barn, with windows boarded up to create total darkness. What looks like an angry neon totem pole hangs from the high-beamed ceiling. It is MOVE (2015), an LED installation, along which waves of numbers and letters flow. As you move closer, the pole moves away.
The numbers and letters are sourced from censored US Army Criminal Investigation Reports into the death of Afghan soldier Jamal Naseer in US custody. The work is evasive –  a good metaphor for the government.
The next room is full of natural light. A series of tasteful grey abstract works hang on the walls, made of oil on linen. Looking closer, they show horror. Window (2015) includes a green hand-drawn map by a detainee who is trying to demonstrate where and how he was tortured in US custody. It is labelled: "Jail Cell," "Interrogation Room," and "Window that my neck was tied up to." The latter is a shock to read.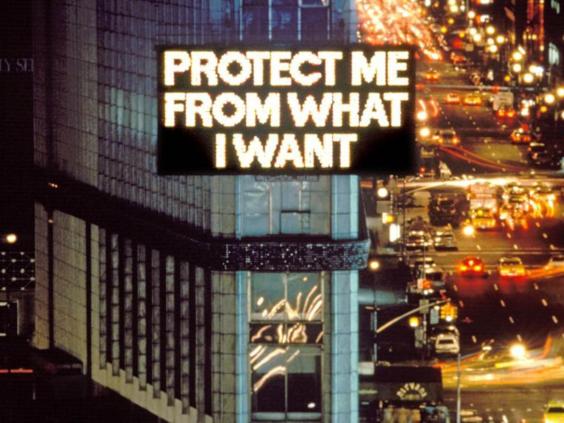 Nearby hangs young adult female (2015), a green-on-grey work in the same series. It shows a handwritten report by a US official on the health of a female detainee, dated November 2003, not long after the invasion of Iraq. It reads: "She was detained one day ago, and since that time has been noted to nearly constantly and without cessation be singing and reciting Arabic poetry." This vitality and defiance is undercut by what follows. The detainee says that she is suffering from breast cancer and heart disease. In response to her pleas for medication, the official states: "This medication is not available readily for her at this time in her present location."
This is Holzer's skill as an artist: she combines a restrained aesthetic with passionate politics. The appearance of the works is undercut by their content. It throws you off balance. She seems to anticipate those who criticise political art for being didactic. These are not didactic at all.
More horror is in the next room – a former pigsty – which adds to the horror. Lustmord Table (1994) consists of two wooden tables on which are arranged a collection of bones. It doesn't take long to figure out that they are human bones. They exert a power. On an anatomical level, there is the disquieting sense of recognition: these bones must be similar to one's own.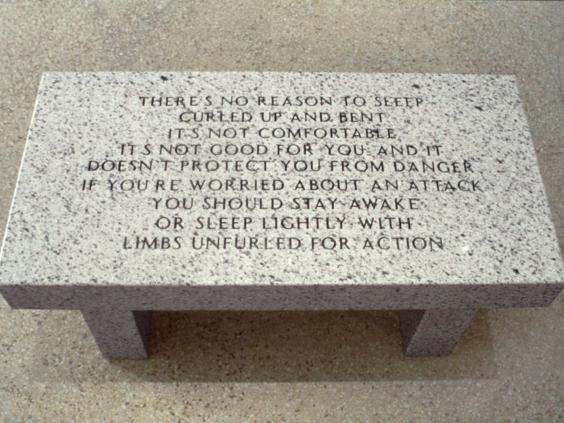 They include a pile of ribs, curving gently; jawbones; big petals of bone that might be part of the pelvis; tiny ankle and finger bones; bulky arm and leg bones. Most disturbing is the pile of teeth, which bear the marks of identity.
"Lustmord" is the German word for a murder committed for sexual pleasure. The overtones of Nazism are evident in the careful way that the bones are classified, both clinical and gruesome, but Holzer made the work in response to the conflict in the former Yugoslavia, where rape was used systematically.
The framed texts on delicate tracing paper that hang on the walls relate to the bones in a complex, uneasy way. They are once again tasteful, with an aesthetic that would not look out of place in an English country kitchen. But they explore the relationship between victim, aggressor, and observer, expressing surreal and disjointed voices, which are not Holzer's own.
One is a first-person monologue about "when you are perfect in sex… Then you squeeze and become unconscious near whomever which is the dangerous thing in the world. At the end you do not want." This is painfully inappropriate, given the context. An early Truism work is also included, with the line: "Decency is a relative thing." It is chilling, but not sensationalist.
Each work in this exhibition requires the viewer to discard first impressions and look carefully and closely to understand the meaning. Next is a series of black, white, and red granite benches. They are faux memorials; instead of being engraved with the names of those who have died in wars, they are engraved with fragments of personal stories, including: "There's no reason to sleep curled up… If you are worried about an attack, you should stay awake or sleep lightly with limbs unfurled  for action."
Here the hardness of the material of the monument – meant to endure when humans do not – is countered by the softness and fragility of the human body. Of course, you can sit on the bench and ignore the words – it is poignant.
The exhibition works because Holzer has a great respect for her subject matter. Her art manages to be both conceptual and emotional. Hers is not a cold approach to distant conflict, but rather, she seeks to empathise.
Outside the gallery, the kaleidoscopically coloured garden designed by Piet Oudolf is in full bloom. After seeing Holzer's work, you can wander through the undulating flowerbeds of vivid pinks and purples. The long grass sways in the breeze and all is peaceful. But it's difficult to get those images out of your mind.
Jenny Holzer: Softer Targets, Hauser & Wirth, Somerset (01749 814 060) to  1 November
Reuse content