KAWS
KAWS, Yorkshire Sculpture Park, Wakefield, review: Hipsters' hero feels likeable but bland
He's an exceptional designer but there's no bewilderment or confusion or excitement to these oversized toys
2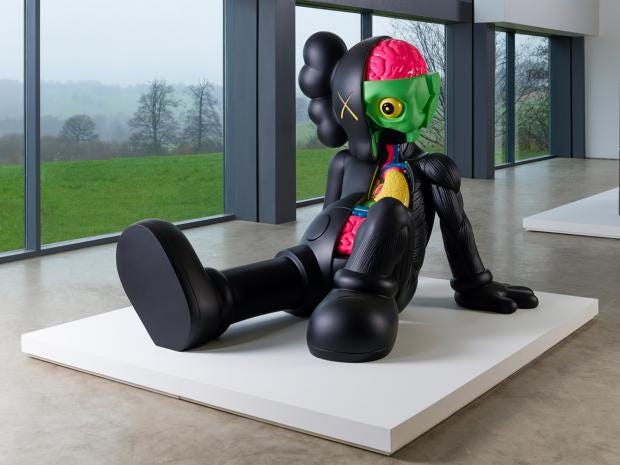 A crowd of young hipsters with beards and beanie hats seemed to emerge like zombies from the Yorkshire hills for the arrival of American Pop artist KAWS. His exhibition at the Yorkshire Sculpture Park caused a stir on Instagram with his 425,000 followers clicking the heart to like images of giant sculptures, with Mickey Mouse ears and faces formed from the skull and cross bone design. They're humanised with slumped expressions of shame or despair, a mutant Mickey sat with his head in his hands. 
Instagram feeds showed images of the sculptures as they went up in the late January snowfall; these usually urban creatures spread out through parkland and hills. The gentle, frost-covered, wooden hand of Good Intentions cradles the head of its offspring. The stooped posture of Small Lie, with a long Pinocchio nose and short dungarees, stands in childlike despair against a bright winter sky. On screen they appeared more compelling because in reality they fall rather flat.
Like the mass-produced toys, which KAWS used to design, there's repetition through this work: the same ears, diagonal crosses for eyes. Some made of wood, which adds a sense of warmth and craft, but they're all recognisably by KAWS. Like Jeff Koons or Damien Hirst, he's the artist as brand.
Culture news in pictures
Culture news in pictures
1/30

(L-R) Chris Warner Drake as Fred, Charlie Bull as Daphne, Joe Goldie as Scooby-Doo, Charlie Haskins as Shaggy and Rebecca Withers as Velma appear on stage in Scooby-Doo Live! at London Palladium

Getty Images

2/30 16 August 2016

Stone collector Luigi Lineri, 79, walks through his stone collection found along Adige river, at his home workshop in Zevio, near Verona, Italy. The stones resemble animal heads, human faces and other forms, and the artist and poet believes may have been shaped by prehistoric humans. Lineri has built his vast collection over the last 50 years. "I haven't counted them and don't intend to do so but the quantity is significant," Lineri said. "At first I thought that a few stones for each different shape would be enough and then I understood that in their thousands, they give a sense of community... For me the quantity is sacred: it takes a lot to build a cathedral." Lineri says there has been no independent verification of whether the stones are indeed prehistoric sculpture and has not sought one, being more interested in them as "a work of art"

REUTERS

3/30 15 August 2016

Iraqi dancers, from the Folk Arts group, perform on the stage of the National Theatre, to mark the 61 anniversary of the founding of the cinema of Iraq

AFP/Getty Images

4/30 14 August 2016

British rapper Tinie Tempah performs at the 24th Sziget (Island) Festival on Shipyard Island, northern Budapest, Hungary

EPA

5/30 14 August 2016

Auctioneers Lyon & Turnbull are to sell an iconic image of Brigitte Bardot valued at £3,000-£5,000 by the legendary artist Gerald Laing in a sale at the auction house in Edinburgh

PA

6/30 14 August 2016

Claudette Mukasakindi of Rwanda runs by the Puffed Star by Frank Stella during the Women's Marathon on Day 9 of the Rio 2016 Olympic Games at the Sambodromo

Getty Images South America

7/30 13 August 2016

Festivalgoers enjoy the colour party, when participants throw colored powder at each other, on the Obudai-sziget (Old Buda Island), the venue of the 24th Sziget Festival, in Northern Budapest, Hungary

EPA

8/30 12 August 2016

A general view of the 20th giant flower carpet at the Grand Place, in Brussels, Belgium. This year the theme of the flower carpet is celebrating 150 years of Belgian-Japanese friendship

EPA

9/30 11 August 2016

Members of the public look at an artwork entitled 'Museum of the Moon', a 7 metre diameter inflatable moon covered with imagery of the lunar surface, on the opening day of the Bristol International Balloon Fiesta in Bristol

AFP/Getty Images

10/30 11 August 2016

Visitors look at tapestries by Jean Lurcat on display at a preview at the gallery of the Talstrasse art association in Halle/Saale, Germany. The show dedicated to the French artist runs from 11 August to 20 November

EPA

11/30 10 August 2016

"Carmen High" cast performs at Spotlites Theatre during a recital of Stephanie Vlahos' "Carmen High" at the Edinburgh Fringe Festival

Getty Images

12/30 9 August 2016

Sia performs during Byblos International Art Festival, north of the Lebanese capital Beirut

AFP/Getty Images

13/30 19 July 2016

People apply wax on 'Le Penseur' (The Thinker), a sculpture by late French sculptor Auguste Rodin, to protect it from weather damages and pollution at the Rodin museum in Paris

AFP/Getty Images

14/30 18 July 2016

The painting 'Venus in Furs' hangs in the Picture Gallery in Park Sansouci in Potsdam, Germany. After having been missing for 70 years, the painting fom 1640 by a Flemish master was returned from private hands. The Foundation Prussian Palaces and Gardens Berlin-Brandenburg has been missing around 2,000 objects since the Second World War

EPA

15/30 17 July 2016

Artists of the French pyrotechnic company "Groupe F" perform during the show "A fleur de peau" (On edge) at the Venaria Reale Palace, in Venaria, near Turin

AFP/Getty Images

16/30 16 July 2016

Dancers of the British dance company Balletboyz perform in "Rabbit", choreographed by Pontus Lidberg, during the Malta Arts Festival in Valletta, Malta

REUTERS

17/30 15 July 2016

Singer Gwen Stefani performs on NBC's "Today" Show at Rockefeller Plaza in New York City

Getty Images

18/30 14 July 2016

People sit under illuminated giant raindrop-shapes at an interactive art installation to raise awareness of autism, in Shanghai

Rex Features

19/30 13 July 2016

An installation 'A wall of life jackets and their stories' by Andrew Wakeford and Fred George is on display at Johanneskirche in Saarbruecken, Germany. The installation is made of original life jackets found on the beaches of Greece and barbed wires, along with interviews and portraits of who have fled from the conflict in the Middle East to Europe. The exhibition runs from 15 July to 26 August

EPA

20/30 12 July 2016

Chinese artist Ai Weiwei poses next to a sculpture that is part of his installation "Circle of Animals/Zodiac Heads" in front of the Upper Belvedere palace in Vienna, Austria. From 14 July to 20 November 2016, the 21er Haus museum presents Ai Weiwei's solo show "translocation - transformation", with the central exhibit of a tea merchant family's ancestral temple from the Ming Dynasty, whose main hall will be reconstructed in the 21er Haus

AFP/Getty Images

21/30 11 July 2016

"Mediterranean Body", a monumental sculpture by COSKUN is seen at the 11th Taehwa River Eco Art Festival in Ulsan, South Korea. The artist, with his wooden monumental sculpture pays tribute to refugees who lose their lives at sea

Rex Features

22/30 10 July 2016

A festival-goer paints a mandala during the 2nd Samsara Yoga and Music Festival in the Toreki neighbourhood of Siofok, 102 kms southwest of Budapest, Hungary. Visitors can enjoy music performed on three stages and attend workshops, lectures and conversations with yoga trainers, instructors, therapeutists, psychologists, doctors and healers between 6 and 11 July

EPA

23/30 9 July 2016

Naked volunteers, painted in blue to reflect the colours found in Marine paintings in Hull's Ferens Art Gallery, participate in US artist, Spencer Tunick's "Sea of Hull" installation in Kingston upon Hull

AFP/Getty Images

24/30 8 July 2016

Mark Rylance (L) is returning to the West End stage in Nice Fish - and fans will be able to see him for free if they dress up as fish. Nice Fish, the critically acclaimed comedy by Rylance and prose poet Louis Jenkins, will have a limited run from November at London's Harold Pinter Theatre after a successful season in New York

PA

25/30 7 July 2016

Women wearing summer kimonos, called yukatas, look at goldfish during the 2016 EDO Nihonbashi Art Aquarium exhibition in Tokyo. The 10th anniversary of the festival will start on 8 July and will continue until 25 September, displaying some 8,000 goldfish in various special art exhibits

AFP/Getty Images

26/30 6 July 2016

Musician Tim Lopez (L) and Tom Higgenson of the Plain White T's perform at the Grove's Summer Concert Series in Los Angeles, California

Getty Images

27/30 5 July 2016

Tourists walk through a lantern installation in Zhangjiakou, Hebei Province, China

REUTERS

28/30 4 July 2016

One of London's most iconic venues has sent a pair of show tickets into space to celebrate the world premiere of Independence Day Live – a new film-and-orchestra event being held in September. The Royal Albert Hall has marked the occasion by blasting the tickets into the stratosphere on Independence Day itself

29/30 3 July 2016

People walk on the installation 'The Floating Piers' by Bulgarian-born artist Christo Vladimirov Yavachev, known as Christo, northern Italy

REUTERS

30/30 2 July 2016

Performers dressed as angels take part in the Place des Anges spectacle in Hull, part of UK City of Culture 2017 and the Yorkshire Festival. Up to 10,000 people have descended on Hull to watch Place des Anges. The aerial show sees white-clad angels appear on rooftops before taking off on suspended wires across the city. The event culminates with thousands of white feathers cascading onto the crowds below

PA
In the Longside Gallery, sculptures vary from Accomplice, a 10-foot pink Bugs Bunny-type being with a white bib, bow and cute cotton ball tail, to Original Fake Companion, which is half skinned: one side grey and white, the other side reveals its human-like innards. It sounds creepy but isn't, more the sort of thing a biology teacher might use to explain anatomy. 
KAWS famously reworks popular icons: here we see Mickey Mouse and the Michelin Man: first in shiny brightest pink, fat rolls made of tyres, he stands with hands on hips and a pair of curved mouse ears. He's also presented flattened against the wall in grey as a painting.
A series of bright acrylic paintings along the back wall refer to KAWS origins. They're graffiti on canvas since he began as a street artist, where he found his name as KAWS. Brian Donnelly is his real name. Born in New Jersey in 1974, he now lives in Brooklyn, New York.
This exhibition is a crowd-pleaser, no doubt. KAWS is immensely popular with a global following of fans. He brings in people seduced by the objects themselves, by his graffiti past, and his celebrity connections with Kanye West and Pharrell Williams. Like graffiti, these sculptures are masterful attention grabbers: their scale, the contrast of familiar and strange, the mix of materials and colour. 
But I couldn't get beyond them as a series of oversized toys, which, though endearing at times, have none of the weirdness or intricacy of an artist such as Jeff Koons. He's an exceptional designer but there's no bewilderment or confusion or excitement because KAWS feels likeable but bland. A product devoid of complexity that children will love. 
To 12 June (01924 832631)
Reuse content
Comments