Marina Abramovíc has taken possession of the Serpentine Gallery. "It has become my house for the next 512 hours, after all museums are there for artists".  
This is an extreme gesture by an artist who has become a world wide brand, with a musical dedicated to her life, the unquestionable success of her show 'The artist is present',  at MoMA, and an appearance on Time magazine's list of the 100 most influential people of 2014, one of only two artists (the other being Steve McQueen).
Abramovíc will open the doors to the public each day at 10am and will admit the first 160 people to the gallery. Empty except for lockers – small, take note - as the visitor will be expected to put all of their worldly goods, and in particular their watches, tablets, phones and computers and, says Abramovic, "come to me empty."
They will be photographed by small James Bond-type cameras and given a sheet of paper to record their impressions of their experience upon exiting. When the gallery is full the audience will await for someone to leave before letting someone else in.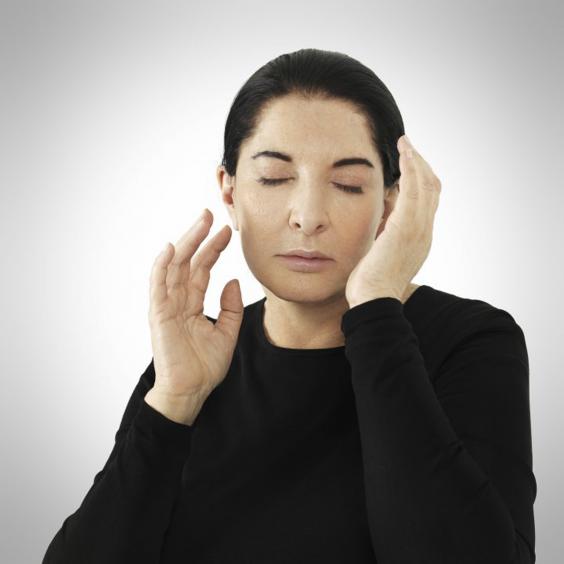 For an institution that has become famed for its marathons, it seems a fitting marriage of both place and work.  Yesterday the demonstration was limited to taking journalists by the hand and walking with them while commanding them to face the wall and "relax". Something that unsurprisingly the international press found difficult to obey. Yet entering the empty space, leaving one's possessions behind is a strangely liberating experience. 
Observing the lack of respect by my peers, I could be writing a much less positive report but being touched even in passing by Abramovíc I am forced to acknowledge the power of someone who has spent her entire life in the most ephemeral of the arts- performance.
At the press conference, Abramovíc was asked what she expects the reaction will be.  The English audience is "cynical and drinks too much at the weekend", she said. To that end, 40-odd "guards" have been trained to expel drunks and druggies as this is an energy she is not prepared to engage with.  "Everything else is fair game," –including negative energy that she hope to transform into positivity by dint of her fearsome energy.
Prompting us to return in the third month – "when it will become interesting", or when the routine has become so demanding that there will be a need to make it interesting, she confesses that she has brought props but does not know how, when and if they will be used, and she does not let us know what they are.  The  "guards" will play a role but it is unclear what that will be.  After all, "it is the public who complete the piece. " If the cynical public wants to get naked –"Nude is fine, I have been nude all my life."
There have been accusations of the lack of acknowledgment of other artists engaging in nothing and a  group of curators from the US have written to Hans Ulrich Obrist the affable co-director of the Serpentine on behalf of artist Mary Ellen Carroll. Abramovíc dismisses these claims with a wave of her hand.  "I did not say I am doing nothing, there is nothing in the gallery, but I am working 8 hours per day."
While it would be easy to dismiss 512 Hours as less sensational then previous works like Rhythm O in the early 1970s, where she gave control to the viewer, allowing them to choose what they did to her body with 72 instruments including a rose, a pen, a scalpel, honey, a feather, a gun and a bullet, that would be ignoring the generosity of "being present". 
Do not miss this golden opportunity to engage with a working artist in an intimate space.
Reuse content