Franz West, who died a year ago, was the most loved and lovable of Austrian artists. Variously described as a prankster, a mischief-maker and a joker, he was above all engaging – engaging in his personality, engaging in the way that he sought in his art to make light of the consumerist society  his country had become and, most  urgently, engaging in the way that  he worked to attract the viewer to  interact with the sculptures and installations he created.
It's only right therefore for Edinburgh's ever adventurous Inverleith House to pay homage to him not with a survey of his works or a  retrospective  but with an exhibition of the collaborative ventures he  involved himself and others in through much of his career.
Good for Inverleith, a once gracious mansion set in the midst of the cultivated vistas of the Royal Botanic Garden. If conceptual art is to have any meaning, and Franz West was a leading light, it need not be stamped with the hand of a single author. Commercial galleries of course would have us believe otherwise but then their promotion of their own "artists" demands they do so.
West would have none of that. Although he was an artist of supreme individuality – even in his installations he kept firm control as primary instigator of the works – he didn't see them as expressions of himself so much as living objects to fill the mind and the physical embrace of the public. The artist was the enabler not the owner. Collaboration with other artists was not simply acceptable but creative. Honoured with the Golden Lion for Lifetime Achievement at the Venice Biennale in 2011, the year before his death, he produced an installation, Extroversion, in which he turned his Viennese kitchen inside out and showed the works of his artistic friends on the outside that was inside. It was playful but also supremely generous.
Certainly it is the pleasure principle which comes across most strongly in this seven-room show in Edinburgh where the young staff, unnervingly  entitled "invigilators", eagerly  persuade the visitor that, yes, it's  perfectly all right to touch this object or sit or lie on the divan to see the  picture suspended above. Indeed, you are positively encouraged to pick up one of his Passtücke' (Adaptives) staffs with their amorphous papier mâché forms at their end, and twirl them around, march with them on your shoulder, attempt to dance with them or do any other silly thing you wish in the privacy of the cubicle of newspaper front pages he designed with Michelangelo Pistoletto.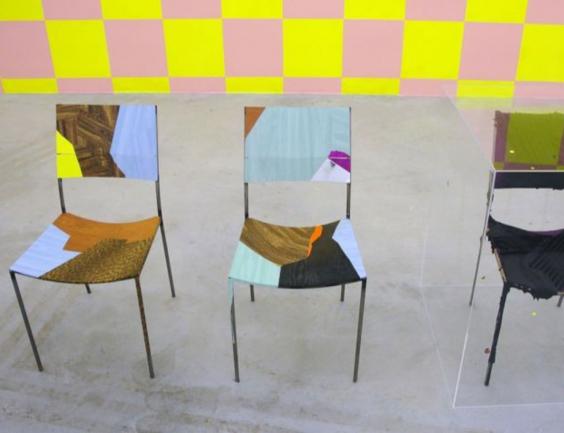 West's collaborations were as  various as his friends. The list of  associates in this show reads like a roll call of the old as well as young protagonists of action art and multi-media  experiment. Pistoletto, now turned 80, is one of the senior figures of the Italian Arte Povera movement. Invited to provide a mirror for the Passtücke cabinet, he joined in with a raft ideas for using newspapers to line the walls as well as the mirror to reflect the viewer's sense of themselves.
West's work with the Austrian  cabinet-maker and furniture designer, Mathis Esterhazy is an intriguing and in some ways baffling assembly of  ordinary objects cast in metal with a video explanation by Esterhazy to  accompany it. Ealan's Desire, as it is called includes rakes, sieves, a hurdle and hooded cover and a steel arc positioned at the corner of the walls. One of the objects, called Pis-Aller, which apparently inspired West to create the installation, was placed between buildings to discourage men from urinating in the corners. Gathered together the pieces are both familiar and, in their metallic force, unnerving. A rake, by being made in steel, appears like an instrument of aggression, a sieve transformed from wood to steel becomes constrictive, a hurdle made up of rods and bars is made into an obstacle  rather than a leap.
The exhibition works best where the installation fills out the room. A first gallery devoted to collaborative work with Anselm Reyle, the young German artist with whom West had a particularly close association, is decked out like a café, with the bright colours, the painted chairs, the chained light fixtures and the wall collages which West took up with especial enthusiasm  towards the end of his life. There is a sculpture made out of an old bicycle and bed springs, a light hanging seemingly held up rather than down by a chain and chairs painted as if they were made of laminated wood.
In another room, there is a collaboration with the Scottish artist Douglas Gordon, in which two of West's favoured three-seater divans (three because the additional space adds an element of openness but also squeeze) face each other while a line of words based on, but upending, the song "Every time I Think of You" run along the walls. A  further section also shows off a group of some 15 white sculptures of mostly elongated form, each made by one of a group of artists West assembled for an installation he entitled Edelweiss with a group photograph of them all in alpine garb used as a poster.
A bare room arranged by West  with fellow Austrian, Heimo Zobernig, has lines of chairs facing a blank white box projecting out of the wall, an  object waiting to happen. On the pond below Inverleith House floats a raft, also a collaboration between the  two Austrians, with the words "Le Bateau" inscribed round its base in large white letters.
Down in the basement, Talk without Words, a joint exercise with the Viennese photo reporter and photographer, Marina Faust, records four people around a table batting with their heads a large woollen ball  between each other.
Sarah Lucas, another late collaborator who came to West's attention for her sculptures fashioned out of chairs, is represented by a papier mâché rock with a fried egg on its top as well as a figure made out of lengths of pasta like tubes, called Spaghetti West. With his wife, the Georgian artist, Tamuna Sirbiladze, West made a wall-sized painting, Canale Grande of painted Molino, steel and plastic, with two plasticised chairs beneath.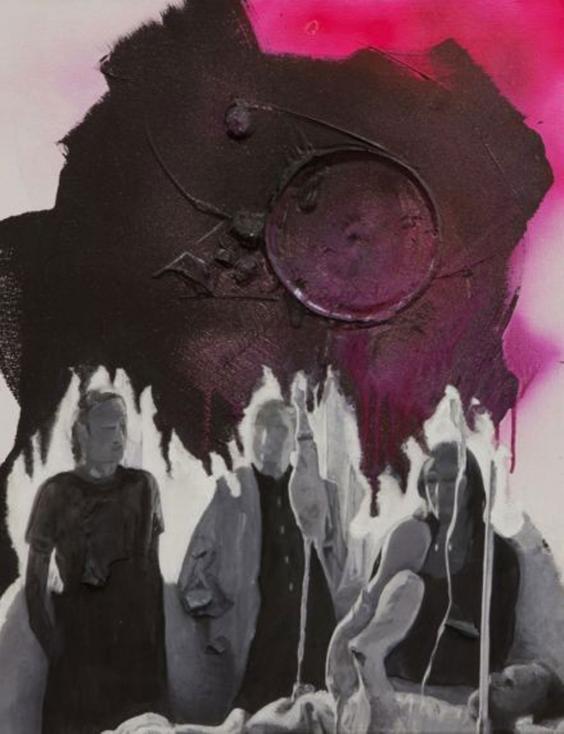 The British are not renowned for their sense of fun in art still less a  willingness to interact with works on display. "Don't touch the objects" is  ingrained in all of this. But if the  visitors I saw seemed hesitant at first, by the time they got to the top floor there was at least the odd smile and a nervous effort to participate.
What makes the work of West and his collaborators so attractive is not just the ideas, witty as some of them are. However many variations you can make of a chair, there comes a point where the fun is had by the artists thinking it up rather than the viewer regarding the furniture. Where West scored, however, was in his feel for  texture and his passionate belief in art as an object, albeit a playful one.
The son of a coal dealer and a Jewish dentist, brought up in a social housing development in Vienna, he never joined the Actionism and Expressionist movements around him. His real  influence was far more the Arte Povera movement in Italy, with its concern for found and ordinary materials and its sense of engagement with the viewer. "It doesn't matter what the art looks like," he argued, "but how it is used."
The Inverleith hasn't got the giant, writhing sculptures he made with papier mâché and ordinary materials which are perhaps his finest and most characteristic works. Organic in shape, twisted in structure and immensely tactile in feel, they intrigue, challenge and cheer all at once. What Edinburgh has instead are the things he made with others in a spirit of creative fun which we can share. An exhibition to go to with an open mind and a twinkle in your eye.
Mostly West: Franz West and Artistic Collaborations, Inverleith House, Edinburgh (0131) 552 7171)  to 22 September