The National Gallery's blockbuster examining the late work of the Dutch Master painter Rembrandt Harmenszoon van Rijn (better known as Rembrandt), opens next week. This is the serious no-nonsense historical show that we have been waiting for. With more than 90 works including several that have not been seen before in the UK, it examines the last third of this prodigious artist's career, and like the late Turner now open at Tate Britain it highlights that old does not mean bad for painters. It will also provide a welcome escape from the contemporary art that accompanies the Frieze Art Fair next week.
Rembrandt was born in Leiden, the Netherlands, in 1606, and died in 1669. By 1650, he was tussling with new ways to depict textures in paint, in particular his amazing representation of textiles in paintings such as Self Portrait (1668). This was not met with universal approval by contemporary critics including Gerard de Lairesse (an admirer of early Rembrandt), who is quoted as saying that objects "should appear rounded and raised by art alone and not by daubing".
The monumental brush strokes that apparently led to such criticisms can be seen first in Young Girl in a Window (1651), a work pictured in the excellent catalogue but sadly not in the National Gallery exhibition. Rembrandt's own private life was in turmoil in this period. He went bankrupt in 1652; his work was rejected by the town hall in 1662.
His personal life was in no better state: his lover died in 1663 and his son in 1668. His wife Saskia had died in 1642 and two women who came initially to look after his son Titus were to become his mistresses. The latter – Hendrickje Stoffels – who was to be his companion and muse until her death by the plague in 1663, carried Cornelia, a daughter for Rembrandt, which led to her being accused of "whoredom" by the church.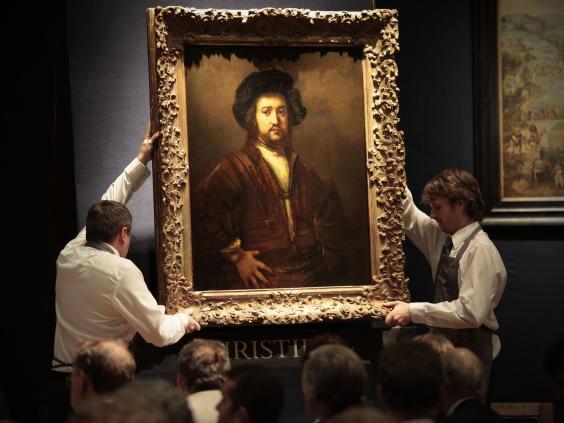 Rembrandt's financial problems are chronicled, but what also seems clear is that he was unwilling to compromise his artistic practice to paint in a more "lucrative commercial style". He continued to make his explorations into human emotions and painted what are obviously his masterpieces.
Rembrandt's self-portraits, of which he painted about 80, are the most identifiable works. There are many theories as to why he painted himself, but ignoring these, we see a man whose physiognomy was clamouring to be painted: a lumpen, distinctive nose, curly hair and eyes that seem to engage with the viewer, reflecting wisdom and knowledge. In Self Portrait at the age of 63 (1669), Rembrandt sits with hands clasped against a dark background. His face is built up almost sculpturally with carefully applied paint, with the highlights of the nose scratched out.
When Van Gogh first encountered the Portrait of a Couple as Isaac and Rebecca (circa 1665), commonly known as the Jewish Bride, he said: "I would gladly give up 10 years of my life to sit in front of the painting for a fortnight, with only a dry crust of bread to eat." The intimacy of this couple as he places his hand tenderly on her breast is almost painfully tender. His ability to tell the couple's story solely through their clasped hands is unique.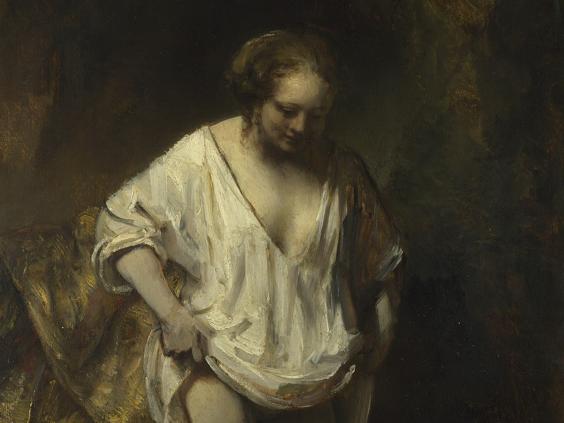 The viewer as voyeur is taken a step further when we encounter A Woman Bathing in a Stream (1654) in which, ignoring us, the half-clothed woman peers into the water. In case you have a penchant for the darker side, his Lucretia (1664) portrays her as a solitary figure, peering at the dagger that will soon take her life. It is a work full of pathos, but also beautiful technically in the masterful use of textures in her simple outfit.
Although many of the techniques Rembrandt employed in these late works appear in his earlier paintings, such as scratching lines and highlights into wet paint, Rembrandt was the first to use a palette knife for applying paint directly on to the canvas, a tool hitherto used only for mixing paint. This led to the comment by Arnold Houbraken, a contemporary critic, that he should stop putting his paint on with a bricklayer's trowel. Used in Titus at his Desk, the revolutionary technique does not detract from the tenderness that the artist painted his young son.
In looking at the late work of other artists, it is thought that it is disability that leads to a loosening of paint – an inability to see – but Rembrandt shows no signs of problems of age, often employing close lines in his drawings and prints. Instead he is a man demonstrating the range of his techniques that will engross the scholar in this extraordinary show, and a sheer humanity that will captivate the public.
Rembrandt: The Late Works at the National Gallery, London