Victoria Siddall, who is set to take on one of the biggest jobs in the UK commercial arts scene, remembers the first time she was properly moved by contemporary art.
Relatively new to the industry and "trying to figure out what was what" the incoming director of all the Frieze art fairs went to Tate Britain for an exhibition of the work of Turner prize-winning artist Wolfgang Tillmans in 2003.
"It blew me away," she says. "I hadn't seen work presented like that before, or art about mundane subjects presented in a way that was indescribably moving and fascinating. That made me want to get more involved with contemporary art and learn more and understand more about artists; what motivated them and inspired them."
Just over a decade on and Siddall, 36, will soon by the darling of gallery owners, collectors and artists around the world, all looking for exposure at one of the world's most prominent contemporary art fairs. This year marks Siddall's 10-year anniversary at Frieze but her reputation in the art world was established two years ago when she masterminded the launch of Frieze Masters.
The third edition of the historical art fair, which only shows work created before the turn of the century, is due to open alongside its older sibling next week. It has so far met with universal acclaim, and much of the credit has gone to Siddall. According to Vogue soon after the launch her name was "being dropped by every arty Nars orange-lipsticked mouth". Soon she will have even more tongues wagging.
Frieze started life as a magazine launched in 1991. Co-founders Matthew Slotover and Amanda Sharp then launched the inaugural fair in London 12 years later and it has since been joined by Frieze Masters and Frieze New York. The London fairs have become a huge draw with the top galleries vying for coveted slots and collectors flying in from around the world. Galleries and museums now tailor events to cater for those in town for Frieze.
This year's Frieze London will include 160 contemporary galleries, a "live" showcase for performance works and "focus" to show emerging galleries from around the world.
During the annual Frieze preview breakfast last month which picks out the highlights of the forthcoming fair, Slotover made the surprise announcement that he and Sharp would stand down as directors of the fair and explore other opportunities for Frieze. Siddall, he said, would take over running as director of the two London fairs and Frieze New York, after hailing her "brilliant" launch of Frieze Masters.
"We know she understands the identity of each fair and can build all three of them to become ever better experiences for visitors and exhibitors alike," he said. Siddall says that since the news was announced "things have been pretty mental. The response has been great," adding: "I've had a lot of emails from galleries and collectors saying congratulations."
One source at a major London gallery said: "It is an enormous task to take over all the fairs, but while some people have criticised Frieze as maybe getting stale, Frieze Masters has been a breath of fresh air. The challenge is to revitalise Frieze. If Victoria can put her stamp on it then it will only be a good thing."
Siddall will receive support from newly promoted artistic director Joanna Stella Sawicka and a forthcoming appointment in the US. Her preparations begin in earnest in November after this year's Frieze Masters is over. Frieze is seen as an idiosyncratic fair with the DNA of the co-founders running through it. The challenge for Siddall will be how she re-engineers it in her own image. She says: "I have spent a lot of time thinking about how the fairs balance, especially the two that happen simultaneously in London. I've been thinking about all of them for some time."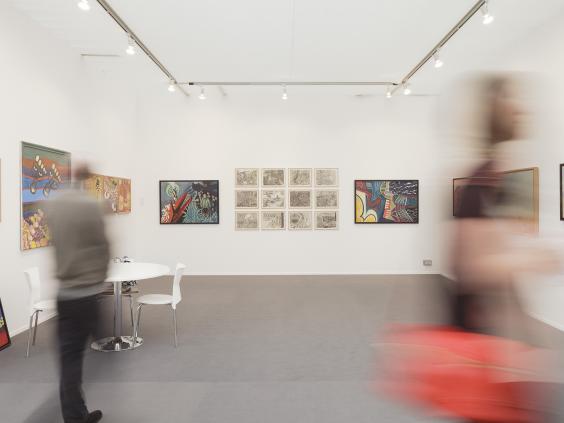 While too early to talk about concrete plans, she adds: "The fairs all feel distinct, although in the best possible way. For me I want to take what works well from one fair and adapt it." She will continue to look for ways to grow the fair; including whether it can expand beyond its current size restrictions in Regent's Park.
Siddall welcomes Sharp and Slotover's decision to remain at the group. "Thank goodness for that," she says. "I've got a lot to learn from them. It will hopefully make this an easier process for everyone."
The incoming director was born in Northern Ireland, but with a father in the army "I moved around a lot as a child. I lived in lots of different countries". She studied English and philosophy at Bristol University and was "always interested in arts, music and theatre," interviewing for arts jobs before she had even graduated. Auction house Christie's offered her a job and "I finished my exams and went straight to work".
More than three years with Christie's proved an invaluable way into the arts. "One day I would be working with the contemporary department, one on impressionists and then the old masters," she said. "It was a brilliant, accelerated art education." She even worked on the sale of Ursula Andress's bikini from Dr No.
The move to Frieze came after responding to a job advert placed in a newspaper. She went to the first fair in 2003 and thought "This is so exciting; I really want to be part of this. It felt like a place where things were happening".
As head of sponsorship and then head of development at the group she built strong relationships with contemporary galleries and collectors that will prove important in her new role. In 2010, she was given the job of researching the feasibility of launching a fair of historical work, something that "had come from several different directions".
Siddall spent a year talking to galleries, curators, artists and collectors about what they wanted and whether they would get behind it. "The smart ones had noticed that while Frieze was contemporary it attracted a huge number of all sorts of collectors throughout the world. And then there was everything around it."
And there is still the small matter of this year's Frieze Masters. Siddall has the air of someone who is confident of its success and pleased with those involved. Displays at the fair she is looking forward to include a display of Joseph Beuys' work and Brazilian artist Lygia Pape. "Then of course there is the Rembrandt," she added of a late work by the old master that is arriving with a price tag of around £30m.
Siddall remains modest about the promotion, one that will make her much more visible in the arts scene, and plays down the personal acclaim the new role could bring. "I see the interest in me as a reflection in people's interest in the fair. It feels good that I've organised Frieze Masters and people love it and want to come back."
Frieze London runs from 15-18 October; Frieze Masters 15-19 October, London NW1, frieze.com
Reuse content