A few years ago, as I was rummaging through various archives, museums, books, and personal collections around the world in search of the correspondence of famous strangers, I very quickly noticed a different kind of artefact popping up with regularity.
Almost every person I researched had at least one list to their name, whether it was a shopping list, wish list, list of favourites, list of rules, list of predictions, list of resolutions, list of names. Everywhere I turned, a list of some kind was to be found — many, unsurprisingly, were mundane, but some were so fascinating as to be irresistible.
The first list to truly convince me that I should one day dig deeper was a charming to-do list written by the great Johnny Cash. It made me love him even more than I did already. It read as follows:
THINGS TO DO TODAY!
1. Not smoke
2. Kiss June
3. Not kiss anyone else
4. Cough
5. Pee
6. Eat
7. Not eat too much
8. Worry
9. Go see Mama
10. Practice piano
Notes: Not write notes
On reading it, I was instantly convinced of the following:
1. Johnny Cash was not the only person ever to have produced such greatness in list form.
2. I must quickly forget all about lists and finish the Letters of Note book.
3. I must then, and only then, research and write a Lists of Note book.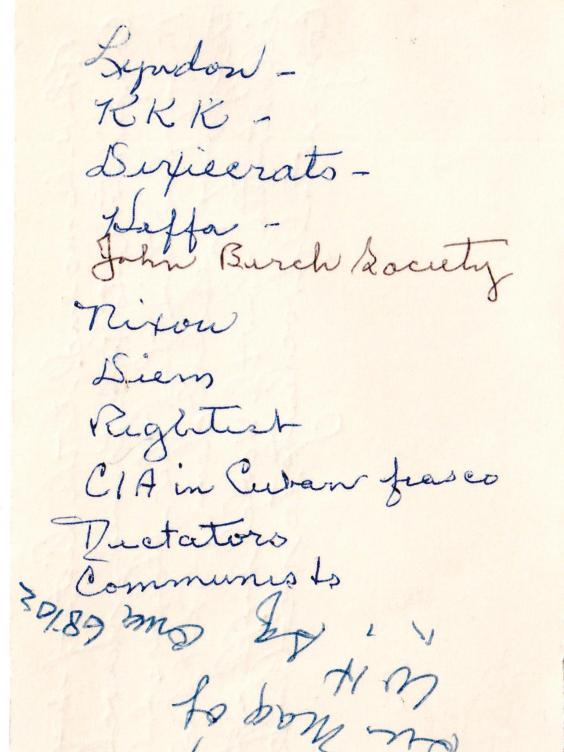 And so, later this year, the Lists of Note book is to be published. It will be filled, as the name suggests, with lists – 125 in total – written by all manner of people, from 2600BC to the modern day. A treat for those who love lists, and for those who don't.
It will contain a shopping list written by Michelangelo in 1518, illustrated for the benefit of his assistant who was unable to read; Anne Frank's handwritten list of pseudonyms for her family, to be used in her diaries to protect them; a list of murder suspects, scribbled by the long-serving secretary to John F. Kennedy mere hours after the president's assassination; an inconceivably short list of words given to Dr Seuss by his publisher, from which he was to write The Cat in the Hat; French novelist George Perec's magnificent "Attempt at an Inventory of the Liquid and the Solid Foodstuffs Ingurgitated by Me in the Course of the Year Nineteen Hundred and Seventy-Four"; Galileo's list of all the pieces of equipment he needed to produce his ground-breaking telescope; and a list of advice written by The Pretenders' singer Chrissie Hynde for the benefit of "chick rockers".
So, why lists? Where does the appeal come from? I made a list.
1. Life is chaotic, often unbearably so. Neat, ordered lists bring relief and hope.
2. Lists can make even the laziest of us more productive.
3. Lists enable us to rate things and make us feel knowledgeable, which we love.
4. Lists are so very easy to digest for the time-starved, eternally busy reader.
5. Humans feel it necessary to categorise all things, for safety reasons.
(These are arranged in no particular order.)
Can a list ever be as moving as a letter? They're completely different but then again they're quite similar. A list can be very telling. They are not for other people's eyes; they're personal. It can also be very interesting to see where people rank things in a list; why they've put certain things at the top. It reveals a lot about people's natures.
I love finding lists of possible names, for instance when someone is thinking up a title for a book that has now become famous; it's interesting to see what things could have been called. I came across a list by Robert May, who wrote Rudolph the Red-Nosed Reindeer many years ago. He hand-wrote a list of potential names for Rudolph, such as Rolo and Rudy. It's funny to imagine how things could have been if these lists hadn't been fleshed out as much as they were.
It might sound strange, but I don't really make lists myself – although I am a big fan of spreadsheets, if that counts. My wife, however, is a serious list-maker. She can't really function without writing one down. Everything has to be ordered, and she makes sense of the chaos of the day ahead by making a list, whereas I tend to muddle through. She keeps lists of everything: to-do lists; bills to pay; things to be done to the house; lists of lists.
One of my latest finds is a to-do list by Abraham Lincoln. It's compelling to discover that such an important figure, who is associated with such powerful words, did something so everyday and mundane.
Whereas with Letters of Note, I was dealing with a dying art, with Lists of Note I see no such problem. For as long as there are things, we humans will endeavour to arrange, sort, categorise, and rate them.
'Lists of Note' is available to pre-order from unbound.co.uk/books/lists-of-note