There's an intersectionality between music and literature that must have a lot to do with the collector gene. For some, the transient nature of consumption is enough: reading ebooks or borrowing them from libraries or friends, listening to bands on Spotify. For others, there must be ownership. The true bibliophile will own several editions of the same favourite book and, depending on how committed a music fan you are, you'll have rows of CDs or shelves groaning under the weight of vinyl.
It's that crossover, that desire to own an artefact, that must have led to the recurrent (and currently resurgent) fad for reimagining music albums in the style of classic book covers.
Culture news in pictures
Culture news in pictures
1/30 30 September 2016

An employee hangs works of art with "Grand Teatro" by Marino Marini (R) and bronze sculpture "Sfera N.3" by Arnaldo Pomodoro seen ahead of a Contemporary Art auction on 7 October, at Sotheby's in London

REUTERS

2/30 29 September 2016

Street art by Portuguese artist Odeith is seen in Dresden, during an exhibition "Magic City - art of the streets"

AFP/Getty Images

3/30 28 September 2016

Dancers attend a photocall for the new "THE ONE Grand Show" at Friedrichstadt-Palast in Berlin, Germany

REUTERS

4/30 28 September 2016

With an array of thrift store china, humorous souvenirs and handmade tile adorning its walls and floors, the Mosaic Tile House in Venice stands as a monument to two decades of artistic collaboration between Cheri Pann and husband Gonzalo Duran

REUTERS

5/30 27 September 2016

A gallery assistant poses amongst work by Anthea Hamilton from her nominated show "Lichen! Libido!(London!) Chastity!" at a preview of the Turner Prize in London

REUTERS

6/30 27 September 2016

A technician wearing virtual reality glasses checks his installation in three British public telephone booths, set up outside the Mauritshuis museum in The Hague, Netherlands. The installation allows visitors a 3-D look into the museum which has twenty-two paintings belonging to the British Royal Collection, on loan for an exhibit from 29 September 2016 till 8 January 2017

AP

7/30 26 September 2016

An Indian artist dressed as Hindu god Shiva performs on a chariot as he participates in a religious procession 'Ravan ki Barat' held to mark the forthcoming Dussehra festival in Allahabad

AFP/Getty Images

8/30 26 September 2016

Jean-Michel Basquiat's 'Air Power', 1984, is displayed at the Bowie/Collector media preview at Sotheby's in New York

AFP/Getty

9/30 25 September 2016

A woman looks at an untitled painting by Albert Oehlen during the opening of an exhibition of works by German artists Georg Baselitz and Albert Oehlen in Reutlingen, Germany. The exhibition runs at the Kunstverein (art society) Reutlingen until 15 January 2017

EPA

10/30 24 September 2016

Fan BingBing (C) attends the closing ceremony of the 64th San Sebastian Film Festival at Kursaal in San Sebastian, Spain

Getty Images

11/30 23 September 2016

A view of the artwork 'You Are Metamorphosing' (1964) as part of the exhibition 'Retrospektive' of Japanese artist Tetsumi Kudo at Fridericianum in Kassel, Germany. The exhibition runs from 25 September 2016 to 1 January 2017

EPA

12/30 22 September 2016

Jo Applin from the Courtauld Institute of Art looks at Green Tilework in Live Flesh by Adriana Vareja, which features in a new exhibition, Flesh, at York Art Gallery. The new exhibition features works by Degas, Chardin, Francis Bacon and Sarah Lucas, showing how flesh has been portrayed by artists over the last 600 years

PA

13/30 21 September 2016

Performers Sean Atkins and Sally Miller standing in for the characters played by Asa Butterfield and Ella Purnell during a photocall for Tim Burton's "Miss Peregrines Home For Peculiar Children" at Potters Field Park in London

Getty Images

14/30 20 September 2016

A detail from the blanket 'Alpine Cattle Drive' from 1926 by artist Ernst Ludwig Kirchner is displayed at the 'Hamburger Bahnhof - Museum for Contemporary Arts' in Berlin. The exhibition named 'Ernst Ludwig Kirchner - Hieroglyphen' showing the complete collection of Berlin's Nationalgallerie works of the German artist Ernst Ludwig Kirchner and will run from 23 September 2016 until 26 February 2017

AP

15/30 20 September 2016

A man looks at portrait photos by US photographer Bruce Gilden in the exhibition 'Masters of Photography' at the photokina in Cologne, Germany. The trade fair on photography, photokina, schowcases some 1,000 exhibitors from 40 countries and runs from 20 to 25 September. The event also features various photo exhibitions

EPA

16/30 20 September 2016

A woman looks at 'Blue Poles', 1952 by Jackson Pollock during a photocall at the Royal Academy of Arts, London

PA

17/30 19 September 2016

Art installation The Refusal of Time, a collaboration with Philip Miller, Catherine Meyburgh and Peter Galison, which features as part of the William Kentridge exhibition Thick Time, showing from 21 September to 15 January at the Whitechapel Gallery in London

PA

18/30 18 September 2016

Artists creating one off designs at the Mm6 Maison Margiela presentation during London Fashion Week Spring/Summer collections 2017 in London

Getty Images

19/30 18 September 2016

Bethenny Frankel attends the special screening of Disney's "Beauty and the Beast" to celebrate the 25th Anniversary Edition release on Blu-Ray and DVD in New York City

Getty Images for Walt Disney Stu

20/30 17 September 2016

Visitors attend the 2016 Oktoberfest beer festival at Theresienwiese in Munich, Germany

Getty Images

21/30 16 September 2016

Visitors looks at British artist Damien Hirst work of art 'The Incomplete Truth', during the 13th Yalta Annual Meeting entitled 'The World, Europe and Ukraine: storms of changes', organised by the Yalta European Strategy (YES) in partnership with the Victor Pinchuk Foundation at the Mystetsky Arsenal Art Center in Kiev

AP

22/30 16 September 2016

Tracey Emin's "My Bed" is exhibited at the Tate Liverpool as part of the exhibition Tracey Emin And William Blake In Focus, which highlights surprising links between the two artists

Getty Images

23/30 15 September 2016

Musician Dave Grohl (L) joins musician Tom Morello of Prophets of Rage onstage at the Forum in Inglewood, California

Getty Images

24/30 14 September 2016

Model feebee poses as part of art installation "Narcissism : Dazzle room" made by artist Shigeki Matsuyama at rooms33 fashion and design exhibition in Tokyo. Matsuyama's installation features a strong contrast of black and white, which he learned from dazzle camouflage used mainly in World War I

AP

25/30 13 September 2016

Visitors look at artworks by Chinese painter Cui Ruzhuo during the exhibition 'Glossiness of Uncarved Jade' held at the exhibition hall 'Manezh' in St. Petersburg, Russia. More than 200 paintings by the Chinese artist are presented until 25 September

EPA

26/30 12 September 2016

A visitor looks at Raphael's painting 'Extase de Sainte Cecile', 1515, from the Uffizi Gallery in Florence during the opening of a Raphael exhibition at the Pushkin State Museum of Fine Arts in Moscow, Russia. The first Russian exhibition of the works of the Italian Renaissance artist Raffaello Sanzio da Urbino includes eight paintings and three drawings which come from Italy. Th exhibit opens to the public from 13 September to 11 December

EPA

27/30 11 September 2016

Steve Cropper and Eddie Floyd perform during Otis Redding 75th Birthday Celebration - Rehearsals at the Macon City Auditorium in Macon, Georgia

Getty Images for Otis Redding 75

28/30 10 September 2016

Sakari Oramo conducting the BBC Symphony Orchestra, the BBC Symphony Chorus and the BBC Singers at the Last Night of the Proms 2016 at the Royal Albert Hall in London

PA

29/30 9 September 2016

A visitor walks past a piece entitled "Fruitcake" by Joana Vasconcelo, during the Beyond Limits selling exhibition at Chatsworth House near Bakewell

REUTERS

30/30 8 September 2016

A sculpture of a crescent standing on the 2,140 meters high mountain 'Freiheit' (German for 'freedom'), in the Alpstein region of the Appenzell alps, eastern Switzerland. The sculpture is lighted during the nights by means of solar panels. The 38-year-old Swiss artist and atheist Christian Meier set the crescent on the peak to start a debate on the meaning of religious symbols - as summit crosses - on mountains. 'Because so many peaks have crosses on them, it struck me as a great idea to put up an equally absurd contrast'. 'Naturally I wanted to provoke in a fun way. But it goes beyond that. The actions of an artist should be food for thought, both visually and in content'

EPA
One of the practitioners is artist and designer Marcus Raynal Hislop, who works from his Notorious Gasoline Company studio in central Glasgow. His digitally created book covers include Wolf Alice's My Love is Cool in the style of a pulp crime novel, The Vaccines' English Graffiti as a dog-eared Penguin paperback and What's The Story, Morning Glory? by Oasis as a Sixties kitchen-sink drama.
"It was something I was immediately drawn to," says Hislop. "I love to design movie posters for non-existent films, I had been painting a lot in the past few years, and a bit of digital nonsense seemed like a fun distraction."
Hislop, whose real love is abstract painting but – being "quite mercenary about art" – finds himself doing work that "appeals to everyone's sense of nostalgia and love of celebrity", concedes that "I like to show off a bit" and that creating the book covers has proved somewhat addictive.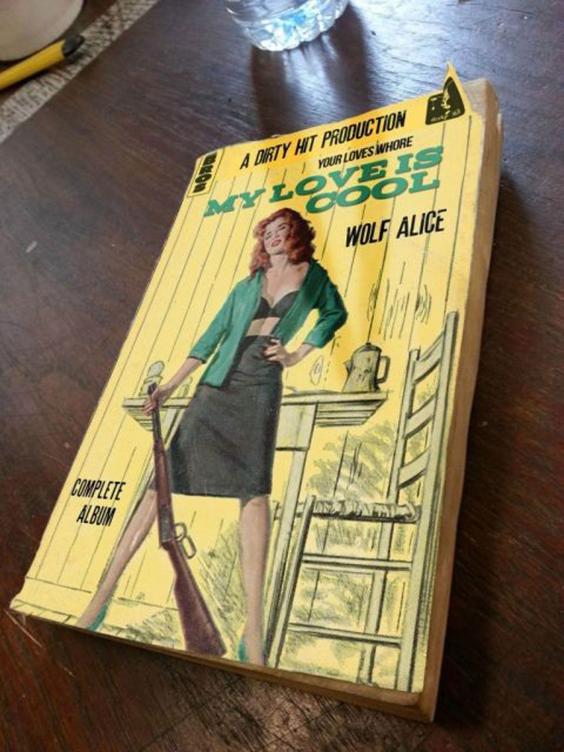 "The only problem is that I like doing them so much I haven't stopped," he says, before asking me what my favourite album is. Out of loyalty to my hometown of Wigan, I offer Urban Hymns by The Verve. A shade before midnight that evening, Hislop emails me a picture of said album reinvented as an Independent-style newspaper front page, with a slightly apologetic note: "I would have done more but the missus demanded my company as she's says I spend too much time fecking about with art when I should be relaxing."
This album-book crossover is a trend that resurfaces from time to time. Three years ago, graphic designer Christophe Gowans embarked on a similar project; and in 2007 the Flickr user Little Pixel posted a set of album covers in the style of old Pelican paperbacks.
The latest round of creativity has been kick-started by indie band The Charlatans. Frontman Tim Burgess and designer Nick Fraser – a friend of Hislop's – came up with the idea to reinvent the Charlatans discography as book covers, which were then executed by artist Ian Read. The Charlatans put them up as prints on their website and they sold out within minutes. (They've now just released them as a set of postcards at http://thecharlatans.tmstor.es/.)
Burgess says: "We had done a periodic table of Charlatans songs, and we made some prints of this to mark the birthday of Dmitri Mendeleev, creator of the periodic table of the elements, and it went down really well – so that got us thinking about band merchandise and how it was all a bit 'tour T-shirts with dates on the back'."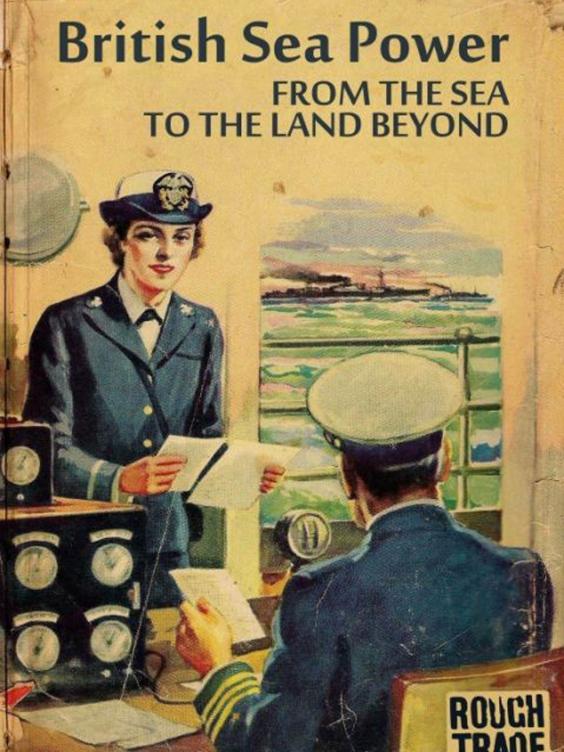 Still,there has always been a literary bent to The Charlatans: their 2015 album Modern Nature took its title from Derek Jarman's book, and Tim Burgess is about to release his second volume for Faber & Faber, Tim Book Two (geddit?), the follow-up to his 2012 memoir Telling Stories, which, to bring things full circle, is also the title of the band's 1997 album.
"We went for designs that sparked off a kind of familiarity – books that some of us owned or ones we knew as kids," says Burgess. "It really blew up into something when we shared them online: BBC Radio 6 Music took them and asked people to reimagine other albums as book covers, and some of them were unbelievably imaginative."
Hislop was one of those who responded to the call, and it's had quite an unexpected result for him. "After doing these faux-books, I actually went out and bought a few real ones, which was something I hadn't done in an age," he says. "I used to love reading but I let myself go. These designs shamed me into getting back into books."
Reuse content