Fancy learning how to make blue Crystal Meth in the style of Breaking Bad? No, The Independent is not promoting drug use/creation, but a cookery book published in homage to the maverick TV series.
Billing itself as 98 per cent pure but 100 per cent hilarious, Baking Bad will teach you to make an array of intriguing confections and contains so many in-jokes that you'll need a fake carwash just to process them.
From 'Ricin Crispie Treats' to Walt's patented 'Meth Muffins' (complete with blue sugar crystals) and 'Heisen-Batten-Burg Cake', many of the AMC show's best moments are immortalised in sugar (until you eat them, that is).
Creator Walter Wheat says: "When I was diagnosed with a terminal illness a few years ago, I didn't know how I would provide for my family. Then I discovered I had the ability to produce restaurant-quality shortbread for the black market. This book will be my legacy."
Even whiter-than-white cookery judge Mary Berry would brand this lot "scrumptious".  Try out some of the recipes (below).
Baking Bad confections
Baking Bad confections
1/5 Jessie's Jello

Remember the bath tub scene in series one? Now you can eat it!

Baking Bad

2/5 Mr White's Tighty Whitey Bites

Those white underpants are unmistakable. Yum!

Baking Bad

3/5 Recurring Pink Bear cookies

Create your own singed, one-eyed, plane crash teddy

Baking Bad

4/5 Walt's birthday platter

Every year (except this one, because he's on the run) Skyler puts Walt's bacon on his plate in the shape of his age

Baking Bad

5/5 Walter's Buried Barrel Dessert

Dessert or desert? Whatever, the place where Walt hides his wads of cash tastes just delicious

Baking Bad
Scroll down for recipes:
BLUE METH CRUNCH
A.k.a. 'Blue Bake', 'Randy Candy', 'Sugar High'..., whatever,
you're no cook until you can make this staple dessert
INGREDIENTS
1/2 cup (118ml) water
3/4 cup (177ml) light corn syrup
Do not use chili powder. It's for amateurs
14oz/350g granulated sugar
2 tsp (10ml) peppermint extract
Blue gel food colouring
You will need a candy thermometer
DOSAGE: 5 people
DIRECTIONS
1. Line a baking tray with aluminium foil, or use a heatproof glass
tray. Spray with non-stick baking spray
2. Find yourself a decent accomplice. Underachieving ex-students
are a good choice, though psychologically fragile
3. In a medium saucepan, combine the water, corn syrup and sugar.
Stir the mixture over medium heat until the sugar dissolves,
then turn up the heat to bring to a boil. Stop stirring and
insert the thermometer and use a pastry brush dipped in water to
wet the sides of the pan (this will prevent crystals forming)
4. Cook the mixture until the temperature reaches 285F/140C.
Immediately remove the pan from the heat and take out the
thermometer. Let the mixture stand until all the bubbles have
stopped forming on the surface
5. At some point you're going to need a distributor. But don't worry
about that now
6. Add a few drops of peppermint flavouring and enough blue
colour to give the correct 'Blue Meth' hue
7. Quickly pour the mixture onto the baking tray, lifting the tray
from side to side to spread the mix. Don't worry if it's not
perfectly smooth or has holes in it. Let the candy cool to
room temperature
8. Once the candy has cooled, use a hammer to break it up.
Put into little plastic baggies or serve as is, whichever
your clients prefer
WALT'S BIRTHDAY PLATTER
While baking can help you provide for your family,
it can also drive it apart. Whatever happens, though,
this dish makes a celebration of any occasion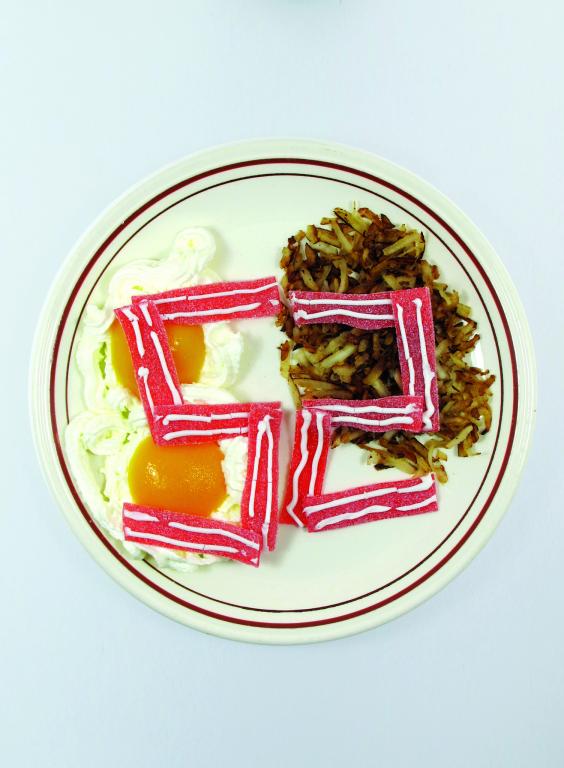 INGREDIENTS
Half a coconut, shelled
Small amount of butter
2 packets of fizzy fruit candy strips
2oz/50g white royal icing
1 can of peaches (halved, separated and soon to be
fighting for custody of the kids)
1 can of whipped cream
DOSAGE: 2 people
DIRECTIONS
1. Grate the coconut into shavings and fry in a
shallow pan with a tablespoon of butter until
golden
2. Trim the fruit candy into lengths to form
numbers, as pictured. (If your wife doesn't offer
to do this without asking, perhaps look into a
good divorce lawyer)
3. Place the icing into a piping bag fitted with a
small plain nozzle and pipe lines onto the candy
to look like bacon fat
4. Place the peach halves on a plate and add whipped
cream to form the white of the 'eggs'. Add the
coconut 'hash brown' and 'bacon' slices and serve
5. Enjoy at home, basking in the warm glow of your
family's love or, alternatively, alone at a
roadside diner, safe in the knowledge that you
are a f**king boss
MR WHITE'S TIGHTY WHITEY BITES
Who would have thought tighty whities and a green shirt
could ever be a good look? It's early days (maybe it's even
your 'pilot' bake) so these delicious cookies are sweet and
warm, but give them time and they'll mature into
something much darker and more complex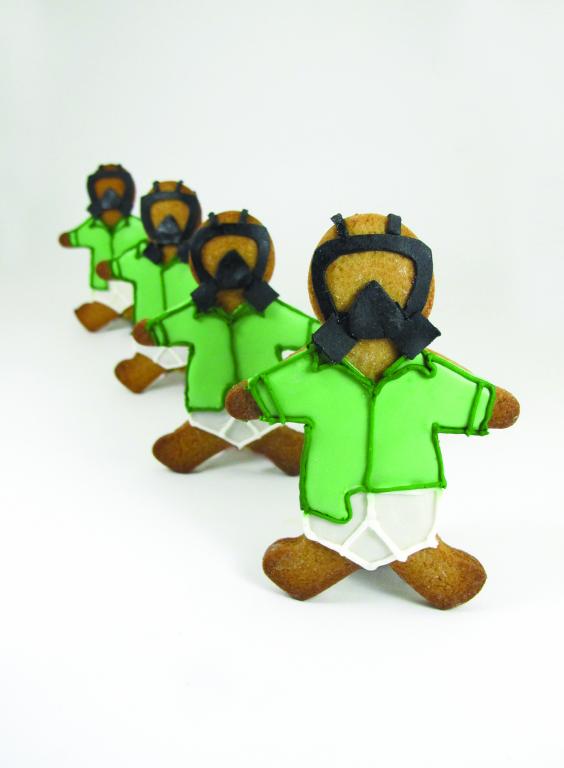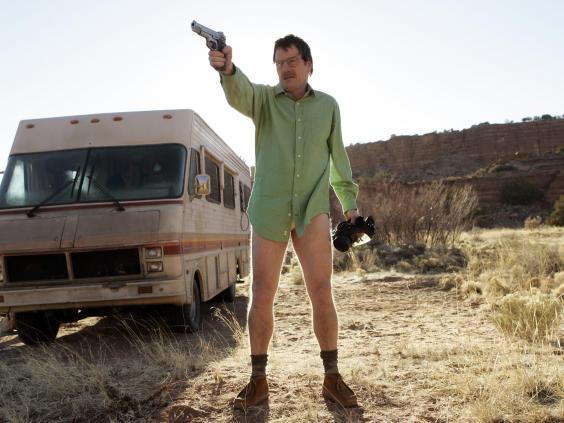 INGREDIENTS
For the gingerbread:
12oz/350g all-purpose flour
2 tsp (10ml) baking powder
2 tsp (10ml) ground ginger (or more to taste)
4oz/100g cold butter
6oz/150g light brown soft sugar
3 tbsp (45ml) golden syrup
1 medium egg
A little flour for dusting
To decorate:
White fondant icing, black fondant icing
1 medium egg white
1lb/500g confectioners' sugar, sifted. 'THIS (dramatic pause) is not meth'
Green food gel colour
You will need a gingerbread man cutter
DOSAGE: 6 people
DIRECTIONS
'We need to cook...'...
1. Take off your good clothes. You can't go home smelling like a bakery
2. Preheat the oven to 400F/200C/185C fan assisted/ gas mark 6. Grease 2
baking trays or line with baking paper
3. Put the flour, baking powder and ginger into a bowl and mix well. Cut the
butter into the mixture in small pieces and rub into the flour mix with
your fingertips until the mixture resembles breadcrumbs
4. Add the sugar, syrup and egg and mix to form a dough. Put into a plastic bag
and chill for half an hour
5. Double check you haven't left your keys in the RV. You don't want to know
what a pain in the ass that would be
6. Roll out the dough on a surface lightly dusted with flour. Cut out
gingerbread men with the cutter and place them on the tray. Bake for 10-12
minutes or until beginning to brown around the edges. Transfer to a rack
to cool and harden
7. Roll out the black and the white fondant icings on a surface lightly
dusted with confectioners' sugar and cut out shapes for the gas masks and
the Y-fronts
8. Put the egg white in a bowl and whisk lightly with a fork. Add the
confectioners' sugar little by little, beating with a wooden spoon until
the texture is of a piping consistency. Divide into three
9. Stick the white Y-fronts onto the men with a little water. Fill a small
piping bag with plain writing nozzle with white piping icing and pipe on
Y-front details
10. Colour a second amount of icing pale green and pipe outlines of the shirt.
Allow to dry. Add a few drops of water to the pale green icing to give a
runny consistency and carefully spoon into the outline of the shirt, teasing it into the corners with a small brush. Allow to dry
11. Colour the remaining icing dark green and pipe details onto the shirt.
Stick the gas mask pieces to the head with a little water
12. Take a 45 in hand and stand, ready to take on whatever comes over that hill
Baking Bad by Walter Wheat, Published by Weidenfeld & Nicolson on 6 November 2014 in hardback at £9.99. Also available as an eBook
Reuse content