Simple ABC seems a good place to start.
Though Oliver Jeffers's Once Upon an Alphabet (HarperCollins, £20) isn't simple, exactly; yes, it's an alphabet book of sorts, but for each letter there's a tiny crafted story, sometimes very funny and always pleasingly odd. "Out on the ocean there is an owl who rides on the back of an octopus …" starts one. "Danger Delilah is a daredevil who laughs in the face of Death and dances at the door of Disaster …" begins another. It's immensely charming – but you'll mostly buy it for Jeffers's inimitable artwork, because this book is a very, very beautiful thing.
Following on from Jeffers's A-Z, we have a Shirley Hughes January-to-December book, A Year of Stories and Things to Do (Bodley Head, £19.99), a collection of her stories, some popular and others less well known, plus an array of suggested "things to do" for each month, all brought together for the first time into a big hardback, a great gift book to share with someone small. Meanwhile, another fine illustrator, Tony Ross, has contributed to the advent spirit by assembling a treasury of old Christmassy stories, The Nights Before Christmas (Andersen Press, £19.99) – 24 short pieces each perfect for bedtime reading-aloud, from Andersen's "The Snow Queen" to the opening pages of Little Women, from a 1914 cable about the Christmas Truce to (of course) "A Visit from St Nicholas" – and all of them, naturally, with Ross's lively, lovely illustrations.
Talking about reading aloud … how about some poetry? Faber & Faber, the publishing home to much of the 20th century's best poetry, has just produced some attractive reissues of classic collections: there's T S Eliot's Old Possum's Book of Practical Cats (£14.99), with colour illustrations by its original artist, Nicolas Bentley, and Lear's Nonsense Limericks (£9.99), newly illustrated by Arthur Robins. They're both as fresh as ever they were, so many generations later. (And there's more to come, too: Walter de la Mare's Peacock Pie (£6.99), with the Edward Ardizzone illustrations, will follow on New Year's Day.)
On to another classic writer restored, though one less familiar to some, perhaps: Erich Kästner is best known in this country for his 1920s favourite, Emil and the Detectives, about a gang of boys in Berlin who set out to catch a thief; but Kästner wrote many more children's books. Two of the best, The Flying Classroom (a magical school-based Christmas story) and The Parent Trap (yes, as in the film, about a pair of twins reunited, and their devising of a cunning plan) have just been revived, with the original illustrations by Walter Trier, and fresh life breathed into them with bright new translations by Anthea Bell. The Kästner titles (£7.99 each) are part of Pushkin Press's campaign to bring great new books from around the world into English – often books that have been popular in their own countries for years but are only now, very belatedly, finding their way into ours. Their "Save the Story" series is worth checking out, too – each of these 10 volumes (£14.99 each) is a landmark of grown-up literature retold for children – with Ali Smith doing Antigone, Yiyun Li doing Gilgamesh, Jonathan Coe doing Gulliver, Dave Eggers doing Captain Nemo, etc; it's world-class storytelling, and each one gorgeously illustrated by a different artist. (These would make good presents for adults, too, actually.)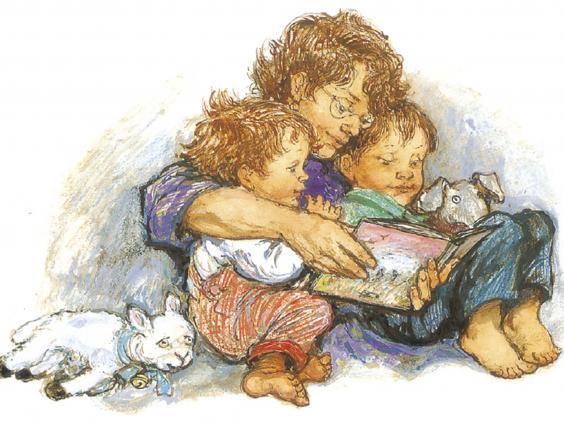 Linda Newbery's The Brockenspectre (Jonathan Cape, £12.99) is a slim, beautiful piece of writing, about Tomas, a boy who lives with his family in the Alps. When his father goes missing on a mountain hike, Tomas decides to find him, though he knows it's dangerous, not least for the shadowy Brockenspectre that looms over the mountains. On his quest, Tomas learns something about Pappi, and also much about himself. With a timeless quality enhanced by Pam Smy's illustrations, it's a haunting but ultimately warm-hearted story, and a lovely, wintry gift.
Next is a big, horizon-expanding non-fiction book for children curious about their world: Rachel Williams and Lucy Letherland's Atlas of Adventures (Wide Eyed Editions, £20.00) is a collection of colourful spreads illustrating some of the world's most varied places; there are two young adventurers who appear in each, and we find them on an American steamboat, at a lantern festival in Hong Kong, at the Rio Carnival, on the London Eye, and dozens more – each page is bright and interesting, and generously scattered with bits of fascinating information.
In last year's round-up, I enthusiastically recommended Chris Riddell's first Goth Girl book, and I'm as excited about the sequel: Goth Girl and the Fete Worse than Death (Macmillan, £10.99) – yes, that's Fete, rather than Fate – which is just as handsome an object, and every bit as wittily detailed as its predecessor; though I think Riddell has really outdone himself this season with another, quite different book: The Sleeper and the Spindle (Bloomsbury, £12.99), a collaboration with the constantly inventive Neil Gaiman. It's an exquisitely produced fairy tale that takes elements of tales you know – "Sleeping Beauty", "Snow White" – but presents them woven into something original and mesmerising, a seductive story to lose yourself in. It begins with a young queen setting off to rescue an enchanted princess.
Kate Saunders has also taken something old and familiar and used it to fashion something thrilling and new. With E Nesbit's much-beloved Psammead books as her starting point, her Five Children on the Western Front (Faber, £10.99) moves the story forward a decade; the children are older now, even young Lamb is 12, and there's a younger, sixth child, Edie, who wasn't born at the time of the earlier adventures. It's 1914, and the Psammead is back and has to make amends for something, but meanwhile the war has broken out and Cyril has gone off to fight. Setting a book up alongside Five Children and It and inviting comparisons is quite a gamble, but extraordinarily it pays off. Saunders's exceptional novel is full of character; it's clever, brave and spirited, and one of the best books I've read all year.
Reuse content