A postcard of Margaret Thatcher, topless, with saggy breasts and blood dripping from her pointed teeth, is stuck to the wall of Gerald Scarfe's studio. Alongside, Tony Blair's got his pants down and humps a big red bag of money like a randy dog. Scarfe, 78, sits back into a leather armchair, legs crossed, hair neatly arranged. He wears a checked Jaeger jacket and blue jeans, a splash of colour from his bright red socks. He's cheerful, attentive and polite. No hint of the vitriol that appears in the political cartoons he has been drawing for more than 50 years.
Within the clutter of paintbrushes, pens and Post-it notes, there's a photograph of him wearing evening dress with his wife, the actress Jane Asher, and another with the Queen as he collected his CBE in 2008. The studio sits on the top floor of his large house on Cheyne Walk in Chelsea, which on the way up has all the appearance of a comfortable and conservative bourgeois life. Except for the giant Shaun the sheep, which stands in the hallway, it could be a banker's house, or that of a Tory grandee.
But Scarfe's spent a lifetime ripping apart those in power with cartoons so savage that his letterbox and email regularly fills up with complaints. Five female MPs had a go recently when he drew a cartoon of the Germany's Chancellor, Angela Merkel, breastfeeding Greece and Italy, with Spain in the background waiting its turn. "I guess they were feminists but it seemed rather strange," he said. They accused him of sexism, saying he wouldn't have drawn a man like that.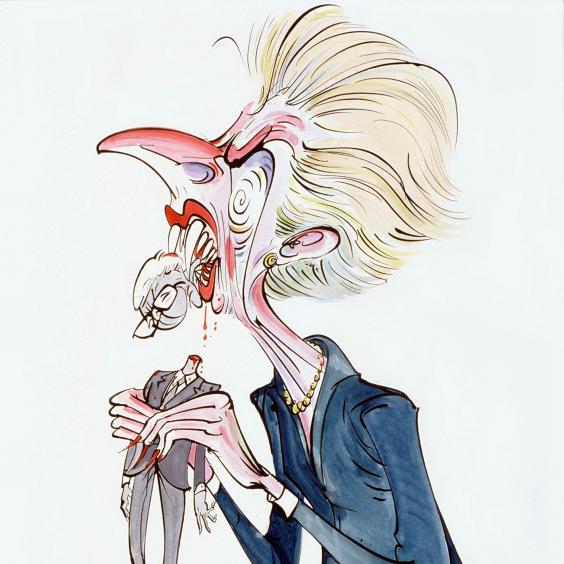 Yet he has drawn Edward Heath as a little dog-turd, Lyndon B Johnson as a monster defecating bombs over Vietnam, and Ronald Reagan as Mickey Mouse with a gun blithely invading El Salvador. He drew Margaret Thatcher throughout her entire career. She appeared as a mad cow, Christmas tree, dominatrix, Union Jack, guillotine, pterodactyl, scrawny show dog and lactating monster suckling John Major and William Hague from her purple breasts. She was grotesque, her nose became sharp as a dagger. Scarfe recently gathered together his drawings of her – more than 300 of them – and a selection have gone on display today, for an exhibition titled Milk Snatcher, at the Bowes Museum in County Durham.
"I wasn't a fan of Mrs Thatcher but she was an amazing woman, you have to admit. She was our first and only woman prime minister and to get there as a woman she must have fought, she had to be incredibly strong," he says.
"It is so boring drawing politicians over and over again, they are such a boring crowd in general. You get the occasional Nigel Farage or Boris Johnson but there are a lot of Nick Cleggs around as well, boring people. You've got to try and do something with them to make it an interesting picture. She was pretty easy to do because she was a very aggressive kind of person."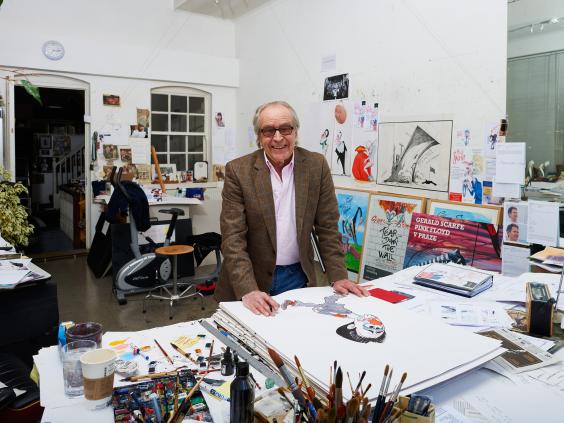 His caricatures aren't whipped up in minutes but take careful study. He explains: "When I had to start drawing Cameron I first looked through photographs and watched him on Newsnight and listened to him on the Today programme and gathered all the information I could. An artist is a bit like a computer that distils things down the arm and onto the paper. When I'm drawing people I sometimes feel like I become them. I'm an impersonator, like Rory Bremner to a certain extent. With someone like Cameron it's difficult because he's rather bland. I always draw him in his Bullingdon outfit because he's so desperate to get away from it. He so desperately wants to be an ordinary bloke drinking Guinness in a pub with a whippet at his feet and playing darts for the local team," he says.
He doesn't understand where his drive for this work comes from, or even his artistic side. His father was a banker and his mother a schoolteacher. An asthmatic child, he was born during the war and spent years bedridden in hospital where he drew cartoons and made Plasticine models. As a teenager, he won a drawing competition in the Eagle comic. David Hockney was a runner-up.
"I hope that in general I'm fairly cheerful but there is undoubtedly a black side to me as there is with most people I suppose. It's what seemed to come out in my drawings during the Sixties. When Private Eye came out it was the perfect vehicle for me. Peter Cook and Richard Ingrams always said that if they wanted something biting and harsh doing then they would choose me because I had that side to my nature," he says.
'Milk Snatcher – The Thatcher Drawings', is at the Bowes Museum, County Durham (01833 690606, www.thebowesmuseum.org.uk) to 31 May
Reuse content