Recently, on the BBC1 talent show The Voice, one of the judges, Paloma Faith, got herself in a bit of a tizz. Twice she failed to press her buzzer to signal an interest in the singing talent, then regretted her decision. "What's wrong with me?" she cried, head in hands. To emphasise her disarray, the producers cut to a spoof trailer for a grainy B-movie entitled "Paloma Faith's Existential Crisis!"
Viewers of a certain age must have felt a jolt of nostalgia at the phrase, and been hurtled back to a time – late 1960s, early 1970s – when it was everywhere, and the word "existentialist" was bandied about as ubiquitously (and cluelessly) as the word "iconic" is today. Penguin Books had reissued the key existentialist texts, Albert Camus' L'Étranger and Jean-Paul Sartre's Les Chemins de la Liberté trilogy, in silver Modern Classics livery, and every student was reading them. The latter works were adapted for television in 1970 as Roads to Freedom, a 13-part BBC1 serial in which Michael Bryant played a tormented philosophy teacher in 1938 Paris trying to secure an abortion for his pregnant girlfriend, and Daniel Massey played a tormented homosexual debating whether to destroy "the beast between my legs". It was grim but gripping, intense and atmospheric, from the evocation of pre-war France to the husky wail of Georgia Brown singing "La Route Est Dure Mais Je Suis Forte" over the closing credits. 
Even if we couldn't quite grasp the ontological niceties, the idea that one could turn a philosophy into a choice to live outside conventional social, political, racial or religious rules was thrilling. Even the music world thought so – the sleeve notes of progressive-rock albums routinely promised, "The guys in Apocalyptic Walnut lead a semi-existentialist lifestyle…" – and cool young would-be existos adopted a look to go with it, part beatnik, part 1968 student rebel: black polo-neck jumper, blue jeans, shades, Gitanes, Danny Cohn-Bendit curls or Françoise Hardy long straight hair, and lots of sulky attitude. 
One of my Irish cousins had her heart broken by a young French guy on holiday and came home in tears. "He gave her these awful books to read," her mother told me. "Desperate stuff, all about sex. Some fella called Simon de Beaver. It's called existentialism. What is that, John? Is it like… black magic?"
Anyone asking the question today can be more confident of getting a coherent explanation than we could in 1970. For they have Sarah Bakewell, and her book At the Existentialist Café: Freedom, Being, and Apricot Cocktails to guide them. It's a wonderfully readable combination of biography, philosophy, history, cultural analysis and personal reflection. The author provides what many of the key figures were reluctant to offer – a useful definition: 
"Existentialists concern themselves with individual, concrete, human existence. They consider human existence different from the kind of being other things have… As a human I am whatever I choose to make of myself at every moment. I am free – and therefore I'm responsible for everything I do, a dizzying fact which causes an anxiety inseparable from human existence itself." 
She also connects the movement's philosophical prehistory – the phenomenology of Edmund Husserl (who wanted "to see what stands before our eyes, to distinguish, to describe") and his one-time student Martin Heidegger (who wanted to concentrate on the nature of being and invented a new language to try to capture it) – to its later stars, such as Camus and Maurice Merleau-Ponty. But at the book's heart is the relationship between Jean-Paul Sartre and Simone de Beauvoir, whose collaboration before, during and after the war made them the Napoleon and Joséphine of 20th-century intellectual life. Had it started life as a double biography?
Culture news in pictures
Culture news in pictures
1/30 19 July 2016

People apply wax on 'Le Penseur' (The Thinker), a sculpture by late French sculptor Auguste Rodin, to protect it from weather damages and pollution at the Rodin museum in Paris

AFP/Getty Images

2/30 18 July 2016

The painting 'Venus in Furs' hangs in the Picture Gallery in Park Sansouci in Potsdam, Germany. After having been missing for 70 years, the painting fom 1640 by a Flemish master was returned from private hands. The Foundation Prussian Palaces and Gardens Berlin-Brandenburg has been missing around 2,000 objects since the Second World War

EPA

3/30 17 July 2016

Artists of the French pyrotechnic company "Groupe F" perform during the show "A fleur de peau" (On edge) at the Venaria Reale Palace, in Venaria, near Turin

AFP/Getty Images

4/30 16 July 2016

Dancers of the British dance company Balletboyz perform in "Rabbit", choreographed by Pontus Lidberg, during the Malta Arts Festival in Valletta, Malta

REUTERS

5/30 15 July 2016

Singer Gwen Stefani performs on NBC's "Today" Show at Rockefeller Plaza in New York City

Getty Images

6/30 14 July 2016

People sit under illuminated giant raindrop-shapes at an interactive art installation to raise awareness of autism, in Shanghai

Rex Features

7/30 13 July 2016

An installation 'A wall of life jackets and their stories' by Andrew Wakeford and Fred George is on display at Johanneskirche in Saarbruecken, Germany. The installation is made of original life jackets found on the beaches of Greece and barbed wires, along with interviews and portraits of who have fled from the conflict in the Middle East to Europe. The exhibition runs from 15 July to 26 August

EPA

8/30 12 July 2016

Chinese artist Ai Weiwei poses next to a sculpture that is part of his installation "Circle of Animals/Zodiac Heads" in front of the Upper Belvedere palace in Vienna, Austria. From 14 July to 20 November 2016, the 21er Haus museum presents Ai Weiwei's solo show "translocation - transformation", with the central exhibit of a tea merchant family's ancestral temple from the Ming Dynasty, whose main hall will be reconstructed in the 21er Haus

AFP/Getty Images

9/30 11 July 2016

"Mediterranean Body", a monumental sculpture by COSKUN is seen at the 11th Taehwa River Eco Art Festival in Ulsan, South Korea. The artist, with his wooden monumental sculpture pays tribute to refugees who lose their lives at sea

Rex Features

10/30 10 July 2016

A festival-goer paints a mandala during the 2nd Samsara Yoga and Music Festival in the Toreki neighbourhood of Siofok, 102 kms southwest of Budapest, Hungary. Visitors can enjoy music performed on three stages and attend workshops, lectures and conversations with yoga trainers, instructors, therapeutists, psychologists, doctors and healers between 6 and 11 July

EPA

11/30 9 July 2016

Naked volunteers, painted in blue to reflect the colours found in Marine paintings in Hull's Ferens Art Gallery, participate in US artist, Spencer Tunick's "Sea of Hull" installation in Kingston upon Hull

AFP/Getty Images

12/30 8 July 2016

Mark Rylance (L) is returning to the West End stage in Nice Fish - and fans will be able to see him for free if they dress up as fish. Nice Fish, the critically acclaimed comedy by Rylance and prose poet Louis Jenkins, will have a limited run from November at London's Harold Pinter Theatre after a successful season in New York

PA

13/30 7 July 2016

Women wearing summer kimonos, called yukatas, look at goldfish during the 2016 EDO Nihonbashi Art Aquarium exhibition in Tokyo. The 10th anniversary of the festival will start on 8 July and will continue until 25 September, displaying some 8,000 goldfish in various special art exhibits

AFP/Getty Images

14/30 6 July 2016

Musician Tim Lopez (L) and Tom Higgenson of the Plain White T's perform at the Grove's Summer Concert Series in Los Angeles, California

Getty Images

15/30 5 July 2016

Tourists walk through a lantern installation in Zhangjiakou, Hebei Province, China

REUTERS

16/30 4 July 2016

One of London's most iconic venues has sent a pair of show tickets into space to celebrate the world premiere of Independence Day Live – a new film-and-orchestra event being held in September. The Royal Albert Hall has marked the occasion by blasting the tickets into the stratosphere on Independence Day itself

17/30 3 July 2016

People walk on the installation 'The Floating Piers' by Bulgarian-born artist Christo Vladimirov Yavachev, known as Christo, northern Italy

REUTERS

18/30 2 July 2016

Performers dressed as angels take part in the Place des Anges spectacle in Hull, part of UK City of Culture 2017 and the Yorkshire Festival. Up to 10,000 people have descended on Hull to watch Place des Anges. The aerial show sees white-clad angels appear on rooftops before taking off on suspended wires across the city. The event culminates with thousands of white feathers cascading onto the crowds below

PA

19/30 1 July 2016

EPA

20/30 30 June 2016

The world's largest disco ball is installed at the Duke Studios in Leeds ahead of The Big Disco event. The event, which is part of the Yorkshire Festival 2016, will see thousands of people partying under the Guinness World Record holding disco ball - which measures 10.33 metres in diameter and is two and a half times the size of a double decker bus

PA

21/30 29 June 2016

The first major solo exhibition by accessories designer, art director and fashion stylist Judy Blame has opened to the public and runs between 29 June and 4 September at the ICA, The Mall in London

22/30 28 June 2016

Prince Seeiso of Lesotho and Prince Harry on stage with the Basotho Youth Choir at the finale of the Sentebale Concert at Kensington Palace in London

Getty Images

23/30 27 June 2016

A woman looks at the Eugene Delacroix paintings made between 1849 and 1861 during a restoration at the Saints-Anges chapel inside the Saint-Sulpice church in Paris

AFP/Getty Images

24/30 26 June 2016

Chris Martin of 'Coldplay' performs on the Pyramid Stage on day 3 of the Glastonbury Festival at Worthy Farm

Getty Images

25/30 25 June 2016

Adele performing on stage at the Glastonbury Festival, at Worthy Farm in Somerset

PA

26/30 24 June 2016

US artist Joan Jonas poses during the presentation of her exhibition 'Joan Jonas: Stream or River. Flight or Pattern' at the Bitin Foundation in Santander, northern Spain. The display featuring experimental film and video-installation of pioneering Jonas will be open to the public from 25 June to 16 October 2016

EPA

27/30 23 June 2016

Evie Ferris and Georgia Scott-Hunter, Artists of The Australian Ballet next to one of Edgar Degas' iconic ballet dancer paintings 'Dancer with Bouquets' during the media preview for the 'Degas: A New Vision' exhibition at National Gallery of Victoria in Melbourne, Australia. The exhibition will run from 24 June to 18 September as part of the Melbourne Winter Masterpieces series

Getty Images

28/30 22 June 2016

Figures of characters from the comic series 'Uncle Walt' by US cartoonist Frank King are on display in the exhibition 'Pioneers of the Comic Strip. A different Avant-Garde' at the Schirn Kunsthalle museum in Frankfurt am Main, Germany. The exhibition that features the works of six primarily US illustrators created between 1905 and 1940, runs from 23 June 2016 to 18 September 2016

EPA

29/30 21 June 2016

(L-R) Actors Jonathan Holmes, Paul Moniz de Sa, Daniel Bacon, Chris Gibbs, Jemaine Clement, Penelope Wilton, Mark Rylance, Ruby Barnhill, Bill Hader, Rebecca Hall and Rafe Spall arrive on the red carpet for the US premiere of Disney's "The BFG," directed and produced by Steven Spielberg. A giant sized crowd lined the streets of Hollywood Boulevard to see stars arrive at the El Capitan Theatre

Getty Images for Disney

30/30 20 June 2016

Tony Bennett attends as the Friars Club Honors Tony Bennett With The Entertainment Icon Award - Arrivals at New York Sheraton Hotel & Tower in New York City

Getty Images
"No, I went in precisely the opposite direction," Bakewell says. "I was going to put everything in, every existentialist or phenomenologist I've ever been interested in, and everything they ever said or did – then I whittled it down from there. I tried to stop Sartre and De Beauvoir from taking over, but it was hard: they wrote so much, about their own lives and everyone around them."
Indeed. The image of Jean-Paul 'n' Simone holding court in Paris every day at the Café de Flore or Les Deux Magots, talking or writing side by side from the 1930s to the 1960s, has become fixed in cultural history. They've also acquired a less appealing reputation as omnivorous sexual predators, the bisexual De Beauvoir sleeping with female students and male admirers, and procuring girls for the wall-eyed, physically unprepossessing Sartre. 
Which influenced the other more? "The traditional view," Bakewell says, "is that it was all Sartre, with De Beauvoir scampering along in his shadow. But a more recent counter-movement insists that it's all about her, that Sartre stole all his ideas from her. The reality is almost certainly the interplay in the middle – in 50 years of sharing life together, talking about everything, writing together, giving each other advice, pushing each other to tackle new topics, your ideas are bound to evolve in interlinked ways." 
How much of a philosopher was Simone? "She always underplayed her philosophical enquiries, but it's a mistake to take her at her own assessment. At school she kept coming top of every class, and she always looked for a man who could make her feel she didn't understand anything. She liked to marvel at things, including her own ignorance."
The book points up her love for physical lusciousness. "I want to crunch flowering almond trees," she once gushed, "and take bites out of the rainbow nougat of the sunset." For Bakewell, De Beauvoir's The Second Sex is "the most influential work of existentialism there's ever been, in terms of impact, because it led so many women to rethink their lives and change the way they did things. It presented gender as being just as important as class and race in determining the kind of person we become, rather than being an add-on. It's an existential study in how you become a woman." 
Sartre proposed a contract to De Beauvoir – that they should never marry, but should make each other their prime, "essential" relationship, and should tell each other everything, including details of their sexual encounters. "That's the most bizarre part of their relationship," Bakewell says, "and one of the most unpleasant, because you can't help thinking of the person being talked about." How did such an arch-feminist condone such exploitative behaviour? "Anyone entering into a relationship with either of them knew what they were getting into," Bakewell says breezily. "They were polyamorous. That was the deal, and if you got involved, that's what you had to accept." 
Her portrait of Jean-Paul is vivid and slightly grotesque. He had a horror of viscous fluid, including his own saliva (and, presumably, sperm), and suffered after experimenting with mescaline, thinking for months that "lobster-like beings followed him, just out of his field of vision". Could she understand his appeal to women and acolytes? "Well, he was incredibly confident, never afraid to say what he thought. He could be very funny; he apparently did Donald Duck impersonations. Everyone said what made him attractive was the warm glow of intelligence that radiated from him. And he was a good listener, especially to women." 
The author and I meet, appropriately, at a café, the Maison Bertaux in London: the decor and furnishings hark back to wartime, but the almond croissants are fresh (and enormous). Bakewell is the daughter of a bookseller and a librarian, who both loved travelling ("A large part of my childhood was spent living in a big VW Kombi in India and Australia"). She's a charming and admirably clear expositor of philosophical theory, even when discussing the arcana of Husserlian phenomenology. It's pleasing to find that such a cerebral person managed, like a good existentialist, to change her life in a single day. When she was 16, she spent some birthday money on Sartre's novel Nausea and read it, enraptured by its hero Roquentin's alienation from the everyday and puzzled relationship with the world of being. "I, too," she says, "neglected my studies in order to exist." She dropped out of school and got a job in a Caribbean music shop, selling reggae albums and decorative hash pipes. She later dropped back in, studied philosophy at Essex University and began a PhD on Heidegger, which remains unfinished.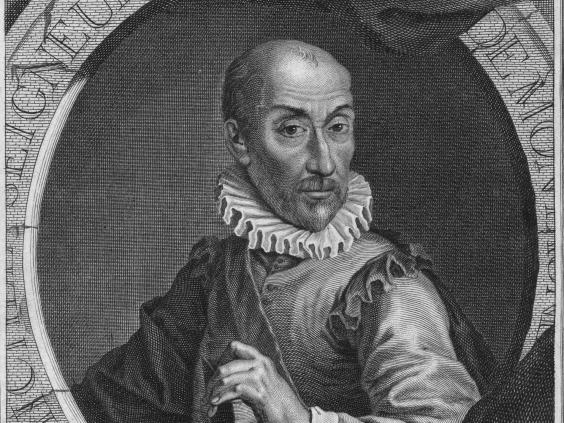 Incompletion is par for the course in existentialist circles. Sartre never finished his masterpiece Being and Nothingness. Heidegger never finished his Being and Time. But there was a lot of confusion among these rarefied thinkers. Husserl and his student Heidegger, though ploughing the same intellectual furrow, couldn't agree about what phenomenology was; when asked by the Encyclopaedia Britannica to write a joint entry on the subject, they finally gave up in despair. "Each claimed the other wasn't making himself clear," Bakewell says severely, "and they both found it hard to write with any degree of lucidity." 
She describes how much the existential movement owed to the times in which it flourished, in Vichy France under German occupation. "Sartre wrote particularly well about that time when everything seemed normal on the surface, but underneath were horrors, and friends disappeared unexpectedly. The idea that society dictates your behaviour became more concrete when the Third Reich dictated what you did. De Beauvoir complained that it was like hearing the stuff she'd heard in her bourgeois childhood, about 'family values' and 'decency'. But now it wasn't annoying because it was cant – underneath it was the real threat of being tortured or killed."
Why was café life so crucial to the existentialists? Bakewell sips her tea. "Cafés meant a lot of things. First, a place to keep warm, because many people lived in cheap hotels with unheated rooms. During the war, some people lived in apartments but Simone and her friends mostly lived in cheap hotels – fleabag places, like lodging-house rooms with a sink, a shared toilet and a little ring to cook on. Nobody would want to spend much time in their room, before the 9pm curfew. During daylight, the cafés were like a big shared living room where you could talk and write while friends came and went."
Sartre briefly served in the Second World War. Because of his poor eyesight he escaped the front line, and was assigned to a weather station on the German border. He was captured by the Nazis and spent nine months in a POW Stalag in Nancy. But how could such a seeker after personal freedom, who once declared, "Hell is other people," consider joining the army, the ultimate denial of freedom and individuality? "He'd done military service," Bakewell explains, "so he was on call as a reservist and didn't have any choice. But war-work gave him a sense of solidarity with his fellow soldiers, which turned out to be important later. He became more and more interested in social relationships and solidarity. It fed into his desire to be a good Marxist and stand beside the working classes. He discovered masculine comradeship. A man who hadn't had very good relationships with men suddenly found a genuine sense of being in the same boat as other men."
Does Sarah Bakewell see the modern world as fertile ground for existential enquiry? "Absolutely. We have huge freedom to be what we want – in gender fluidity, for instance, of which the existentialists would have been entirely in favour. But we have strange encroachments on our freedom, like the issue of surveillance, and nobody can agree how we should think about freedom of speech. There's much talk about our multiple social selves on the internet, and how we navigate this realm of connections that aren't really friendships. We're constantly playing different roles in relation to each other online."
Bakewell's prize-winning previous book, How to Live: A Life of Montaigne, passed on the French savant's central advice – "Don't worry about death" – and celebrated his passionate interest in the singularity of himself and all living beings. So what should modern readers take from her examination of the existentialists? 
"Well, you certainly wouldn't want to go out and imitate them in every aspect of life," she says, laughing. "I don't think they were exemplary people or thinkers. But looking at the way they chose to live gives you interesting perspectives about how we live today. They tried to tackle the big questions: what it is to be free, how we decide what we want the world to be; how to act in order to make it that. The bottom line is, whatever situation you find yourself in, it's up to you what you do next. We're all affected by people around us, by our genetic make-up, our class and gender. All these things influence us. But it's our choice in the end what we do about it – and that's an incredibly powerful idea." 
Maybe it's time for a new generation of thinkers to take up the mantle of Sartre and De Beauvoir – to question everything, wrestle with identity crises and search for the roads to freedom. Although perhaps they should skip the lobster-provoking hallucinogens. µ
'At the Existentialist Café: Freedom, Being, and Apricot Cocktails' by Sarah Bakewell (Chatto & Windus, £16.99) is out now
Reuse content