Arriving at Justin Cartwright's home in Islington, north London, I am directed to his writer's studio, which is possibly roomier than most apartments in the area. Half way across the gravelly forecourt, I spot Cartwright on the phone in his study, looking at once presidential and eerily like Roald Dahl's younger brother.
We talk in a book-lined main room where Cartwright, 70, opts for the less comfortable of two chairs. His creative sanctuary, it seems, may have hosted its last novel. Not because he has plans to retire, ending a career totalling 18 novels and more than a million words, but rather because, a developer is interested in the land and Cartwright is considering offers.
Tempting as it is to read this as a metaphor for a literary life – the best way to make money from fiction is to sell the building you write it in – the comfort reflects an author who has enjoyed greater success than most. Interior, his first serious novel, was published in 1988 as an adjunct to careers in advertising and film-making (Cartwright is funny about his sole credit as a film director: the British sex farce, Rosie Dixon – Night Nurse).
His big literary hit, The Promise of Happiness, sold 200,000, thanks to the then-hot Richard and Judy Book Club. Understandably proud of a Whitbread victory and Man Booker shortlisting, Cartwright sounds a little disappointed that his latest, Up Against the Night, didn't make the grade this year. "My dear friend [the publisher] Michael Fishwick was absolutely convinced we were going to win the Booker," Cartwright says before shrugging off any wistfulness with reminiscences of judging the prize. "You cannot ever get it right. For a start everybody argues. The better the book the less likely you are to get in."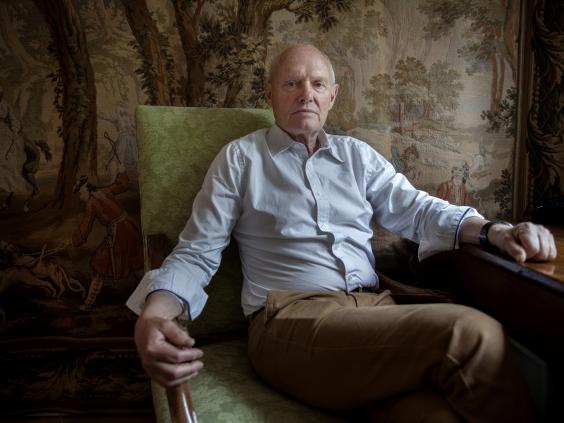 The implication – that Up Against the Night is possibly too good to win a Booker – is characteristic of Cartwright's slightly bullish self-confidence and charm, which is punctuated by moments of self-doubt. "I am quite well known there," he says of South Africa, where he was born in 1945. "After Coetzee I am probably the best-known writer." He pauses. "That may not be true, but at any rate …." Earlier he recalled how he left South Africa after winning a place at Trinity College, Oxford. "I was lucky to get to Oxford. I am now an honorary fellow of my old college which is nice, particularly for a colonial like me."
Themes of this sort – exile and Englishness, home and alienation, achievement and loss – circle throughout Up Against the Night, arguably Cartwright's most autobiographical book to date. The book's main character, Frank, is like his creator, a successful expat South African living in London. Both studied at Oxford, received an MBE and had fathers who edited liberal, anti-Apartheid newspapers. "He got in quite a lot of trouble from time to time. He didn't ever go to prison. He was sent a dead dog, which was delivered to our house."
Not only does the novel include this grim canine detail, it lends to Frank Cartwright's famous ancestor Piet Retief, "the Boer leader, famous for having been murdered, along with his followers, by Dingane, King of the Zulus".
Retief, as the novel suggests, bequeaths a complex inheritance. For urbane liberal exiles including Frank and Cartwright, he is an anchor to South Africa itself. "It sort of gives you a sense of belonging. The Boers got there a lot earlier and went through a lot more than we ever had." At the same time, Retief carries unsettling associations for even the most removed foreign national. A bankrupt and an opportunist, his crusade to create an Eden for his followers concealed, in Cartwright's opinion, a cynical plan to grab land from the Zulus. "He wanted to take about half of Zululand. Dingane, the Zulu chief, understood what was going to come if he allowed them into his land." Dingane's slaughter of Retief, his son Cornelius, and 70 others was avenged when the Boers massacred 3,000 Zulus. Dingane's prophecy that white and black could not coexist in the country seemed to have come to pass. 
Any anxiety Frank feels about the 21st-century Rainbow Nation being wrecked by similar racial violence is eased by distance, his complacent joy in his impeccably modern family (divorce, drugs, adopted Haitian grandson), and a romanticised love affair with the South African landscape. Cartwright too can be seduced by his homeland's beauty. Cape Town is, he says "unbelievably dangerous, although it doesn't seem to be." He returns from his visits to South Africa "feeling uplifted. It is an absolute paradox. Logically I think this place is going to hell, but in real life I absolutely love it. I am inspired by it. I don't know quite what it is."
An alternative version of Retief's legacy is voiced by Jaco, Frank's angry, unhinged and unapologetically racist alter ego. Jaco stayed in South Africa and, says Cartwright, found himself cut adrift like many Afrikaners in the post-Apartheid world. "There is a sense of loss. They had everything. They had farms, endless servants. They could be as lazy as they liked and the farm would still go on. It was fairly idyllic."
Cartwright admits some sympathy for their current predicament: "They think they have been very badly treated. They think, rightly, that they are the object of genocide." At the same time, he argues that their grievances have been transformed into violence. "This Oscar Pistorius business is interesting," Cartwright says, only an hour or so before the runner was released from jail. "There is this cult of carrying lots of guns and being ready to shoot somebody. There were people I knew had guns and carried them openly around Johannesburg. It is frowned on now to carry a gun, but Pistorius and co got away with it."
When I ask if the new novel offers any hope, I am told to draw my own conclusion, before Cartwright adds. "It does look a bit pessimistic, doesn't it?" The effects of Apartheid continue to oppress the most vulnerable in society. "The working-class Africans are not doing very well, and one of the problems is their education is so shocking. It is routinely said it is a result of Apartheid. Deliberately, black people were not allowed to know too much. They could read and write a bit to be useful but that's about it."
Yet Cartwright also lays much of the blame on Jacob Zuma's ANC. "Nadine Gordimer came over just before she died. She didn't want to talk about books or the arts, but about the abuse of the constitution by the government," he said. "It is one of the best constitutions in the world, they [the ANC] keep saying. They don't care. If it is not going to help them in some cause, as when Mbeki was ousted. The odd thing is the same president is still there. He is virtually illiterate, uneducated and I think it is fair to say corrupt."
Cartwright certainly doesn't mix his words about his homeland. "The Mandela family turned out to be a bunch of crooks too unfortunately. There is very great disillusionment. The Rainbow Nation doesn't exist." Later: "There have been some incredible Afrikaner billionaires. They have suddenly acquired taste. It is astonishing."
But unlike Frank he is not exempted from his homeland's "chaos", including the stark truth that Apartheid afforded his family a degree of safety. After he mentions that in 1960 he witnessed an assassination attempt on Apartheid's mastermind, Hendrik Verwoerd, I ask if he was ever frightened growing up. "However liberal you were and however much you wanted the regime to change, there was segregation. You were unlikely to be murdered in your own home. There were police everywhere."
Cartwright knows that Up Against the Night will be controversial, especially in South Africa where he is regarded as a "salt dick", Afrikaner slang for expat: "If you have got your dick in the sea and you are on your way to England." Cartwright will find out soon enough at literary festivals in Cape Town and Johannesburg. "The Afrikaners are going to go ape, man." He seems almost pleased.
Reuse content