If a general published his memoirs," says Wendy Cope, "it solved the problem of what to get my father for Christmas."
Life, Love and The Archers, the first book-length prose offering from this well-loved poet will, no doubt, serve the same purpose for many a stocking this festive season. Over the years Cope has written numerous prose pieces on a variety of topics; education, romance, religion, television, psychoanalysis; and has long had the idea of collating them into a book. This came to fruition when a proactive editor, Lisa Highton, waded through the Wendy Cope archive at the British Library looking for suitable material. She turned up fascinating stuff, some of which came as a surprise to the author herself, who had no recollection of writing it. This is perhaps a symptom of the ageing process, another of Cope's favoured subjects. The resulting collection is entertaining and moving, with appeal far beyond stalwart Cope fans.
When we meet at her publisher's office in London, she has freshened up in preparation for having her photograph taken, an experience she shuns if at all possible. I ask about her recent experience of sitting for the painter Scott Pohlschmidt for the "Poetry Portraits" series commissioned by Poet in the City in collaboration with Lavender Hill Studios. 
"It's all right isn't it," she asks in a dubious voice. "I look a bit sad, but that might be truthful – you know, there's some sadness in me." I do know this, as a large number of her poems were inspired by her troubled childhood and difficulty in finding a life partner.
"Misery creates more good poems," she admits. "I hardly wrote at all after I moved in with Lachlan [her husband, the poet Lachlan Mackinnon] but I got a grip on myself to try a bit harder."
The portrait will be auctioned for charity early next year, along with those of 10 other great poets of our age – "It'll be very embarrassing if nobody bids for it," she says, but I don't think she needs to worry. Cope particularly likes the ones of Andrew Motion (also by Pohlschmidt) and Gwyneth Lewis by Ann Witheridge.
"Gwyneth said it made her look too pretty – but actually she is beautiful."
Life, Love and The Archers begins poignantly with hints of humour and, as the book progresses, these two sentiments respectively wane and wax, with the final section prompting several mortifying laugh-out-loud-on-public-transport incidents. The earlier chapters address Cope's childhood, growing up in Erith, Kent, as the daughter of a department store manager and his, much younger, second wife. They also document her boarding school travails, but she has carefully excluded material that would make it a "misery memoir".
"It may be I've left out things that would have helped people who had unhappy childhoods, but I've touched on many of these in my poems and I'm very ambivalent about slagging off my mother." Her fourth poetry book, Family Values, published after her mother's death, is particularly evocative on this front.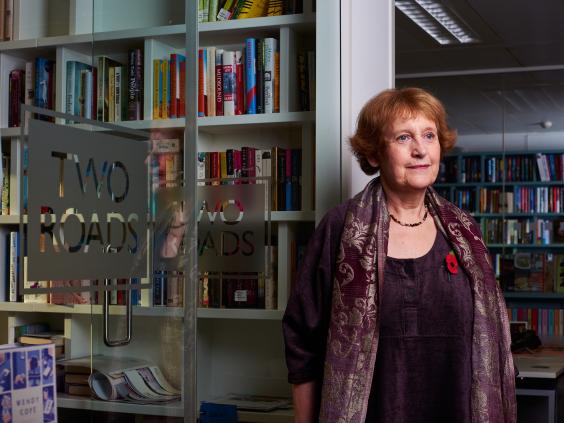 In "Settee Life", the hilarious section based on her television reviews from The Spectator in the Eighties, Cope is scathing about programmes that feel the need to illustrate poems (and even metaphors in news items) with relevant images. It struck me that many of her poems would be particularly ripe victims for this treatment. Excerpts of two spring to mind from Making Cocoa for Kingsley Amis, Cope's first collection whose number of copies sold is now well into six figures. "Narrative": "The sky was dark, the garden gnomes were still/When Schopenhauer observed, 'I like them less than sausages – in fact they make me ill'"; or "Proverbial Ballade": "Fine words won't turn the icing pink/A wild rose has no employees." She shudders at the thought.
"Poems exist in their fully finished forms – they can be set to music but they don't need to be. Jools Holland is good news – he has taken three musical settings of my poems on tour and I get some money from the Performing Rights Society." Cope is a passable musician herself and made best use of these skills during her years as a primary school teacher.
Life, Love and The Archers explores the origins of her passion for music and she admits that, despite her reluctance to appear on the radio, she would love to be on Desert Island Discs. I mentioned having searched the archive in the hope of hearing her but only found Julia Donaldson's episode, a captivating listen in itself, in which Poem for the Day by Wendy Cope was the chosen book. She was quick to set the record straight.
"No, I did not edit that book. I met Nicholas Albery on a Greek island and on the bus to Athens he talked me into writing the foreword. Then the naughty publishers put my name in much bigger letters on the cover, and everyone thinks it's mine. It's a good book but one I can't claim. I'm sad to say he was killed in a car crash not long after it came out, and especially now he's dead, I do like him to get the credit for it – it's his monument."
This comment exemplifies Cope's keen sense of justice, which punctuates the new book. She is an advocate for various causes, such as civil partnership for heterosexual couples, and copyright enforcement. She despairs of the frequency with which poems are casually used without permission, acknowledgement, or recompense. She is, however, flattered that her poems so often feature at weddings and seemed genuinely thrilled when I mentioned that the literary editor for this newspaper had "Idyll" from Cope's third collection, If I Don't Know, read at hers.
The section entitled "Head in a Book" is my personal favourite, and ideal for readers who like to garner ideas for further reading. This part includes reviews of several poetry books I do not yet own, as well as championing the late and under-recognised children's author, Geoffrey Willans, by choosing Down with Skool! as her "book of the century" in a side-splitting pastiche.
With sheepish caution, I ask about her impending 70th birthday. "I'll be writer in residence at the Gladstone Library so will certainly drink some champagne with my Northern cousins and any visiting clerics, but I won't be having a big party, as I did for my 60th."
Wendy Cope's fifth poetry collection is apparently half-way written, but, if her previous pace is anything to go by, we should not be holding our breath. It is a relief to have Life, Love and The Archers to keep us going in the meantime.
Wendy Cope launches her new book on Monday: www.kingsplace.co.uk/whats-on-book-tickets/spoken-word/wendy-cope-life-love-and-the-archers-book-launch
Reuse content