She was only three years old at the time, but Porochista Khakpour has clear recollections of fleeing Iran with her family in 1981. "I remember anti-aircraft missiles, bomb shelters, men praying on rooftops," she says. "I remember leaving, stopping in Turkey, France, a nunnery in Switzerland. My parents were constantly panicking and crying, so I felt my role was to entertain them. I became a storyteller out of that sense of responsibility." The family settled in Los Angeles when Khakpour was six, although perhaps "settled" is the wrong word: "I felt like an outsider. There was deep anguish in me and I suspected it had to do with leaving Iran."
Fast forward to 11 September, 2001, when Khakpour, by then an unemployed writer, was living in lower Manhattan:  "Watching the Twin Towers come down from my apartment half a mile away, I couldn't believe how quiet it was. When I got downstairs people were running but I remember a group of businessmen, completely white with dust, wearing hysterical expressions of joy. I thought: 'These are the survivors, the ones who got out.' Later, as my boyfriend drove us to his mother's house upstate, I started making notes. I needed to get down what I'd seen. It was the same instinct as taking photographs."
If Khakpour's descriptions, of men praying amid warfare in Tehran and businessmen thanking their lucky stars in New York, were photographs they'd be cherished by future generations as visceral historical records. She writes vividly and talks about visualising her new novel, The Last Illusion, which concerns a feral Iranian boy's attempts to adapt to American life, "like a graphic novel, a fabulist story set in a shadow New York where elements are heightened and darkened." Both leaving Iran and 9/11 create a before-and-after effect, a sealed past and turbulent present, which haunt Khakpour's imagination and animate her fiction.
Books highlights of 2015
Books highlights of 2015
1/6 God Help the Child by Toni Morrison - 23 April

A new book by this American Nobel Laureate is always going to be an event, and this one has excitement building around it already: it is the story of the way in which the legacy of childhood trauma can shape, and damage, adult life.

AP

2/6 The Buried Giant by Kazuo Ishiguro - 3 March

Ishiguro's first novel in a decade is being billed by his publishers as urgent, relevant, troubling and mysterious, and its central characters are called Axl and Beatrice. We'll have to wait to find out more

Matt Carr/Getty Images

3/6 So You've Been Publicly Shamed by Jon Ronson - 12 March

The idea for Jon Ronson's latest offering was sparked by his online identity theft in 2012. Ronson confronted the imposters and began a probing inquiry into public shaming on social media. It looks funny and seriously hard-hitting.

Tim P. Whitby/Getty Images

4/6 Mr & Mrs Disraeli: A Strange Romance by Daisy Hay - 8 January

A biography of a fascinating couple, gleaned from letters found in the Bodleian Library archives. He was one of the foremost politicians of the Victorian age, she the daughter of a sailor on her second marriage. Their passionate letters through courtship and marriage will surely make fascinating reading.

5/6 The Guantanamo Diary by Mohamedou Ould Slahi, edited by Larry Siems - 20 January

A diary written by a Guantanamo detainee, this book promises to be a powerful and unsettling read. Mauritian-born Slahi has been imprisoned for 12 years and has yet to be charged for any crimes.

Getty Images

6/6 Reasons to Stay Alive by Matt Haig - 5 March

A rumination on depression, Matt Haig's book takes the novelist into personal territory while keeping an eye on the bigger picture: "In the Western world suicide is the leading cause of death among men under the age of 35." Joanna Lumley calls it a "small masterpiece".

AA Pix/Alamy
Her speech is a rapid, less lyrical cousin of her vigorous prose. Sitting opposite me in a claustrophobic basement meeting room at her publisher's offices, she attributes her huskiness to a cold and hangover: "I don't usually speak in this Long Island, Lindsay Lohan voice." She's good company, as stimulating discussing William Faulkner as decrying the depressing phenomenon of normcore. She's serious about her work, self-effacing in a way only a confident person can be, revealing that she abandoned "flashy post-9/11 consciousness ideas" for novels, including one about Osama Bin Laden's ex-girlfriend. She compliments my "great questions" and, whether this flattery is designed to endear or not, it succeeds.
Her autobiographical first novel, Sons and Other Flammable Objects (2007), was published "when I was sorting out my issues with my parents, which is maybe why I felt it came out too soon." The Last Illusion took two years to find a publisher, with editors nervous about its magical realist take on 9/11. She's proud of it, feels affection for her characters and has three feathers tattooed on her hand in homage to its chief protagonist, Zal: "All the characters are to some extent versions of me, but I'll never love a character as much as Zal."
In a way, they're old friends: "In America, my father read me stories from the Shahnameh. For Iranians, it's an epic like the Old Testament meets The Canterbury Tales meets The Odyssey. Every household has a volume." The legend of Zal, an albino who's rejected by his parents and raised by the Simorgh, a giant, mythical bird, made such an impression on Khakpour that she always knew she'd eventually adapt the story. The original Zal grows up to be a warrior whereas Khakpour's protagonist, whose mother keeps him in a cage surrounded by birds for the first decade of his life, is rescued and raised subsequently in New York by an American scientist. 
Far from home, suppressing his longing to fly and eat insects, Zal's is a quest for acceptance into which Khakpour channelled her own immigrant experiences. In the two years leading up to 9/11, Zal gets his own apartment, has first encounters with alcohol, sex, and Silber, a magician who wants to "disappear" the World Trade Centre. "Silber is in part based on David Copperfield whose disappearing of the Statue of Liberty in 1983 was one of the first things I saw on TV," Khakpour says. "Silber faces the storyteller's dilemma: 'What is my work about?' Authors are often expected to be idiot yarn spinners, pure, creative people who can't think critically about their work, but I think it's important for authors to be articulate."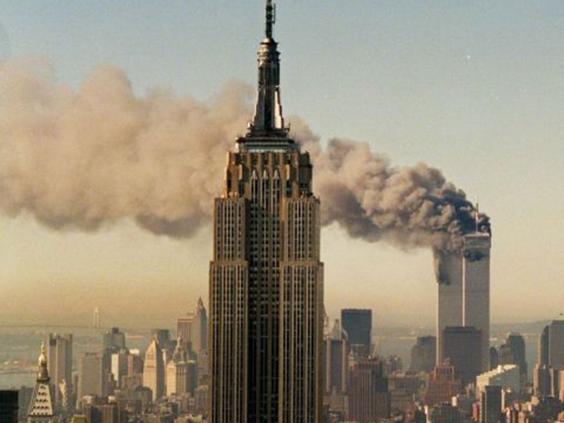 Khakpour talks about many subjects, including publishing ("Is the literary world as progressive as it thinks it is?"), her disdain for the "#amwriting" Twitter hashtag ("My plan is to write less") and why recent events, such as police killings of black Americans, make it impossible to be anything other than left-wing. "The world," she believes, "has become more surreal," and she traces this to the turn of the century. Zal meets Asiya, his troubled girlfriend who describes apocalyptic premonitions, as Y2K hysteria is reaching fever pitch. "Asiya is an accumulation of my neurosis, the novel's antagonist. I hated writing her parts but so many decisions we make in the US are born of fear and the imagination. I'm writing about the high stakes of magical thinking when it's put into practice."
The Last Illusion culminates amid "the world-ending clamour" of 9/11, although there are plenty of surprises, comedy and poignancy along the way. Khakpour has written journalism about being a Middle Easterner in America but, from her eyewitness's notes to her novel's denouement, she was determined to confront 9/11 in fiction. "It's tricky to write about current events, especially one of such magnitude. New Yorkers enjoyed great wealth during the first dotcom boom, we never watched the news, but after the attacks we became news addicts. The atmosphere of unease and paranoia has seeped into this book."
She also endured personal turmoil: "I was ill, I was engaged and it fell apart, but Zal's survival through all that was essential." She feels fondly towards another character, Asiya's sister Willa, who lies immobilised by obesity in a magnificently decrepit townhouse, and whom Zal adores: "Her largeness is supposed to reflect the Simorgh. She's the only thing that's purely beautiful." There is a crooked beauty about Khakpour's shadow Manhattan. She became an American citizen in the autumn of 2001, and has never returned to Iran. So is New York her home now? "The city was always my great hope. It constantly puts its beauty in danger but, in a way, this novel is a love letter to New York."
Reuse content