Sitting in "Jessica Blair's" chocolate-box cottage 40 miles inland from the Whitby setting of so many storm-tossed romantic sagas, the conversation turns naturally to the reaction of readers on meeting "her".
"Yes. Some people are surprised. I got an email recently from a woman whose daughter had sent her a photo of me signing books in Whitby. She said she was flabbergasted but said 'I love your books and keep writing them,'" the author laughs.
With 23 novels to her name, Blair is on course this year to seal her reputation as the grande dame of British romantic fiction. With a loyal following which sees her books more regularly borrowed from UK libraries than those of Stephen King or John Le Carré, she is currently vying for the career-crowning title of Romantic Novel of the Year.
But, of course, Blair is not a woman meaning "she" would be the first "he" to win the award. "She" is in fact a twinkly-eyed, 90-year-old war veteran called Bill Spence who has divided his working life between running a village post office with his wife and knocking out two books a year - and still counting.
Little surprise then that he feels his gender has proved no impediment to finding a willing audience.
"There was a big difference (between male and female writers) but I think we are not so much apart as we were once in the day. We men understand women a bit more than we once did and I had a wife and three daughters. My wife always read the books and when the girls left school they took over," he adds.
There is little new about writers seeking to conceal their identity. From George Elliot to JK Rowling, literary gender-bending is a common enough practice among women. Although not unheard of, it is far less routine among male writers.
But Mr Spence is not the sort of chap who has to worry about others' perceptions of his manliness. Born in Middlesbrough he trained as a teacher but signed up to the Royal Air Force in July 1942 going on to fly 36 Lancaster missions over Germany.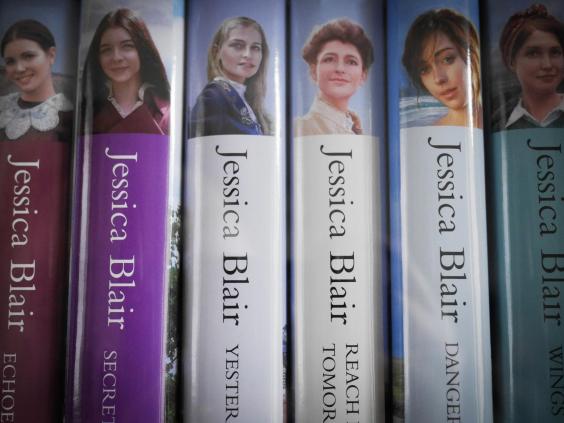 "You didn't show that you were frightened. You are trained to do a job. Yes some people did fold up", he admits. "It is all very well criticising Bomber Command but the critics tend to forget that they were doing it to us at places like Coventry."
Having cheated the one in four chances of crashing or being shot down, Mr Spence first tried his hand at writing on the month-long troop ship voyage to Southern Africa. Unimpressed with the product, and rejecting a commission, he returned to the beautiful North Yorkshire village of Ampleforth to be with his late wife Joan, where he has lived ever since.
He answered the call of a publisher looking for war novels in 1959 with Dark Hell, based on his flying experiences but then began writing Westerns, receiving life-changing advice from Alan Boon, founder of the Mills & Boon empire who put him in touch with an eventual publisher.
Thirty six cowboy books followed with exciting titles such as Feud Riders and Guns Along the Brazo, all produced under a variety of exotic sounding pseudonyms including Kirk Ford and Floyd Rogers.
But it was his interest in the Yorkshire whaling industry that persuaded him to switch genres. "I think that romance is a misunderstood term because there is romance in all fiction really. It gets confused with love stories and Mills & Boon. But I am not putting them down; you have to have talent to do that. I admire anybody that can," he says.
Mr Spence confesses that he has no interest in the likes of 50 Shades of Grey – although he refuses to criticise it. Sex, for him, is something to be alluded to, a gentle plot device. "It depends what you mean by sex scenes. There is no need unless it advances the story. I think you can hint at sex which makes the reader's mind work at it. They might be a lot sexier than you," he laughs.
The Spence children never cared that their father was making his living from pretending to be a woman. "I was still dad," he says. No one in the village turned a hair either. "I don't know if my wife was amused by it. It was getting me published and that was the main object of my writing," he recalls. And his fellow female romance writers? "We all get on very well. We all like telling a good story."
Reuse content