The Mighty Thor is a woman. That may sound like a sexist insult roared by the Hulk during one of the Marvel superheroes' many seismic punch-ups, but it's actually a statement of fact.
Marvel has announced that the God of Thunder, as played by Chris Hemsworth in the film franchise, is due to become a Goddess of Thunder later this year. And he (or she) isn't the only comics icon to find that the times are a-changin'. Also this week, in what read like a mis-timed April Fool's joke, Archie, an all-American teenager since 1941, died in Life With Archie issue number 36 when he intercepted an assassin's bullet intended for a gay senator.
That's not all. Marvel has just rebooted Ms Marvel as a Pakistani-American Muslim, and it recently unveiled a superhero team featuring no white males. Are mainstream comics finally embracing political correctness? Or – just throwing the idea out there – are they merely making headline-friendly changes in a desperate bid for free publicity?
"You can be cynical about it," says Chris Thompson at London's Orbital Comics shop, "but, in reality, these changes are more about redressing the balance. Up until now, superheroes have been straight white males, so by introducing gay characters, varying their ages, and putting in more women, they're just reflecting the diversity of the readership. This way, anyone who walks into a comic shop can find a character they relate to."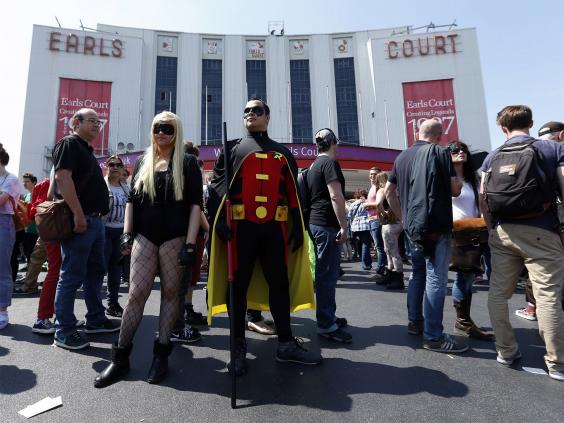 As for Thor's gender swap, says Thompson, it's in keeping with the character's mythology. "The idea is that anyone who picks up Thor's hammer gets the power, as long as they're worthy of it. He's been a frog before, he's been an alien, so why not a woman? And actually they've been building towards this within the series for quite some time. It's a natural evolution rather than a sudden switch."
So not a sign of an industry on the skids, then? Thompson thinks not, and Danie Ware at London's Forbidden Planet megastore agrees. "Superhero comics are doing fantastically well at the moment," she says. "Sales are booming, and we put that down to the mainstream acceptance of geek culture in general. Superhero movies have been absolutely huge, too, especially the Marvel ones [Iron Man, Captain America, Thor, Avengers Assemble]. We find that the films draw people in, and then they want to explore all the platforms for those characters: they buy the comics, they collect the collectibles." And they attend, as thousands did in London last weekend, events such as the London Film and Comic Con 2014.
Take a glance at the sales figures, and Ware's positivity seems to be borne out. In America, comics made more than $500m (£292m) last year, which is over $100m more than they made in 2003 – even if it's a long way below the industry's 1993 peak of $800m. The current wave of superhero blockbusters seems to be taking comics up, up and away.
Well, maybe. But if you look at the sales of each individual title, comics still appear to be a niche commodity, even if the associated DVDs, T-shirts and lunchboxes aren't.
Marvel's best superheroes
Marvel's best superheroes
1/19 Black Widow

The Black Widow (Natasha Romanoff) played by Scarlett Johansson

AP

2/19 Spider Man

British actor Andrew Garfield as Spider-Man

PA

3/19 Captain America

Chris Evans in 'Captain America: The First Avenger'

Rex

4/19 Iron Man

Robert Downey Jr in Iron Man 3, who won favourite action movie star at the People's Choice Awards 2014

Iron Man 3

5/19 Wolverine

Hugh Jackman bears his claws and loses the plot in X-Men movie 'The Wolverine'

Twentieth Century Fox Film

6/19 Hulk

Edward Norton as Hulk in The Incredible Hulk

YouTube

7/19 Thor

Chris Hemsworth as Thor. Recently Marvel revealed its plans to make the hammer-wielding Norse superhero Thor a woman

Rex Features

8/19 Hank

Nicholas Hoult as Kan in 'X-Men: Days of Future Past'

AP

9/19 Raven Darkhölme

Jennifer Lawrence as Raven Darkhölme in X-Men: Days of Future Past

10/19 Hawkeye

Jeremy Renner as Hawkeye in 'Avengers Assemble'

Marvel

11/19 Winter Soldier

Sebastian Stan as the villainous Winter Soldier in the 'Captain America sequel

Marvel

12/19 The Avengers

The Avenger's superheroes

Marvel

13/19 Cyclops

The optic blast hero has long been played by James Marsden

YouTube

14/19 Professor X

Patrick Stewart landed the role as Professor Charles Xavier in Bryan Singer's comic-book blockbuster X-Men

Rex Features

15/19 Rocket Raccoon

Bradley Cooper voices Rocket Raccoon in Guardians of the Galaxy

Marvel

16/19 Groot

Also known as the Monarch of Planet X, Groot is played by Fast and Furious star Vin Diesel in Guardians of the Galaxy

Marvel

17/19 Drax

Known as 'the destroyer', Drax is played by actor Dave Batista in Guardians of the Galaxy

YouTube

18/19 Gamora

A soldier and assassin played by Zoe Saldana in Guardians of the Galaxy

YouTube

19/19 Guardians of the Galaxy

Bill Mantlo's comic creation on screen in Guardians of the Galaxy

Marvel
"There's the odd superhero comic that breaks 100,000 copies," says Paul Gravett, the co-curator of the British Library's Comics Unmasked exhibition. "But most of them sell well below that. The movies and TV show are helping, of course, but superhero comics are really quite a minor part of the product range now. They're really only useful as a source of reboots which can then be made into movies and cartoons."
But surely even Gravett – a champion of indie graphic novels – would acknowledge that a female Thor is a step in a more progressive direction? "Have you seen the pictures?" he asks with a sigh. "Show a woman in the street that crap image of Thor with tits, and ask her if she would read something like that. Of course she wouldn't. It won't make a blind bit of difference."
Reuse content