On 10 May 1933, Nazi activists burned piles of "decadent" books on the Opernplatz in Berlin. Many people know about that night of shame: a foretaste of future horrors. Not so many know that one of the most prominent victims was there to watch his work consigned to the flames - until a Nazi spotted him, and he made himself scarce.
The books of journalist, novelist and satirical poet Erich Kästner stoked the bonfire in full view of the insatiably curious eye-witness reporter who wrote them. Just behind Marx, but ahead of Freud, they were incinerated as a symbol of the supposed "moral degeneracy" of Germany's post-1918 Weimar Republic.
Kästner's writing would rise from the ashes of the Opernplatz. Four years earlier, in 1929, he had made his name with one of the best-loved children's novels of all time: Emil and the Detectives, his evergreen tale of a lost child in the big city who finds that "having friends to help him… makes all the difference". For me – as for many young readers in Britain – this was the first novel in translation that I loved. Now Emil is recruiting a whole new posse. Thanks to three rotating child casts, he and his benign swarm of junior sleuths will descend on the Olivier stage for the National Theatre's Christmas show.
An instant classic – comic, realistic and uplifting all at once – Emil quickly became a film at the Babelsberg Studios, its script co-written with Kästner by two future giants of the cinema: Billy Wilder and Emeric Pressburger. Regular re-makes and theatre adaptations followed; sometimes they shifted the location, or the period. But playwright Carl Miller, who has adapted the novel for the National, anchors his version firmly in the Weimar-era Berlin that inspired, intrigued and infuriated Kästner. "We weren't going to move it and we weren't going to update it," he says.
That bonfire on the Opernplatz ushered in the long catastrophe that now tinges every story set in pre-Third Reich Berlin with doom-laden hindsight. Miller says that "I think it would be wrong to see the show through that prism." Little Emil arrives in Berlin to find "an extraordinary creative and vibrant world but also a world of tensions". To Miller, "It's about celebrating that moment as well. I hope a part of what you get is what an amazing time it was."
Kästner himself made no small contribution to that culture of amazement. He was born into a poor family in Dresden in 1899. His 1957 memoir When I Was a Little Boy recalls with fondness that architectural gem where "history, art and nature intermingled". His father, formerly a saddler, worked in a luggage factory. His mother became a hairdresser – just like Emil's mum back in Neustadt. Before this book, parents –especially mothers – had been conspicuously absent from most classic children's literature.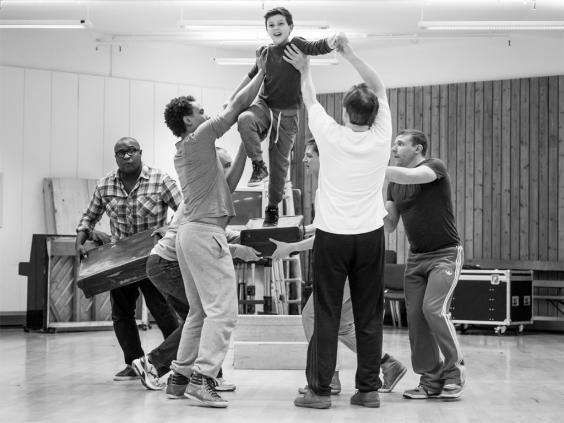 Emil and the Detectives plants not just an actual parent, but a working single mum at the heart of the story (Emil's plumber dad has died). When Emil loses the 140 marks Mrs Tischbein has given him to a bowler-hatted thief on the train as he travels to visit his aunt and cousin in Berlin, we already know how she scrimps and saves. Carl Miller comments that "the sense of what it means to make ends meet in the city is still very vivid". Kästner, always close to his own adored mum, tells his readers with finger-wagging sternness that "you shouldn't laugh at Emil for being rather a good boy to his mother".
The good boy did well at school and at university in Leipzig, earning a doctorate in literature. But he lost his job as a critic on a Leipzig paper after publishing an erotic poem. Like so many others, he set off in 1927 to seek his fortune in the boom-town of Berlin, which by the 1920s had more than four million people.
From Brecht's poems and Otto Dix's paintings to Alfred Döblin's landmark novel Berlin Alexanderplatz, the seething hubbub of the city – with its bright lights, giant stores, milling crowds, louche nightclubs and clanking trams – fills Weimer-era culture with visions of metropolitan frenzy. Kästner became identified with the movement known as Neue Sachlichkeit – New Sobriety – and its no-frills attentiveness to the shocks of urban life. From tram and bank to café and police station, Emil races through a hard-edged Neue Sachlichkeit Berlin.
Germans fretted about the soulless anonymity of the brash metropolis. Emil initially worries that "No one has time for other people's troubles in a city." Miller points out that Kästner's Berlin embodies a brick-and-asphalt reprise of the perilous, enchanted fairy-tale wood of the Brothers Grimm: "the city has become the forest". But, as his gang of little helpers gather, Emil finds out that this children's grapevine can not only catch the thief but wrap the city in a network of solidarity. For Miller, "What could be a daunting metropolis becomes more human because of the friends that he makes."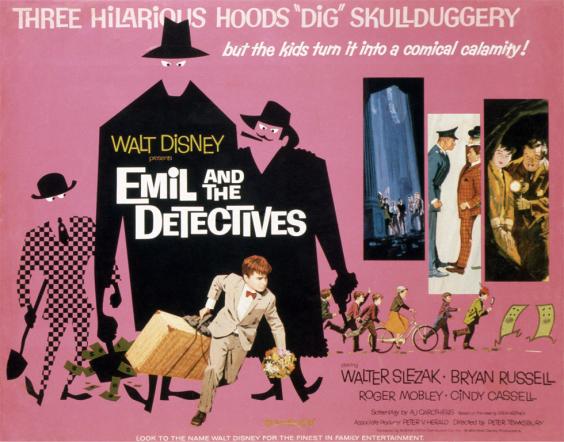 Yet the skies would soon darken, for Berlin and for Kästner. By 1931, the Great Crash had struck Germany with catastrophic force. Unemployment rose to six million. In that year, Kästner published his finest adult novel, Fabian (translated as Going to the Dogs, his preferred original title). Its bitterly sardonic scenes of alienation, penury and listless sexual experiment depict a city in despair. The joyless eroticism and bone-deep disenchantment of Fabian did much to ignite those Nazi flames.
Kästner unhappily stayed put during the Third Reich. A classic "inner emigrant", he virtually stopped writing, endured hostile interrogations by the Gestapo and – when Goebbels found out that he had written the script for the 1943 colour epic Munchhausen under a pseudonym – was prohibited from all publication.
After the war, he wrote prolifically again, and found himself showered with honours as his non-dogmatic social democracy became the West German norm. He died in 1974. As Emil and his clever crew put right a flagrant injustice, the skies over busy Berlin still look blue. Miller says that when he talks to the actors about this period, "What they know is what's coming. One of the challenges is to take us back to an innocent world – not just the characters' childhood but a more innocent time in the continent."
'Emil and the Detectives', National Theatre: Olivier, London SE1 (020 7452 3000; nationaltheatre.org.uk) in rep to 18 March;
'Emil and the Detectives' is published by Vintage Classics, and 'Going to the Dogs' by New York Review Books
Reuse content