Shakespeare can be a little challenging as a teenager but that's part of the joy of-NEVER MIND there's a TL;DR version now!
Penguin has launched an OMG Shakespeare series that reimagines his most famous plays in the digital age, with titles including Macbeth #killingit A Midsummer Night #NoFilter and YOLO Juliet.
The plays, retold by Courtney Carbone and Brett Wright, are condensed down to terse Whatsapp-esque messages, with characters 'checking in' rather than walking on stage and updating their relationship statuses at key moments.
Never wanted to burn a book before pic.twitter.com/bJ0y8EZ2ky

— FREDDY (@FreddyAmazin) June 11, 2015
'To be or not to be' becomes '2 *bee emoji* or not 2 *bee emoji*'. ' Thus with a kiss I die' becomes 'With a *blowing kiss emoji* I *dead emoji*'.
The books have been getting a strong marketing push, getting their own stand in one store, which stated: 'The classics can be *sleep emoji* Even with all the *heart emoji *heartbreak emoji* *grin emoji* *dead emoji*. Introducing OMG Shakespeare!
'Never wanted to burn a book before' @FreddyAmazing wrote alongside a picture of the stand, eliciting over 3,000 retweets.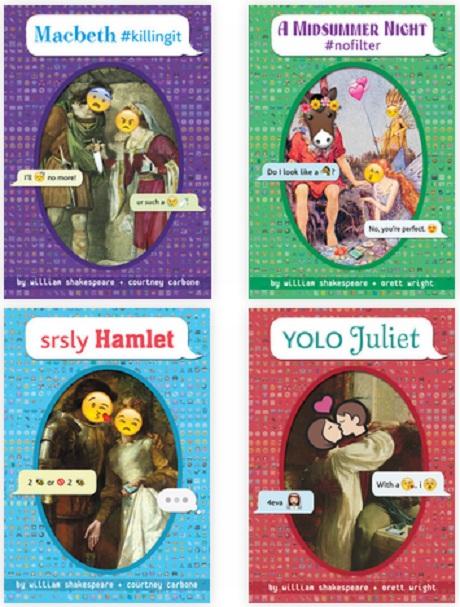 Srsly Hamlet, Macbeth #killingit and YOLO Juliet are out now, with A Midsummer Night #nofilter launching next January.
One of the books carries the dedication: "To all my extraordinary English teachers, I'm sorry."
An emoji dictionary: What do they mean?
An emoji dictionary: What do they mean?
1/8 Emoji

Slang translation: lol; lmao / Old-fashioned words: laughing out loud; laughing my ass off; I say, that's rather funny

2/8 Emoji

Slang translation: beautifull; gawgeous; hotttt / Old-fashioned words:beautiful; gorgeous; jolly attractive

3/8 Emoji

Slang translation: xoxo; xoxoxox / Old-fashioned words: hugs and kisses; hugs and kisses (in slightly greater quantity)

4/8 Emoji

Slang translation: GJ; job; haha / Old-fashioned words: good job; good job; well done, that was rather funny

5/8 Emoji

Slang translation: oml; ughh; ughhh / Old-fashioned words: Oh my Lord; oh damn; oh damn and blast

6/8 Emoji

Slang translation: ffs; grr / Old-fashioned words: for fuck's sake; I'm furious (in fact I'm so furious, I'm growling)

7/8 Emoji

Slang translation: cmeo; crbt; waa / Old-fashioned words: crying my eyes out; crying real big tears; I'm so very unhappy that I'm wailing

8/8 Emoji

Slang translation: zzz; btd; gnstdltbbb / Old-fashioned words: I am sleepy; I'm bored to death; good night, sleep tight, don't let the bed bugs bite