Shortly after the end of the American Civil War, the former slave Cathay Williams enlisted in the US army posing as a man where she remained undiscovered for two years.
The remarkable tale of the first African-American woman to enlist in the US military inspired the British author Tanya Landman to write Buffalo Soldier, announced as the winner of the Cilip Carnegie Medal, the UK's most prestigious children's book award.
The 52-year-old author discovered Williams' story while researching her novel Apache, which was nominated for the Carnegie Medal in 2008 and based on a real Native American woman warrior.
After reading stories of African-American soldiers in first-person accounts from the Apaches, Landman started researching the Buffalo Soldiers, the African-American regiments formed in 1866.
"I wasn't planning on writing about it until I came across Cathay Williams," the author said. "If things were bad for men at that time, they were much worse for women, so she disguised herself as a soldier."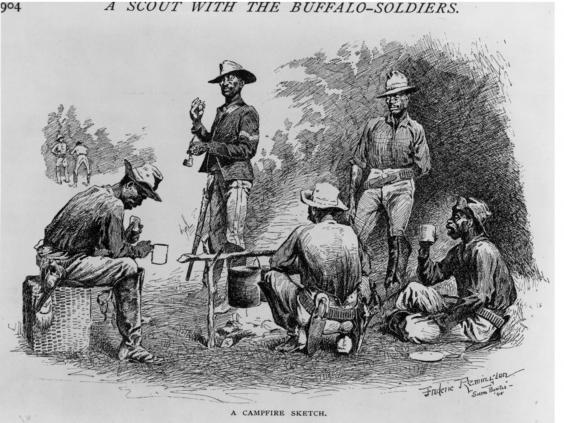 The book follows the story of the African-American slave Charlotte, who disguises herself to join the army and was inspired by Williams.
"A lot of the women's stories I come across have been forgotten and it's the men's stories that always get made into movies," she said. "I'm doing my best to redress the balance."
Williams worked as a house slave in Missouri before becoming a cook with the army. She joined up as a man in 1866, using the name William Cathay, but was discharged two years later after an army surgeon discovered she was a woman.
"I didn't want to write her story, but I thought if she had done it, then the idea is plausible," Landman said.
Past winners of the medal, judged by librarians and first awarded in 1936, include C S Lewis, Terry Pratchett and Arthur Ransome. Landman, whose children's books include the Sam Swann series, said being named as the winner was a "fantastic honour", adding: "It's the sort of thing you dream about but don't expect to happen."
She said the novel was partly written to "redress the balance" and highlight the forgotten stories of strong women in history. She explained that as a child she loved watching Gone with the Wind and Westerns but at the time there was a lack of woman adventurers on film or in novels. "I spent most of my young years shouting at the women on television and their portrayal. It used to drive me round the bend."
Landman is a passionate advocate of support for libraries and reading in schools. "I've watched teachers tied in straitjackets by the demands of the national curriculum and Ofsted, and students imprisoned in boxes that need to be ticked," she said.
Books highlights of 2015
Books highlights of 2015
1/6 God Help the Child by Toni Morrison - 23 April

A new book by this American Nobel Laureate is always going to be an event, and this one has excitement building around it already: it is the story of the way in which the legacy of childhood trauma can shape, and damage, adult life.

AP

2/6 The Buried Giant by Kazuo Ishiguro - 3 March

Ishiguro's first novel in a decade is being billed by his publishers as urgent, relevant, troubling and mysterious, and its central characters are called Axl and Beatrice. We'll have to wait to find out more

Matt Carr/Getty Images

3/6 So You've Been Publicly Shamed by Jon Ronson - 12 March

The idea for Jon Ronson's latest offering was sparked by his online identity theft in 2012. Ronson confronted the imposters and began a probing inquiry into public shaming on social media. It looks funny and seriously hard-hitting.

Tim P. Whitby/Getty Images

4/6 Mr & Mrs Disraeli: A Strange Romance by Daisy Hay - 8 January

A biography of a fascinating couple, gleaned from letters found in the Bodleian Library archives. He was one of the foremost politicians of the Victorian age, she the daughter of a sailor on her second marriage. Their passionate letters through courtship and marriage will surely make fascinating reading.

5/6 The Guantanamo Diary by Mohamedou Ould Slahi, edited by Larry Siems - 20 January

A diary written by a Guantanamo detainee, this book promises to be a powerful and unsettling read. Mauritian-born Slahi has been imprisoned for 12 years and has yet to be charged for any crimes.

Getty Images

6/6 Reasons to Stay Alive by Matt Haig - 5 March

A rumination on depression, Matt Haig's book takes the novelist into personal territory while keeping an eye on the bigger picture: "In the Western world suicide is the leading cause of death among men under the age of 35." Joanna Lumley calls it a "small masterpiece".

AA Pix/Alamy
The author added that the benefits of reading for children were clear, saying someone who reads for pleasure "is far less likely to be a bully or a bigot".
Meanwhile William Grill became the youngest award of the Kate Greenaway Medal for illustration for Shackleton's Journey, his debut work.
The illustrator, who turned 25 just a month ago, beat the newly crowned Children's Laureate Chris Riddell to the award, whose previous winners include Raymond Briggs and Quentin Blake.
Mr Grill, whose work is a non-fiction account of Sir Ernest Shackleton's crossing of Antarctica, said: "Picture books and graphic novels are a way into reading for us, and I was moved to create my book after reading of Shackleton's heroism and endurance."
He was "thrilled" the book had been well-received in schools and said it provided a valuable message.
"In Shackleton's case, they can see that he and his crew proved that just because you fail it doesn't make you a failure," the author said. "In Shackleton's own words: 'The only true failure would be not to explore at all'."
Reuse content